Nigeria 'Willing To Talk' To Boko Haram Over Missing Girls
@AFP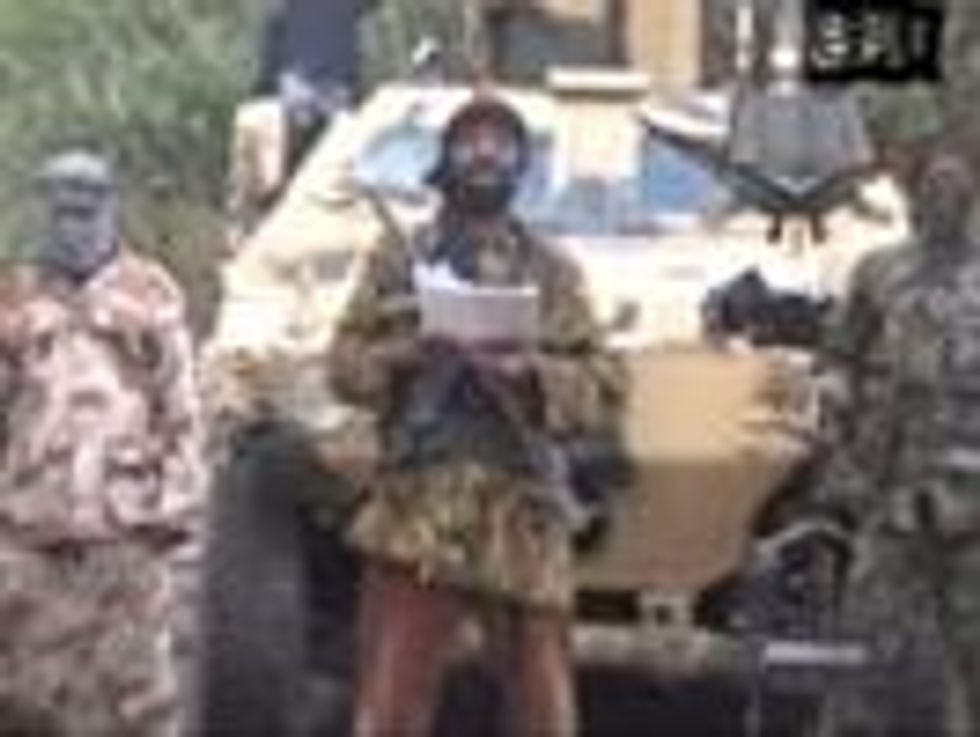 Abuja (AFP) – Nigeria on Tuesday said it was willing to talk to Boko Haram militants, as the United States sent its top Africa general for talks on the rescue mission of more than 200 kidnapped schoolgirls.
The governor of Nigeria's northeastern Borno state, Kashim Shettima, confirmed that all of the girls shown in the latest video released by the militant Islamist group had been identified as students in the school attacked in Chibok last month.
President Goodluck Jonathan on Tuesday requested a six-month extension to the state of emergency declared in Borno and two neighboring states a year ago because of the "daunting" security situation.
Special duties minister Taminu Turaki restated the Nigerian government's position that it was open to negotiations on ending Boko Haram's increasingly bloody five-year insurgency.
Turaki, who last year headed a committee tasked with pursuing an amnesty pact with some of the group's fighters, told AFP: "Nigeria has always been willing to dialogue with the insurgents."
"We are willing to carry that dialogue on any issue, including the girls kidnapped in Chibok, because certainly we are not going to say that (the abduction) is not an issue."
Nigeria's interior minister had previously dismissed a suggestion from Boko Haram leader Abubakar Shekau in a video released on Monday that the girls could be swapped for imprisoned militants.
But the military later said it would "explore all options" to end the crisis.
Boko Haram fighters kidnapped 276 schoolgirls from the remote northeastern town of Chibok in Borno state on April 14 and 223 are still being held.
The group's latest video purported to show some 130 girls, in an undisclosed rural location, wearing Muslim dress and praying, and claimed they had all converted to Islam.
A special viewing of the footage was organised for the missing girls' parents.
"All the girls in that video were identified to be students of the Government Girls Secondary School, Chibok," Borno Governor Shettima said in Abuja.
Earlier, the leader of the Chibok community in the capital, Tsambido Hosea, said the video had stirred up conflicting emotions back home.
"I called Chibok and spoke with some of them (the parents)," he said at a protest march.
"Some are saying they are happy because they have seen their daughters. Some have their grief increased. So, there is a mixed reaction."
U.S., British, French and Israeli specialists have been sent to Abuja to provide specialist assistance to Nigeria, whose initial response to the kidnapping was criticized as slow. China has also offered help.
A U.S. defense official said General David Rodriguez, the head of U.S. Africa Command, was also in the capital "discussing U.S. assistance for the search as well as overall cooperation."
The four-star general arrived on Monday for talks with his Nigerian counterparts, as well as U.S. diplomats and military officers, the official said on condition of anonymity.
Nigeria's chief of defense staff, Air Chief Marshal Alex Badeh, told Rodriguez that the government thanked the United States for "responding positively to the call for assistance," the military said.
Rodriguez's visit came after Washington confirmed it was flying manned aircraft over Nigeria and sharing commercial satellite imagery to help with the hunt for the kidnapped girls.
Britain said it was sending its Foreign Office minister for Africa, Mark Simmonds, to Abuja on Wednesday to discuss what further help is required.
One of Britain's military specialists on the ground, Brigadier Ivan Jones, said there was close co-operation with the Nigerians but warned the search was difficult.
"No one should underestimate the scale and complexity of this incident and environment," he said in a statement.
"But it is clear that there are areas where we can have a real impact on their capability, building on the close co-operation and training that already exists."
Jonathan's request for a six-month extension of the state of emergency in the northeast requires the approval of both chambers of Nigeria's parliament.
The request comes almost a year to the day after the state of emergency was first imposed and nearly six months after an initial extension.
But with more than 1,500 people have been killed this year alone and no let-up in the violence, the wisdom of an extension was immediately called into question.
Shehu Sani, an expert on Boko Haram and violence in northern Nigeria, said it was a "futile" exercise and the government should instead seek a negotiated settlement.
"Let him do that first and see to the release of the abducted Chibok girls. Then, we take it up from there," he added.
Jonathan, criticized for his slow response to the kidnappings, has said he believed the students were still in Nigeria and would be freed soon.
But there are fears they may have been split into groups and taken to Chad or Cameroon.
Nigeria's military is combing the Sambisa forest former nature reserve in Borno, where Boko Haram camps and arms dumps have previously been found.
Boko Haram has been waging an increasingly deadly insurgency in Nigeria's mainly Muslim north since 2009, attacking schools teaching a "Western" curriculum, churches and government targets.
Civilians, though, have borne the brunt of recent violence and tens of thousands have been displaced after their homes and businesses were razed.