Nine Die, Power Outages Spread As 'Paralyzing' Storm Engulfs South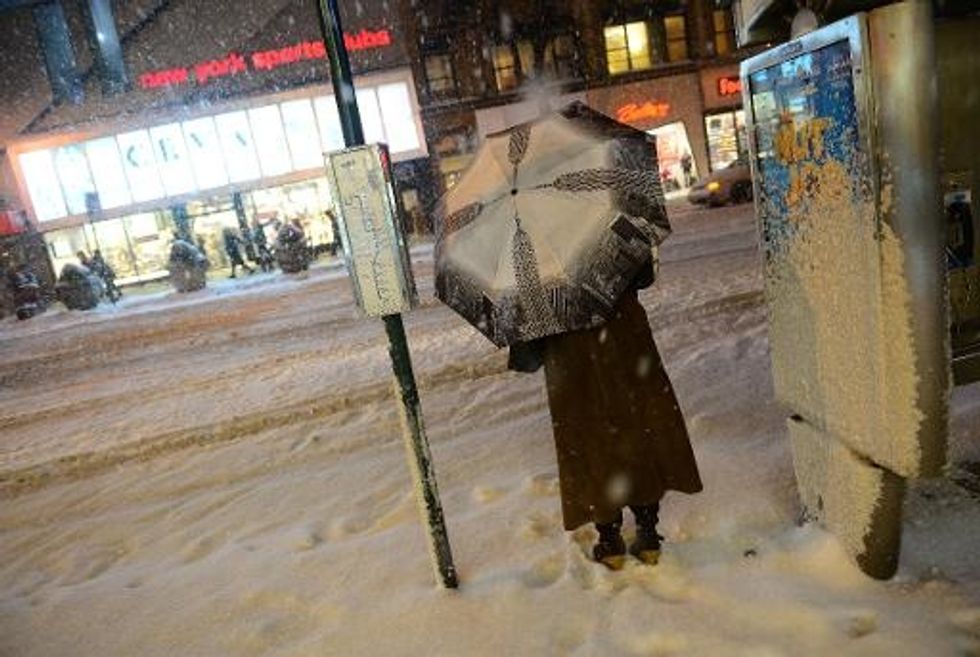 By David Zucchino and Michael Muskal, Los Angeles Times
DURHAM, N.C. — Much of the South found itself in the nastiness of a winter storm Wednesday, with needle-like freezing rain, growing piles of snow and biting temperatures that turned roads into a slippery mess, cut off power to hundreds of thousands of people and grounded thousands of flights.
The storm, which spread from Texas to the Carolinas, was described in near-apocalyptic terms by the National Weather Service, which labeled the weather "an event of historical proportions." The service went on to use terms such as "catastrophic," "crippling" and "paralyzing" in describing the potential hazards.
By afternoon, much of the Deep South was caked in a dangerous armor of glistening ice and snow. At least nine highway deaths were reported and more than 350,000 customers were without electricity in Georgia, South Carolina and Louisiana — and the outages were expected to grow. Some customers could be in the dark for days despite feverish efforts to bring the region's power back on line.
In North Carolina, sections of five major interstate highways were gridlocked and motorists were abandoning their cars — scenes that appeared to repeat the traffic debacle that gripped Atlanta two weeks ago when thousands of vehicles were left on snow-slick roads.
As the situation worsened into the evening, officials warned drivers to stay with their cars or the vehicles would be towed at their expense. Authorities said abandoned vehicles were blocking snow plows and emergency crews, and people trying to walk home were at risk of being hit by cars sliding off icy roads.
Traffic cameras showed vehicles backed up for miles, with cars stacked on roadsides and people stomping through the snow. The Twitter feed for the state transportation department was crammed with warnings of gridlock from Interstate 26 in the west to Interstates 95, 85, 40 and 77 in central and eastern North Carolina.
Schools and many businesses were closed, but commuters leaving work at midday to beat the storm clogged roads leading out of Charlotte and Raleigh. The weather paralyzed major urban areas in Charlotte, the Triangle area of Raleigh, Durham and Chapel Hill, and the Triad area of Greensboro, Winston-Salem and High Point.
North Carolina Gov. Pat McCrory had warned his fellow Tar Heels to stay at home. "Don't put your stupid hat on" and challenge icy highways, the Republican said Tuesday night. He anticipated "one of the toughest storms we're going to see in our history."
Up to 10 inches of snow was predicted for the western mountains of North Carolina, 7 inches for Charlotte and 2 to 4 inches for Raleigh.
The North Carolina State Highway Patrol was inundated by calls for help from motorists trapped on jammed highways, marooned after cars slid into ditches or got stuck on the roadside after rear-end collisions.
"We have bumper-to-bumper traffic in some places and gridlock in others," 1st Sgt. Jeff Gordon of the highway patrol said.
"We're telling people, please, if you're inside, stay there. Don't go out on the roadways," Gordon said. "Just have a look at some of the traffic cameras."
In South Carolina, GOP Gov. Nikki Haley asked President Barack Obama to declare the state a federal disaster area.
"The numbers and conditions look like it's going to be worse than the storm of 2004," Haley told reporters, referring to a storm that knocked out power for 250,000 people and coated power lines with three-quarters of an inch of ice.
The storm is far from spent. It headed northward throughout the day, and was expected to bring from 6 inches to more than a foot of snow Thursday as it moves through Washington, D.C., the New York metropolitan area and into New England by the end of the week.
Still, the miserable weather was a chance for Good Samaritans to do their deeds.
One such do-gooder was Roberto, said Glenda Keenan, who was rescued by the stranger. He told her he was a second-year medical student at the University of North Carolina. And he insisted on helping her after she was marooned on a snowy roadside outside Chapel Hill on Wednesday afternoon.
"He was so sweet — he was determined to deliver this old lady from the side of the road to her lair," Keenan, who is 60-something, said after Roberto had braved icy roads to drive her home. She did not get his full name.
Keenan said she was on her way home from a vinegar and olive oil store she owns when she was forced to stop her Ford Focus in clogged traffic. She couldn't get the car moving again on the ice-slicked road, even after two people tried to push her.
The car was eventually pushed safely to the side of the road, and Keenan decided to walk the two to three miles home — leaving in her trunk the groceries she had just bought to get her through the storm.
A couple in a passing car offered her a ride, but she told them not to stop because they'd get stuck too. Then Roberto pulled up in a sedan and insisted that she ride home with him.
Roberto was worried about his wife, who was enduring her own icy adventure on her drive home, but he drove past his own neighborhood and delivered Keenan to her front door.
"I get so demoralized by the horrible things going on in the world, so it was touching to see a complete stranger so concerned about helping someone in trouble," she said.
AFP Photo/Emmanuel Dunand