No, Colluding With A Hostile Foreign Power Is Not Normal "Opposition Research"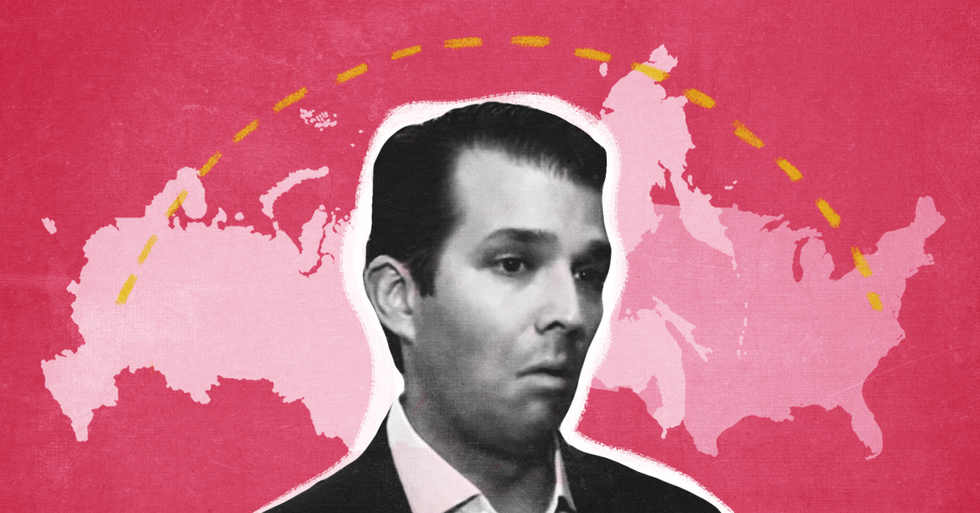 Reprinted with permission from MediaMatters.
President Donald Trump and members of his administration have spent months describing as fake newsreports on his ties to Russia and the allegations that the Russian government acted to aid his presidential campaign. They have remained steadfast amid a drumbeat of stories and even U.S. intelligence community findings about Russia, the election, and Trump's staff. His right-wing media allies have been a key force in this endeavor, consistently finding ways to minimize or explain away damning new revelations and blaming them not on Trump, but on a shadowy nexus of Democrats, the "deep state," and the press. This aid is essential to maintaining the president's political position: The vast majority of Republicans have continued to support Trump in part because of the efforts of his loyal propagandists.
Over the last week, new information has emerged that should change the trajectory of the Russia story. As The New York Times reported, the president's son, Donald Trump Jr., as well as top Trump campaign aides Paul Manafort and Jared Kushner, met during the 2016 presidential campaign with a Kremlin-linked Russian lawyer. Emails that Trump Jr. released reveal that the meeting came about after Trump Jr. was told the lawyer had damaging information about Hillary Clinton that was provided by a Russian government effort to help his father's campaign. Trump Jr. has effectively admitted to trying to collude with a hostile government. The debate should now move to how deep that collusion went, and who was involved.
But this damning new information has moved few minds among the president's core media supporters. Instead, faced with the devastating revelation that the president's campaign was trying to collude with the Russian government, they have followed the president's lead by offering the risible argument that anyone would have done the same thing if given the opportunity. Faced with evidence that the president's team serves no morality but that which benefits itself, they have declared that everyone else shares this twisted worldview.
As Newt Gingrich put it to The Atlantic, "If somebody in the middle of the campaign walks in the door and says 'I have information that will harm your opponent,' virtually every campaign in the world will say show me, what do you have." "Let me tell you, if my father was running for president of the United States," Kimberly Guilfoyle said on Fox, "I would sit down and take a meeting and find out if there was information against an opponent." Yesterday, the president himself adopted this argument, telling Reuters, "Many people, and many political pros, said everybody would do" what his son did; he reiterated the point this afternoon.
It is obviously, flagrantly false that Trump Jr.'s actions were typical and proper. The media has said so: As The New York Times put it, "while opposition research is part of modern presidential campaigns, it normally does not come from representatives of a hostile foreign power." Top Republican campaign operatives have said so, claiming that the incident was extremely unusual, that they wouldn't have taken the meeting, and that the Trump team should have reported it to law enforcement. Christopher Wray, Trump's nominee to become FBI director, has said so, stating that politicians in that situation should call the bureau. And history says so: When a top aide to Al Gore's presidential campaign received George W. Bush's debate preparation materials in the mail, he turned them over to the FBI. (And Trump ally claims that Clinton's campaign similarly colluded with Ukraine are specious nonsense.)
At this point, it seems foolish to imagine that Trump's media allies will change their opinion of the story, regardless of what new information comes forward. They are in too deep at this point, having sacrificed their credibility and independence too many times to turn back now. He expressed unchecked bigotry and they were fine with it; audio bragging about sexual assault was explained away as "locker room talk"; his campaign viciously attacked and even physically battered reporters and was cheered. At a certain point, they went too far, and now have little choice but to tell one another that colluding with a hostile foreign power is not just acceptable, but necessary.
The president's media allies have decided to believe the president instead of their own lying eyes. The result is a series of arguments that have the country not only unmoored from a common view of reality, but of anything approaching a common morality. The propagandists have moved the goalposts from a question of whether a presidential campaign colluded with a hostile foreign government, to whether such collusion is actually a good thing. The nagging remaining question is whether their audience will ever decide that they've seen enough of this farce.
Header image by Sarah Wasko / Media Matters