No, Donald Trump Is Not "Self-Funding" His Campaign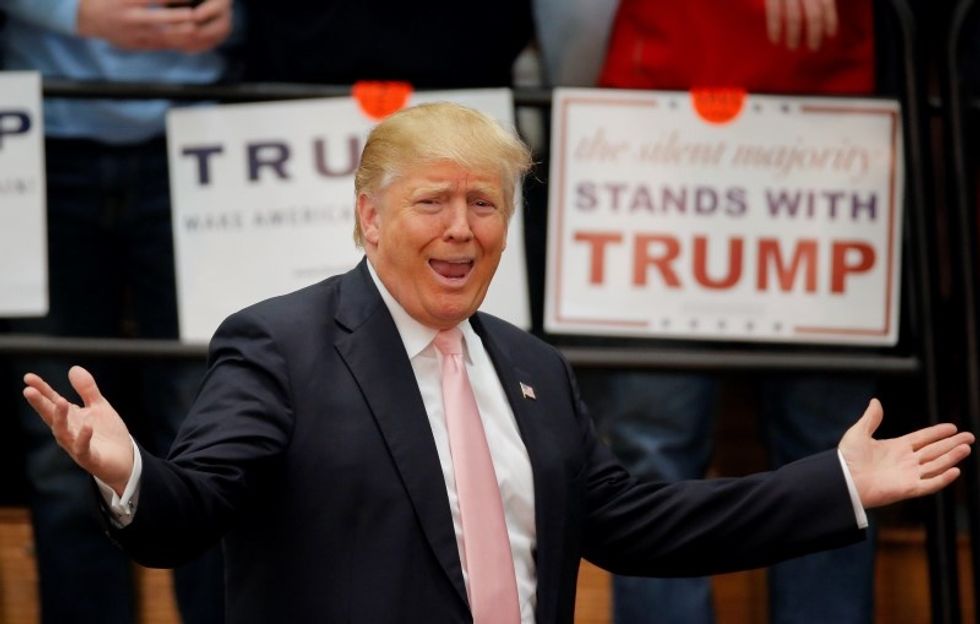 This is a given, but: Don't believe everything — anything — Donald Trump tells you.
Trump began his campaign for the presidency by reminding us that he was very, very rich. So rich, in fact, that he would be "self-funding" his campaign, a term which usually means that he would — duh — personally pay all of his campaign's expenses.
Not so.
The dude's a con artist, as we know, so coming from him, "self-funding" means something entirely different.
Does it mean that Donald Trump doesn't take money from super PACs?
Well, that's what he said, at one point — but he also accepted money from the Make America Great Again PAC, before disavowing it, and is now doing the same with something called TrumPAC, a hybrid between a traditional "bundling" group and a super PAC.
Does it mean that he doesn't accept donations from his supporters?
Not at all. In fact, according to a recent analysis by ABC News, a full third of Trump's war chest is made up of individuals' contributions. He's not selling those hats for fun.
Well sure, but all the rest of his campaign's income is straight from Trump's bank account, right?
Wrong again. In fact, only a tiny portion of the $17,534,058 Trump has given to his campaign is in the form of actual checks.
The rest of it, crucially, is in the form of zero-interest loans — millions and millions of dollars in such loans. And anything can be used to pay back zero-interest loans — even hat sales.
As long as he raises the money he needs to pay himself back before the Republican convention, he will have paid barely anything at all for his supposedly self-funded campaign.
And here's a big surprise: Sources at the Trump campaign recently told CNN that, should Donald become his party's nominee, he will start fundraising like "a traditional party candidate."
So: even though Donald Trump repeatedly claims to be self-funding his campaign, a full third of his campaign income comes from ordinary citizens across the country. And nearly 99 percent of what he does pay comes in the form of zero-interest loans that can be repaid by anyone, not just Trump. And Donald recently announced that his campaign is about to embark on a fundraising spree.
Ok, wow. That all sounds pretty bad. But that's definitely the worst of it, right? Trump could end up funding his campaign just like any normal candidate, if he goes to enough cocktail parties and sells enough hats to pay himself back before November, should he choose to do so?
There's no way he could be generating revenue from this campaign? Right?
Right?!
Think again, chump!
Because federal election law requires that business-owner candidates pay for services provided by their own companies (these are called "in kind," or non-monetary donations), Trump has paid his own businesses and employees millions of dollars over the course of this campaign.
To help visualize all of this, we broke down his campaign's Federal Election Commission filing for the month of January. Notice how much of his campaign's income comes from loans, and the hundreds of thousands of dollars he spent — in one month — on his own companies and employees:

Source: Federal Election Commission/Kim Soffen
If he ends up not self-funding — by covering his loans with donations — Trump would be using the revenue from Joe the Plumber's Make America Shit Again hat to buy gas for his Boeing. Or to employ his personal assistant. Or to pay rent on his campaign headquarters in Trump Tower.
So if and when Trump gets his supporters to foot the bill for those millions in zero-interest loans, this whole campaign will turn out to be one yuge money-maker; perhaps the most cost-effective publicity campaign ever perpetrated upon a democracy.
The Trump campaign could in fact represent the climax in some orgiastic jumble of self-aggrandizement, political dress-up, and getting paid to threaten brown people.
Donald Trump's teenage fantasy, realized: The ultimate con.
Photo: U.S. Republican presidential candidate Donald Trump reacts to supporters as he arrives to a campaign event in Radford, Virginia February 29, 2016. REUTERS/Chris Keane
Graphic: Kim Soffen.