No Federal Charges Against Officer In Ferguson Shooting, Justice Department Says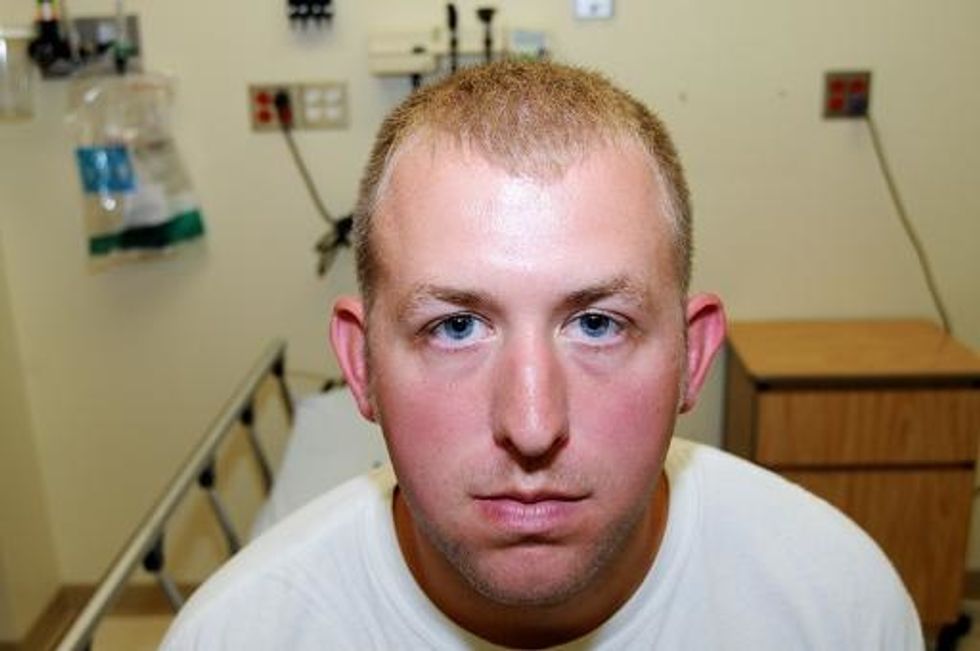 By Molly Hennessy-Fiske and Michael Muskal, Los Angeles Times (TNS)
FERGUSON, Mo. — The Justice Department will not bring federal charges against former Ferguson police officer Darren Wilson in the fatal shooting of Michael Brown, officials announced Wednesday.
"There is no evidence upon which prosecutors can rely to disprove Wilson's stated subjective belief that he feared for his safety," a Justice Department criminal investigation found.
No reliable evidence proves that Brown had his hands up when he was shot, the investigation found.
In the meantime, the future of the Ferguson Police Department remained unclear with Missouri officials expected to comment later Tuesday on the report showing that blacks were subjected to a pattern of excessive force and harassment.
The report revealed patterns of racial bias toward African-Americans across the criminal justice system in Ferguson, from encounters with police patrol officers to treatment in the municipal court and jail.
Black drivers, for example, are far more likely to be searched than whites, even though they are less likely to be found with illegal substances. Nearly all people kept at the city jail for more than two days are black and the overwhelming majority of cases of police force involved African-Americans.
The report was ordered in the wake of the fatal shooting of the unarmed Brown, who was black, by Wilson, a white police officer, on Aug. 9, 2014. The first wave of protests, which at times turned violent, came in the weeks after the shooting, and a second wave came in November after a grand jury decided not to bring any charges against Wilson, who has since left the force.
There were no protesters in front of the Ferguson police headquarters early Wednesday, but the main street was still marked by the nights of turmoil that followed the grand jury decision — more than a dozen storefronts are still boarded up. Uplifting slogans, from "Ferguson strong" to "An injustice anywhere is injustice everywhere" and "Community" were visible.
Darren Seals, 27, just coming off the night shift at a General Motors plant Wednesday morning, said that after hearing about the Justice Department report he's convinced the police department should be shut down.
"I don't see no other way," Seals said. "You can't improve that. How are they going to improve their hearts, their intentions? You need an entirely new police force. I mean, look at how they treated the protesters. They haven't done the right thing in all this time, they're not going to do it now."
Bradley Rayford, 22, a junior at St. Louis Community College Florissant Valley, was among those who met with Attorney General Eric H. Holder Jr. last summer when he visited Ferguson in the wake of Brown's shooting.
"I'm just glad people know it happened. The question is what can you do about it now? What can you start to change about the culture in the police department? The culture is going to be hard to change. So I'm interested to see what happens going forward," Rayford said.
The Brown family was in town Wednesday but did not plan to make any statements about the Justice Department report, said family attorney Anthony Gray.
"Clearly it's not enough," Gray said of the report. "The family has always felt that a crime occurred on Aug. 9 and the officer should be held accountable."
Gray said that whether the police department is shut down or overhauled as a result of the report, the key will be holding it accountable in months and years to come.
The city announced it would not comment on the report until it is formally released. But city leaders are expected to face hard choices in the coming days, including how to pay for possible retraining of the existing force vs. contracting out police services to St. Louis County.
"It will be expensive to carry out charges," said Antonio French, an alderman in nearby St. Louis and a frequent presence during the demonstrations and disturbances. "It is not clear where that money will come from and it may be easier to contract with the county."
Patrick Green, mayor of nearby Normandy, said Ferguson will have to revamp its department.
"It's in their best interests. The department was running in some ways on its own without the detailed oversight from its officials," Green said.
"They need to restructure," he said, "Can they do it because of what DOJ is saying? Sure they can."
African-Americans make up about two-thirds of the population of Ferguson, about 10 miles from downtown St. Louis. At the time of the Brown shooting only three of 53 city police officers were black.
The Justice Department has conducted about 20 investigations of police departments during the last six years while being led by Holder. Holder has announced he is stepping down soon.
Investigations that find wrongdoing usually lead to a consent decree between the federal government and the municipality, and an independent monitor is appointed to oversee the recommended changes, including the retraining of law enforcement officers.
Large cities can usually afford the cost associated with retraining but smaller cities have had to scrimp or borrow to make ends meet.
Gabe Crocker, president of the St Louis County Police Association, said he was eager to see the full Justice Department report, especially their statistical analysis.
"As a police union leader, I want to know the numbers, I want to see how they did what they did and how they came to those conclusions," he said.
He said he expects the Ferguson police department will end up operating under a consent decree.
"They had to find something," he said, because, "a lot of folks out there want to see change."
AFP Photo