No Former GOP Presidential Nominees Have Endorsed Trump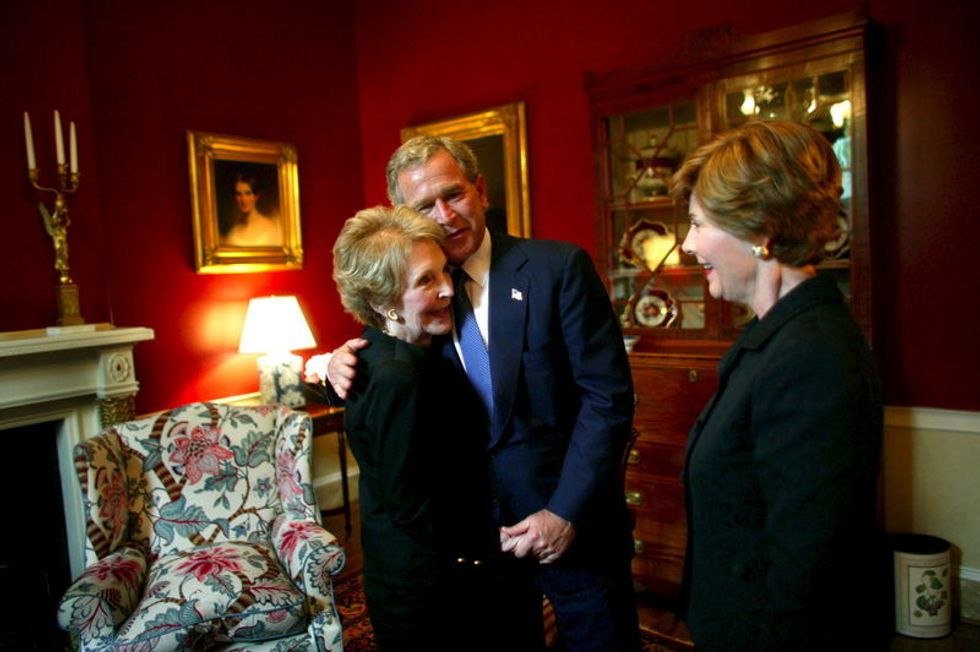 The Republican Party, which is on track to nominate a candidate that defies party orthodoxy on everything from trade to nuclear nonproliferation, is going through a generational change.
And nothing illustrates Trump's departures from the rest of his adopted party like the near total silence from former Republican presidential nominees on Trump's nativist campaign.
Mitt Romney, the party's nominee in 2012, gave a speech at the beginning of March rebutting Trump's message, calling him a "phony," "fraud," "con man," and a "fake." No ringing endorsement. Romney's stayed silent since both Ted Cruz and John Kasich dropped out of the nominating battle earlier this week.
On Wednesday, Romney's political protégé (and Trump endorsee) Scott Brown said of Romney, "I've heard from many sources that he has said, indirectly or directly to them … if it's between Hillary and Trump, Trump wins." But Romney hasn't commented on Brown's comments — take them with a huge grain of salt.
In recordings obtained by Politico of a fundraiser for his re-election campaign, John McCain, who lost against Barack Obama in 2008, said, "Have no doubt that if it is Donald Trump at the top of the ticket here in Arizona, with over 30 percent of the vote being Hispanic votes, I have no doubt that this may be the last race of my life."
McCain goes on to describe the "element of nativism" in Donald Trump's pitch to "angry" voters: "The first wedge that Donald trump had that gave him notoriety was 'Build a wall, rapists, murderers, et cetera,'" McCain says.
The personal aide of George W. Bush, Republican nominee in 2000 and 2004, told The Texas Tribune that the former president "does not plan to participate in or comment on the presidential campaign."
A spokesman for his father, George H. W. Bush, said the 91-year-old former president "is retired from politics," though Bush did endorse John McCain and Mitt Romney in 2008 and 2012, respectively.
Bob Dole, who lost to Bill Clinton in 1992, has come about as close to endorsing Trump as any living former GOP nominee. In January, he said nominating Ted Cruz would be "cataclysmic" for Republicans ("nobody likes him"), and that Donald Trump would "probably work with Congress, because he's, you know, he's got the right personality and he's kind of a deal-maker."
But this was before the first Republican voters made their feelings known in Iowa — before Trump essentially hijacked Dole's party. It's possible Bob Dole will endorse Trump as the Republican nominee, based on his statements in January. But the 92-year-old he hasn't commented on the election since then.
Photo: U.S. President George W. Bush and first lady Laura Bush (R) greet former first lady Nancy Reagan at Blair House in Washington in this June 10, 2004 file photo. REUTERS/Stringer/Files