No, Roy Moore, God Won't Solve Our Problems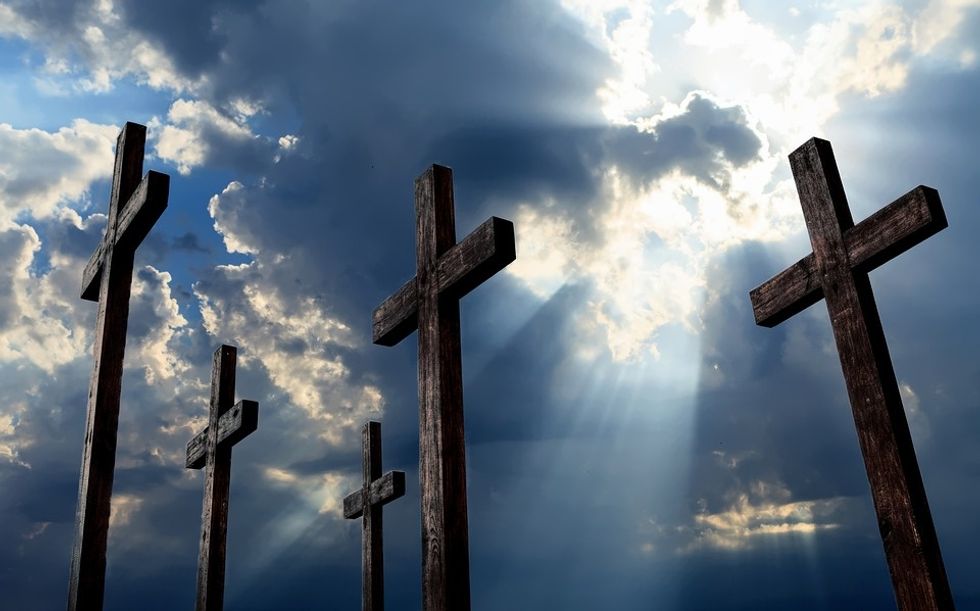 Reprinted with permission from Creators.
Roy Moore's die-hard supporters have shown a vast capacity to accept his denials as a procession of women accuse him of sexual assault, fondling a 14-year-old and creeping out girls in malls. His evangelical followers are ready to believe him on that matter because they agree when he says that to be saved, we Americans must "turn from our wicked ways" and "come back to God."
Moore is a good approximation of a theocrat. A former chief justice of the Alabama Supreme Court, he was removed for defying a court order to take down the Ten Commandments monument he had installed in the state judicial building. He put it there, he announced, to affirm "the sovereignty of God."
He contends that the Christian God is "the only source of our law, liberty and government." He has intimated that 9/11 may have been divine punishment for our rampant depravity. "We've suffered a lot in this country, maybe, just maybe, because we've distanced ourselves from the one that has it within his hands to heal this land," Moore said.
Or maybe not. The claim that Christian belief and practice are a bulwark against the evils of modern America is not one that has to be taken on faith. It can be weighed against real-world experience. And though superficially plausible, it is badly lacking in evidence.
Belief in God may help some people overcome destructive habits, as suggested by the record of groups such as Alcoholics Anonymous. Plenty of the faithful are conscientious in striving to lead moral lives. But as a rule, Christian practice doesn't cure broad social problems. Just the opposite.
The evidence from the 50 states is abundant. The Pew Research Center found that the states with the highest percentage of "highly religious" adults are Alabama and Mississippi. Next are Tennessee and Louisiana. In Roy Moore's Alabama, 82 percent of adults believe in God with absolute certainty and 73 percent say they pray every day.
The least religious states are Massachusetts, New Hampshire, Vermont and Maine. In Massachusetts and New Hampshire, just 33 percent of adults are highly religious, followed by 34 percent in Vermont and Maine.
The gap, by Moore's standard, is even bigger than it looks. The biggest share of believers in Massachusetts consists of Catholics, who follow what many evangelicals regard as a false religion.
If Christian discipleship is the key to a healthy society, states at the top of the religiosity scale should do far better than those at the bottom in fostering safety, strong families and wholesome behavior. But they don't — not by a long way.
Last year, Bible-believing Louisiana had the highest murder rate in the country. Moore's Alabama came in third. Prayer-drenched Mississippi had the sixth-worst.
You're much safer when surrounded by skeptics. The irreligious state of Massachusetts was the fifth-lowest in the murder rate, with only 17 percent as many homicides per capita as Louisiana. Godless New Hampshire and Maine had the nation's lowest murder rates.
Of the 10 least religious states, none is among the 10 most dangerous. Of the 10 most religious states, only Utah is among the 10 that are least hospitable to homicide.
God-fearing places also don't have a stellar record of upholding the family. The divorce rate is 50 percent higher in Alabama than in Massachusetts — which, by the way, was the first state to legalize same-sex marriage. New Hampshire and Mississippi, at opposite ends of the religiosity spectrum, are virtually identical in the propensity for marital dissolution.
Highly religious Tennessee is worse than average; unreligious Vermont is average. Utah is the rare religious state that does well on this score — but its dominant faith is Mormonism, not Moore's Baptist fundamentalism.
Births to unmarried women are another symptom of the decline of the family. Last year, these accounted for 53 percent of births in Mississippi, the highest in the country, and 52 percent in Louisiana. In Massachusetts and New Hampshire, they were just one-third of births.
Utah recorded the nation's lowest share of out-of-wedlock births. The second-lowest was found in Colorado, where many people seek enlightenment at the cannabis dispensary instead of church. Secularism, judging from the data, appears to be protective, not destructive.
Yes, Roy Moore insists that coming to God would make for a sounder, healthier America. What a surprise to find that when he opens his mouth, what comes out is not the truth.
Steve Chapman blogs at http://www.chicagotribune.com/news/opinion/chapman. Follow him on Twitter @SteveChapman13 or at https://www.facebook.com/stevechapman13. To find out more about Steve Chapman and read features by other Creators Syndicate writers and cartoonists, visit the Creators Syndicate website at www.creators.com.