Nobody Noticed These Trump Appointees, But They Deserve A Very Hard Look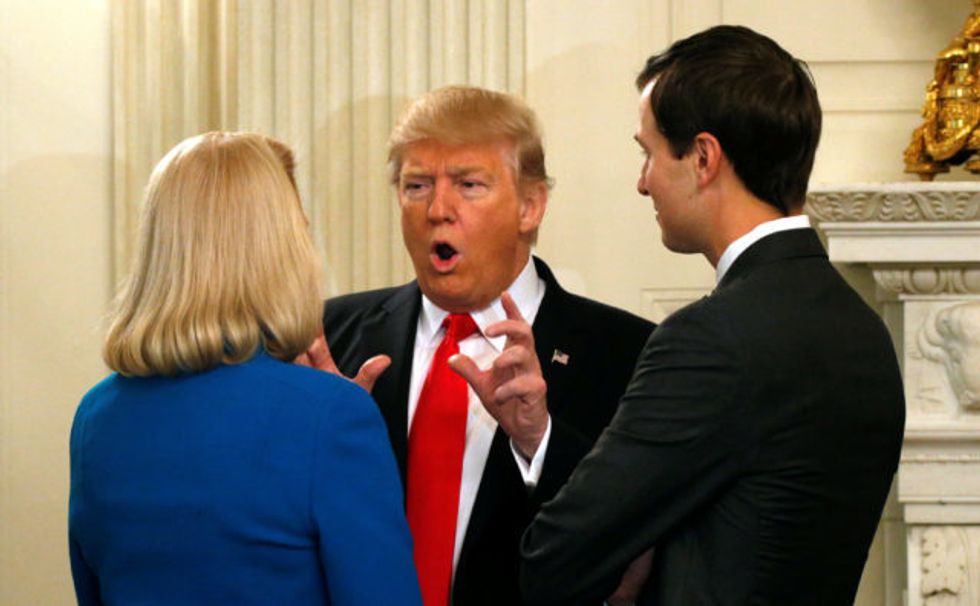 Reprinted with permission from ProPublica.
We Found a New Batch of Trump Administration Appointees
In 2015, March Bell was Republican staff director and chief counsel for a House panel that investigated Planned Parenthood. The mission: to find out if Planned Parenthood, a system of more than 600 reproductive care clinics across the country, was profiting off donated fetal tissues. The investigation was kicked off by undercover videos from anti-abortion activists that were heavily doctored and edited.
After 15 months of investigation and $1.6 million in taxpayer dollars, the Select Investigative Panel on Infant Lives found no evidence of wrongdoing but nonetheless recommended that the National Institutes of Health stop funding Planned Parenthood. Later, a Texas grand jury cleared the nonprofit of misconduct after the state attempted to defund it. Texas prosecutors did, however, indict two of the anti-abortion activists who shot the undercover videos.
Now, Bell, a former Department of Justice attorney, is a senior adviser and chief of staff in the Office for Civil Rights at the Department of Health and Human Services. He started in the Trump administration in March 2017 and took on the additional adviser title in April 2018. The exact details of Bell's new position have not been made public.
Bell is just one in the latest group of appointees for whom ProPublica obtained information through a Freedom of Information Act request. Since April, 34 people have been appointed to political jobs within the Trump administration, and another 35 have transferred to other government agencies or taken on new jobs, according to the data we obtained.
Worried about his anti-abortion background, Democrats have argued that Bell's role on the congressional Planned Parenthood investigation would make him an inappropriate choice for the Office for Civil Rights. In a letter to Health and Human Services Secretary Alex Azar, six congressional Democrats said they believe that Bell was in close contact with anti-abortion activists who provided the doctored videos of health care providers, received materials not shared with Democratic members of the panel, and "reportedly said that the ultimate goal of the Select Panel was to weaken Planned Parenthood."
"Given the ethical question surrounding Mr. Bell's conduct and actions during the Select Panel's investigation, we respectfully request that, at the very least, Mr. Bell be recused from any case pending before OCR pertaining to fetal tissue or abortion services," the letter continued. "It is clear that Mr. Bell is not an impartial investigator on those topics, and we do not believe he can be trusted to fairly adjudicate any related cases."
A spokesperson for the Office for Civil Rights wrote in an email that Bell was cleared prior to his appointments by HHS ethics attorneys. "He was also advised that he was not legally required to recuse himself from work on matters related to his work on the Select Panel because he had no financial conflict of interest or duty to recuse under the federal ethics rules," the spokesperson wrote. "HHS employees do not have ethics recusal obligations under the federal ethics laws for work performed as employees of Congress, as both positions are federal government jobs. Nevertheless, more than a year ago after he first arrived at HHS, out of an abundance of caution, Mr. Bell recused himself from all enforcement matters related to his work on the Select Panel's investigation to alleviate any optics concerns by members of the public or Congress."
In January, under the leadership of director Roger Serevino and Bell, the Office for Civil Rights created the division of conscience and religious freedom, which extends anti-discrimination protections to medical providers who deny care to people on religious or moral grounds.
A lawyer who worked on the bankruptcies of both Detroit and Puerto Rico now oversees multicompany pension plans.
Sam Alberts was quietly appointed in October 2017 to oversee the Treasury Department's implementation of a law that allows cuts in struggling multiemployer pension plans in order to save them from insolvency. Alberts, a partner at Dentons, an international corporate law firm, is an unpaid consultant and succeeds Ken Feinberg, who is best known for overseeing the 9/11 victims' compensation fund.
Alberts' appointment was not publicly disclosed until ProPublica made a Freedom of Information Act request. As a special master under the Multiemployer Pension Reform Act, Alberts works with the departments of Treasury and Labor and the Pension Benefit Guaranty Corporation. He can approve or deny requests to reduce benefits, such as retirement payments.
The law, passed in 2014 at the 11th hour before a government shutdown, has been criticized for the harm it could potentially do to retirees. Earlier this month, before a multiemployer pension plan committee in Ohio, thousands gathered to call for preserving or bailing out pensions for unionized workers.
Alberts has a long track record; he represented retirees in the Detroit bankruptcy in 2013 and provided restructuring advice to the government of Puerto Rico before it entered the equivalent of bankruptcy. Feinberg said he met Alberts once during a transition meeting and thinks the program is in good hands.
Alberts did not respond to a ProPublica request for a comment.
Another Heritage Foundation veteran joins the administration.
Alden Abbott was appointed acting general counsel for the Federal Trade Commission in April. Abbott is a classic example of the revolving door — he previously worked for the Federal Trade Commission for years and also worked for BlackBerry — who reached the Trump administration via a well-trod path: He most recently worked for the Heritage Foundation, the prominent conservative Washington think tank. Abbott has also held government positions in the Justice and Commerce departments, in private practice, and worked for a telecommunications industry trade organization. Abbott was previously a fellow for another conservative think tank, the Legatum Institute, which the Financial Times once called "the think-tank at the intellectual heart of 'hard' Brexit."
Among the other new Trump administration hires:
Deborah Bergeron was appointed to be director of Head Start in April. She founded the American Tutoring Association (which is no longer active, according to a spokesperson for the Administration for Children and Families) and served as the principal of Manassas Park High School in Northern Virginia.
Jonathan Berry is the principal deputy assistant secretary in the Department of Labor. A former lawyer for Jones Day, he was the chief counsel for Trump's transition team and formerly served in the Department of Justice. He was also a legal adviser to the Mitt Romney campaign.
Arjun Garg, who used to be a trial attorney in the Department of Justice, is the general counsel for the Federal Transit Administration. He was hired in April. Last year, Garg represented the Trump administration in a suit filed against it by the city of Philadelphia. A judge ruled in the city's favor, finding that the Justice Department's attempts to withhold grants because of Philadelphia's status as a sanctuary city were "arbitrary and capricious."
Ryan McDormett is a confidential assistant in the Commerce Department's Office of Executive Secretariat, which provides mostly administrative support. McDormett played an active role in supporting an immigration bill called "Sarah's Law" in Iowa. The law was named after Sarah Root, who was killed in a car accident when a vehicle driven by an undocumented man struck her. The bill calls for the federal detention of illegal immigrants who have been accused of committing a violent crime. Sarah's Law passed in the House in 2017 with the "No Sanctuary for Criminals Act" but has not advanced. McDormett and the Root family have met with President Donald Trump. Asked for comment, McDormett replied in an email, "You guys do not cover the administration in a fair and accurate manner. Thanks."
For more on the administration's appointees, visit Trump Town, our database of staffers and their backgrounds.
ProPublica is a Pulitzer Prize-winning investigative newsroom. Sign up for their newsletter.