North Carolina Education Department Used Koch-Funded Group For Proposed History Lessons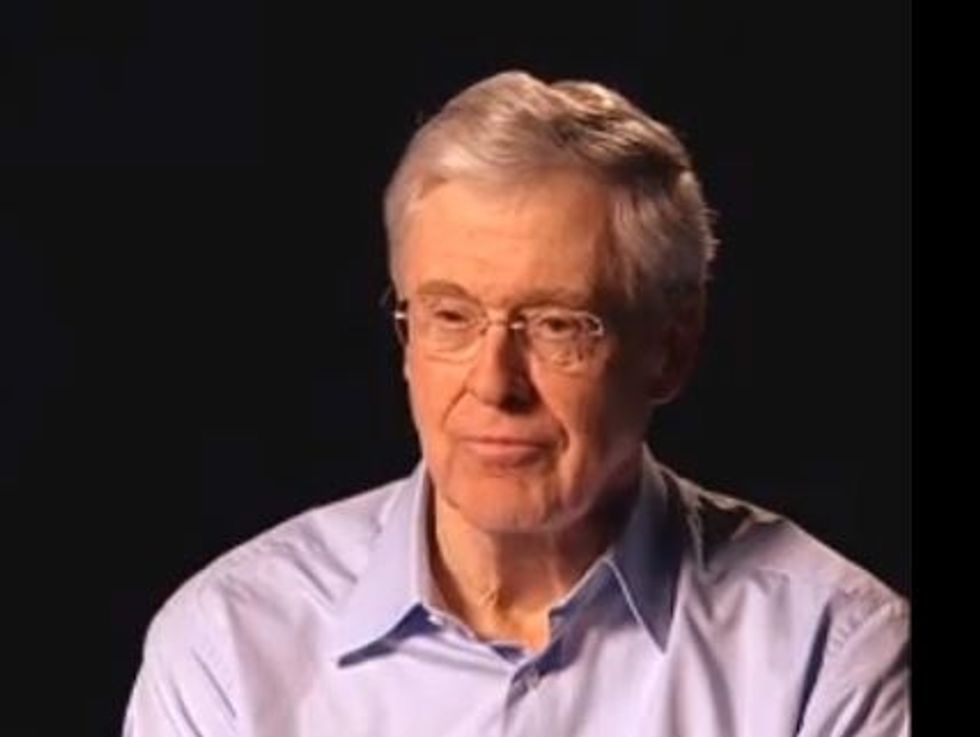 By Lynn Bonner, The News & Observer (Raleigh, N.C.) (TNS)
RALEIGH, N.C. — High school social studies teachers in North Carolina would be encouraged to use curriculum materials prepared by an institute funded by the conservative Koch family, under a proposal the Department of Public Instruction presented this week.
The Bill of Rights Institute, based in Virginia, had a $100,000, sole-source contract with the state to help develop materials for teachers to use in a course on founding principles that the state requires students to take. The institute was founded in 1999 and receives grants from David H. Koch, the Charles Koch Foundation, and the Fred and Mary Koch Foundation, according to a website on Koch family philanthropies.
The state Department of Public Instruction decision to "highly recommend" that school districts use the Bill of Rights Institute material comes as the state is embroiled in a controversy over teaching history — whether schools have students study the founding principles as the law requires, whether AP U.S. History meets those requirements and whether the college-level course developed by the College Board has a liberal bias.
The 390-page founding principles curriculum includes readings, activities, questions students should discuss and references to online resources for the 10 principles described in a 2011 law inspired by proposed legislation promoted by the American Legislative Exchange Council, a conservative group backed by major corporations.
June Atkinson, state school superintendent and a Democrat, said the state looked for groups that could help write the founding principles curriculum but found only the Bill of Rights Institute. The institute did not return phone calls.
The institute collaborated with state educators, Atkinson said, and they requested feedback from teachers, who reviewed the work and suggested changes.
"It wasn't a carte blanche, we'll take what you have," she said. "We wanted a balanced approach."
But history teachers said in interviews Wednesday that they already have a wealth of resources available for teaching the founding principles. Some said it was not appropriate for a Koch-connected group to write public school course materials, and none knew that the state had hired the institute to develop a curriculum.
Charles and David Koch are active in conservative politics and finance an expansive political network.
People whose "principal concern is profit-making" should not develop curriculum, said Bryan Proffitt, a history teacher at Hillside High School in Durham. Curriculum should be developed "in a democratic fashion" by people closest to the classroom, he said.
State education officials maintain that a required course on civics and economics covers the founding principles as the law intended. To emphasize the point, Department of Public Instruction is recommending that the name of the course be changed to "American History: The Founding Principles, Civics and Economics." DPI staff gave the State Board of Education its recommendations Wednesday.
State legislators, education leaders and board of education members have spent this week talking about founding principles, AP U.S. History and requirements under state law. Larry Krieger, a leading critic of AP U.S. History, spoke to legislators and school board members Monday, saying the course does not meet state requirements. Krieger also argues that the course has a liberal bias. A representative from the College Board said the course meets the requirements.
State Rep. D. Craig Horn, a Republican who has been involved in education matters, said he hasn't made up his mind whether the AP course meets state requirements but wants to make sure that the law is obeyed.
"My concern is our kids being taught in our schools should have a fundamental understanding of what makes us 'us,' " Horn said.
Horn knew of the recommendation to rename the civics and economics course but did not know of the Bill of Rights Institute's involvement in writing the curriculum. He said it would be difficult to answer questions about it.
"I don't want to presuppose something," he said. "I have not carefully reviewed the superintendent's recommendations on what should be done."
Harry Watson, a history professor at the University of North Carolina-Chapel Hill, said he's not surprised by the controversy.
"The way we think about the American past has a great deal to do with how we think about the American present and what kind of country we think we are and what kind of country we'd like to become," he said. "Certainly, when you're directly addressing the way the nation's past is taught to impressionable young people, you're directly talking about what kind of country they will believe in in the future. I wish it weren't being fought out politically, but I'm not surprised."
Watson said he didn't think it appropriate for the state to turn to a Koch-funded group to help write history lessons.
"I think the Koch brothers have demonstrated they have a strong and active partisan interest in politics," he said. "I don't think the public school curriculum should be written from a partisan perspective."
It is unusual for the Department of Public Instruction to tell school districts how to teach a course. Typically, the state sets out goals for grades or courses and lets the districts and teachers decide how to meet them. The state does point teachers to a variety of available resources.
Atkinson said the founding principles law required a different approach because it specified a curriculum be provided. The law also says that local boards of education should be involved in providing it.
History teachers said they did not fully understand the outcry, since it would be impossible to teach AP U.S. History without referring to founding documents and because teachers are free to add material that must be covered.
Paige Meszaros, an AP U.S. History teacher at Longleaf School of the Arts in Raleigh, said the controversy doesn't reflect what's happening in the classroom where she teaches the founding principles.
She uses information from the Smithsonian Institution, the Library of Congress and other sources in her classes, and said it's a bad idea to have a single curriculum for a course.
"You're setting up students for failure when you limit their world view," she said. "It's not allowing teachers to be professionals. I would love to look at the lesson plans, but I would not want that to be dictated."