North Korea Detains Third U.S. Tourist
@AFP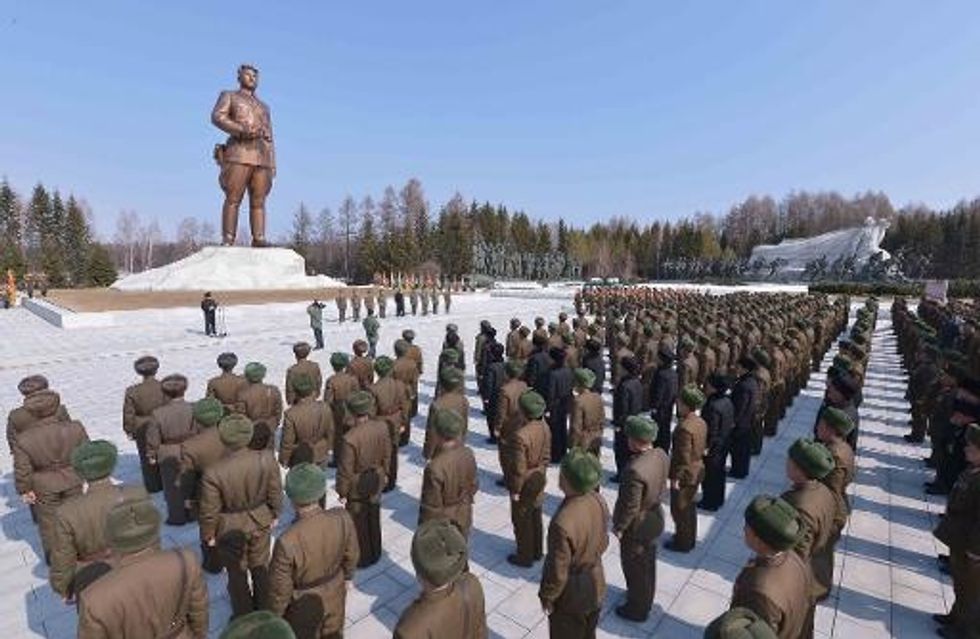 Seoul (AFP) – North Korea said Friday it had detained a U.S. tourist for "hostile activities" after he reportedly left a bible at a hotel, bringing to three the number of Americans held by the reclusive regime including missionary Kenneth Bae.
The official Korean Central News Agency (KCNA) said in a brief report that Jeffrey Edward Fowle was being questioned by authorities after violating visa regulations.
"US citizen in custody for committing anti-DPRK (North Korea) hostile activities", KCNA said in its headline accompanying the story.
The agency said Fowle had entered the country as a tourist on April 29 and "acted in violation of the DPRK (North Korea) law, contrary to the purpose of tourism during his stay".
"A relevant organ of the DPRK detained him and is investigating him," it added.
Japanese news agency Kyodo, citing diplomatic sources, said the detainee had been part of a tour group and was held in mid-May after he left a bible at the hotel he was staying at.
The report said he was about to leave the country.
Fowle is the third U.S. citizen known to be currently detained by the North.
The two others include 24-year-old U.S. tourist Matthew Todd Miller, who was arrested in April after he apparently ripped up his visa at immigration and demanded asylum in the communist state.
Kenneth Bae, described by a North Korean court as a militant Christian evangelist, is also being held in the North after he was arrested in November 2012 and sentenced to 15 years' hard labour on charges of seeking to topple the government.
U.S. efforts to secure Bae's release have so far been unsuccessful.
A number of missionaries have been arrested in the isolated communist state in the past. Some were allowed to return home after interventions by high-profile U.S. figures.
A 75-year-old Australian John Short was detained for 13 days until early March after distributing religious material in Pyongyang.
He was deported after signing a detailed "confession" and apology.
Analysts said North Korea was particularly sensitive about Christian activities as the international community criticizes the secretive state's human rights record.
"The North is sending a signal that it won't yield to any outside pressure and it will continue being stern in dealing with any threat to its regime", Professor Yang Moo-Jin of the University of North Korean Studies told AFP.
Last year, then 85-year-old U.S. Korean war veteran Merrill Newman was held for more than a month in North Korea after inquiring about North Korean veterans while on a guided trip to the reclusive state.
On his return home to California in December, Newman, who was forced to make a filmed "confession," said he believed North Korean authorities misunderstood his "curiosity as something more sinister".
He had concluded that, "for the North Korean regime, the Korean War isn't over and that even innocent remarks about the war can cause big problems if you are a foreigner".
Last month the U.S. government issued a fresh warning against all travel by U.S. citizens to North Korea, saying that even joining a tour would fail to protect them from arbitrary arrest.
The U.S. House Foreign Affairs committee last week approved a bill aimed at toughening sanctions against North Korea by targeting money laundering and human rights violations.
The House bill would create a blacklist of officials judged to be involved in human rights abuses after a damning report by a UN commission likened abuses by Kim Jong-Un's regime to those under Nazi Germany.
The United States has no diplomatic or consular relations with the North with the Swedish Embassy in Pyongyang provides limited consular services to U.S. citizens there.
AFP Photo/KNS