North Korea Scraps U.S. Envoy's Invite As Tensions Mount
@AFP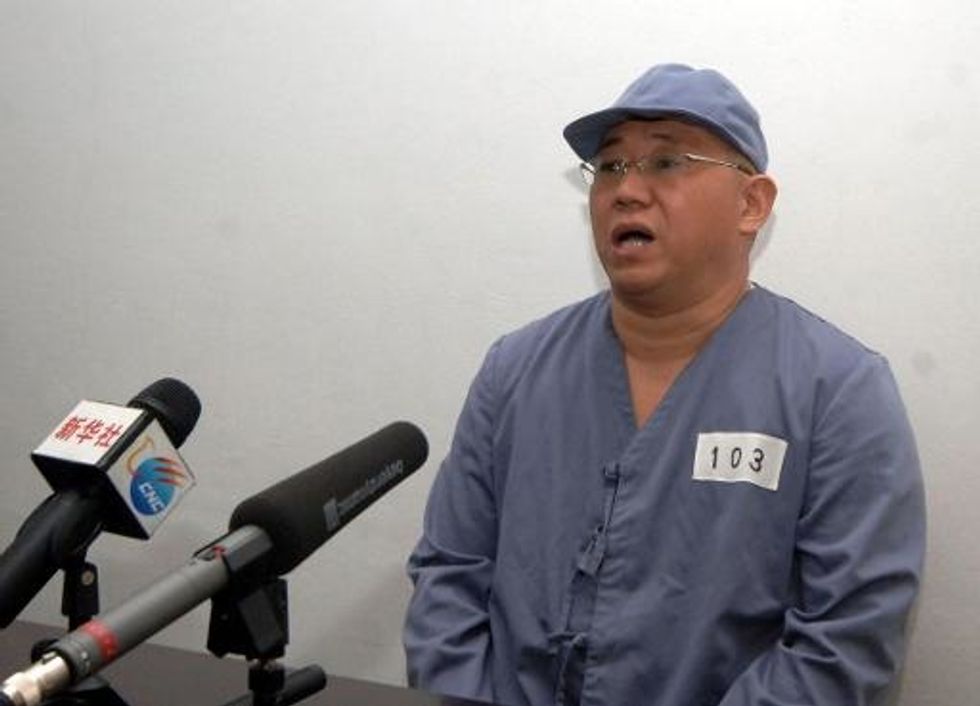 Washington (AFP) – Tensions tightened on the Korean peninsula Monday, as North Korea cancelled a U.S. envoy's visit over a jailed Korean American, and Seoul and Washington set dates for military drills denounced by Pyongyang.
Frictions with the North will dominate the agenda when U.S. Secretary of State John Kerry makes a brief visit to Seoul later this week as part of an Asia tour.
The U.S. State Department said it was "deeply disappointed" by the North's decision to rescind — without explanation — its invitation to Robert King, the U.S. special envoy for North Korean human rights issues.
King had hoped to secure the release of Kenneth Bae, who was arrested in November 2012 and later sentenced to 15 years' hard labor on charges of seeking to topple the North Korean government.
Bae, a tour operator, was described by a North Korean court as a militant Christian evangelist.
It is the second time King has been rebuffed. North Korea previously scrapped an invite at the last minute for him to discuss Bae's case at the end of August.
Bae, 45, began serving his sentence in May 2013 and was admitted to hospital in August with kidney and liver problems.
He was returned to the labor camp last month, and his family and U.S. officials have voiced deep concerns over his health.
In a video of a conversation with Swedish diplomat Cecilia Anderberg, Bae said he has already lost as much as 10 pounds in weight since his return to the camp, CNN reported Monday.
"I know if I continue for the next several months here, I will probably be sent back to the hospital again," Bae said in the footage recorded on Friday and released by Chosun Sinbo, a pro-North Korean newspaper in Japan.
Sweden represents U.S. interests in North Korea because Washington has no diplomatic presence in Pyongyang.
Wearing a gray jacket with the prisoner number "103" marked on it, Bae said he hoped North Korea would allow a U.S. envoy to visit Pyongyang for talks on his case, CNN reported.
In the video the Korean-American said he is suffering from pain in his back and neck, making the eight hours of daily labour in the camp "very difficult."
Bae also asked the diplomat to tell his family he had not lost hope, saying he had access to books and television at the camp and that staff treat him "very fairly."
The rescinding of King's invitation came ahead of annual South Korea-US military drills which Pyongyang has urged Seoul to cancel.
The allies' Combined Forces Command (CFC) said Monday that the "Key Resolve" and "Foal Eagle" exercises would run from February 24-April 18.
A combined total of 12,700 U.S. forces will participate in the two drills, the CFC said, adding that North Korea had been informed of the dates and the "non-provocative" nature of the manoeuvres.
North Korea, which views the annual drills as rehearsals for invasion, has already warned the South of an "unimaginable holocaust" if they go ahead.
Bae's family fear he has become a pawn in the row — a concern referenced by US State Department spokeswoman Jen Psaki who indicated that North Korea should stick by a promise it made last year not to use Bae as a "political bargaining chip."
Psaki also stressed that Bae's case should "in no way" be linked to the holding of the annual drills.
The start of the drills will overlap with a reunion for families separated by the 1950-53 Korean War that is scheduled to be held February 20-25 at the North's Mount Kumgang resort.
Seoul and Pyongyang reached an agreement on the reunion last Wednesday, but only a day later the North threatened to pull out, citing U.S. bomber sorties and "slanderous" reports in the South Korean press.
South Korean President Park Geun-Hye has urged Pyongyang to honor the agreement for the sake of the family members, many of whom are in advanced old age and frail health.
"Key Resolve" lasts around 10 days and is a largely computer-simulated exercise, while the eight-week "Foal Eagle" drill involves air, ground and naval field training.
Last year's drills fueled an unusually sharp and protracted surge in military tensions, with Pyongyang threatening a preemptive nuclear strike, and nuclear capable US stealth bombers making dummy runs over the Korean peninsula.
South Korea has warned that the North might be planning a provocation during the upcoming exercises.
Recent satellite images suggest the North has almost completed enlargement of its main satellite launch pad, allowing the launch of a long-range rocket as early as next month.
North Korea successfully put a satellite in orbit in December 2012 with a launch that was condemned by the international community as a disguised ballistic missile test and resulted in a tightening of UN sanctions.
South Korean Defense Minister Kim Kwan-Jin told a parliamentary committee Monday that the North's main nuclear test site was fully operations-ready, although "there's no sign that a nuclear test is imminent."
North Korea carried out its third — and most powerful — nuclear test in February last year.
On Monday the North's official Korean Central News Agency reported that Donald Gregg, a former U.S. ambassador to South Korea who now heads the Pacific Century Institute, had arrived in Pyongyang along with other members of the US civic group.
It was unclear whether the trip was aimed at helping to facilitate the release of Bae.
AFP Photo/Kcna via Kns