North Korea Troops Pledge Loyalty En Masse As Seoul On Alert
@AFP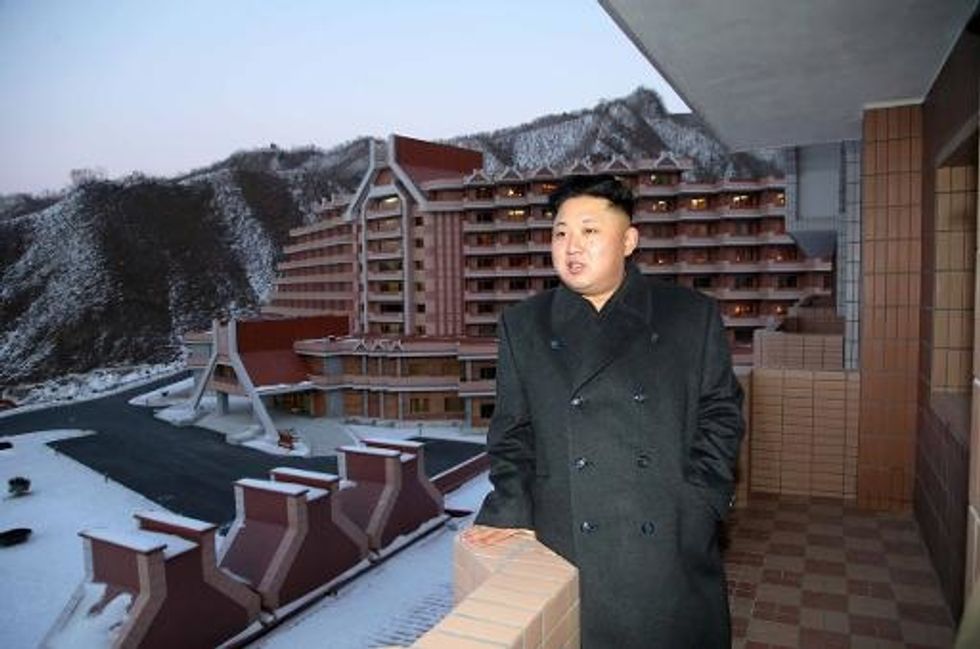 Seoul (AFP) – Tens of thousands of North Korean troops pledged their loyalty to leader Kim Jong-Un Monday as Seoul put its forces on alert for "reckless provocations" after its communist rival staged a political purge.
The mass rally in Pyongyang came ahead of Tuesday's second anniversary of the death of longtime leader Kim Jong-Il, whose sudden demise thrust his young son to the helm of the secretive state.
Kim has been making efforts to demonstrate his firm grip on power following the shock execution Thursday of his uncle Jang Song-Thaek, prompting both Seoul and Washington to warn that vigilance is needed against any surprises by the nuclear-armed regime.
Photos from state media showed tens of thousands of troops carrying red flags marching in a large square in front of the Kumsusan Palace of the Sun, the spiritual heart of the regime which houses the embalmed bodies of Kim Jong-Il and his father Kim Il-Sung.
Some soldiers held flags bearing portraits of founding father Kim Il-Sung while others carried a giant banner urging all troops to hold his grandson Kim Jong-Un in "high esteem as the party centre".
Public support from the military is likely even more important following the execution of Jang, a veteran fixer and political eminence grise who was seen as playing a key role in bolstering the leadership of the young and inexperienced Kim.
"Given the latest development in the North, it is uncertain to what directions its political situations would evolve," South Korean President Park Geun-Hye said in a meeting with advisors on Monday.
"We also can't rule out the possibility of contingencies such as reckless provocations," she said, urging the military to step up vigilance near the heavily fortified border with the North.
In the past, North Korea has staged nuclear or missile tests around important political dates. On Monday, thousands of North Korean propaganda leaflets fell on the frontline island of Baengnyeong , warning of an attack on South Korean soldiers stationed there, Yonhap news agency said.
Park discussed what she called the "grave and unpredictable" situation in a high-level meeting with top defense and national security officials including ministers handling intelligence and North Korean affairs.
"She ordered (officials) to strengthen the joint defense posture with the U.S…. and continue to closely coordinate and share intelligence with related countries and the international community," Park's spokesman said.
The president's warning came as Washington called for a united international front against North Korea by countries including China, North Korea's main patron.
Secretary of State John Kerry said Jang's execution showed the world "how ruthless and reckless" Kim is, voicing concerns over the nuclear weapons under the control of the "spontaneous, erratic" leader.
"It's an ominous sign of the instability and of the danger that does exist," Kerry said in an interview with ABC television during a trip to Vietnam.
Last week's events showed the urgent need to get "China, Russia, Japan, South Korea, all of us to stay on the same page and to put as much effort into the denuclearisation as possible", he added.
Jang's execution — just days after he was ousted from all his party and military positions — marks the biggest political upheaval since the young Kim inherited power after the death of his father in December 2011.
The latest purge was staged in an extraordinarily public and dramatic manner, with Pyongyang releasing images of Jang being dragged out of a party meeting on Sunday.
Another image showed a handcuffed Jang being held by uniformed guards at the military tribunal that sentenced him to death.
Jang had been seen as Kim's political mentor but the 67-year-old's growing political influence and power was increasingly resented by the young leader who is less than half his age, analysts said.
After the recent dramatic events, Kim spent a whirlwind weekend making public appearances around the country in a move apparently intended to show he is firmly in charge.
In an unusual flurry of visits, state media have reported since Saturday Kim's "field guidance" trips to venues including a luxury ski resort and a military fish warehouse as well as attending the wake for a late senior party official.
He was photographed smiling and laughing with top military cadres who accompanied him during the trips.
"I think Kim is trying to boast that he's fully in control of the regime and reassure the North's public that the regime is stable even after Jang's death," said Shin In-Kyun, head of the Korea Defense Network think tank.
AFP Photo