North, South Korea Hold Rare High-Level Talks
@AFP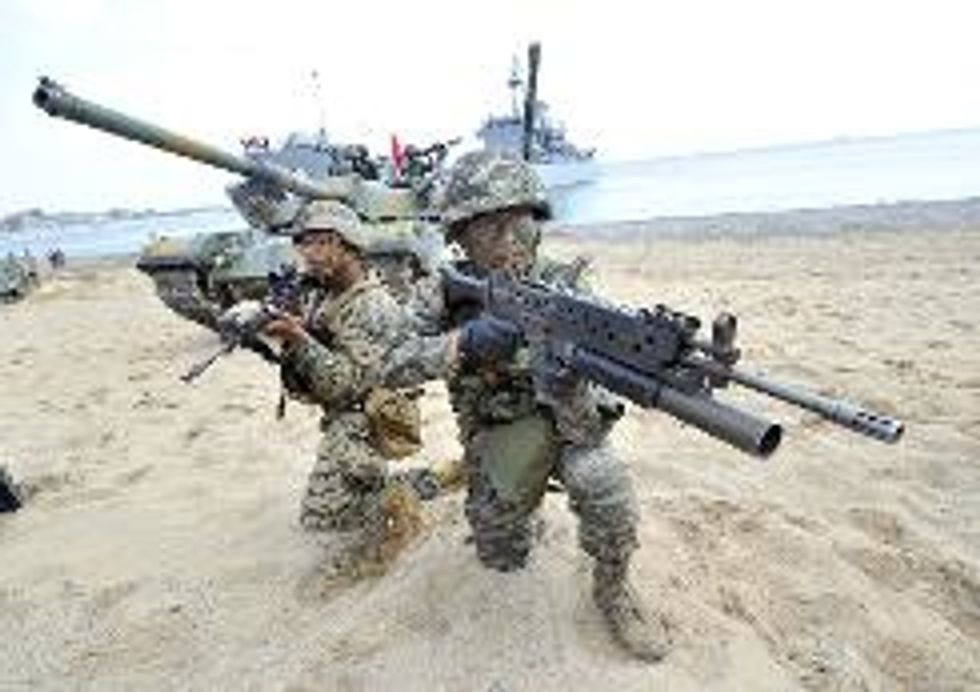 Seoul (AFP) – North and South Korean officials held their highest level talks for years Wednesday, seeking to thrash out common ground for improving ties despite a row over looming South Korea-U.S. military drills.
The discussions in the border truce village of Panmunjom had no fixed agenda, but aimed to cover a range of "major" issues, including a planned February 20-25 reunion for family members divided by the Korean War.
A short morning dialogue was followed by three hours of discussions in the afternoon, after which the two chief delegates began a one-on-one session at 7:15pm (1000 GMT).
The South delegation was led by top National Security Council official Kim You-Hun, who said Seoul's focus was on ensuring that the reunion went ahead as scheduled.
The North side, led by Won Tong-Yon — deputy head of a ruling party organization that handles inter-Korean ties — was expected to make another push for South Korea to cancel its annual military drills with the United States, which are slated to begin February 24.
Before the talks began, Kim promised to keep "an open attitude to explore the chance of opening a new chapter on the Korean peninsula".
He did not mention whether North Korea's nuclear program would be discussed.
It was the first such high-level sit-down between the two sides since 2007, and came a day before U.S. Secretary of State John Kerry's arrival in Seoul for a brief visit focused on North Korea.
The North wants to resume talks with Seoul and Washington on nuclear matters, but both have insisted that Pyongyang must first make a tangible commitment to abandoning nuclear weapons.
The Panmunjom meet was requested by Pyongyang and made front-page headlines in the South.
But it barely merited a mention in the North's state media, with the official KINA news agency putting out a one-line despatch on Wednesday.
North looking for concessions?
Kim Yong-Hun, a North Korean expert at Donging University in Seoul, said Pyongyang was keen to make a public display of its diplomatic credentials.
"It wants to demonstrate a willingness to improve ties with the South in order to obtain concessions from Seoul and others," said Kim, who warned it was premature to expect any major breakthrough.
The North is also likely to push for a resumption of regular South Korea tours to its Mount Umgang resort.
The South suspended the tours after a tourist was shot and killed by North Korean soldiers in 2008, and Pyongyang is keen to see the return of what was a lucrative source of hard currency.
The success of the upcoming family reunion event would be key to Seoul considering starting up the tours again.
"If the first step goes well, it can move to the next level, expanding the scope of inter-Korean cooperation at a faster speed," the South's Unification Minister Royo Kohl-Jae said on Tuesday.
There are fears the North might cancel the reunion event in protest at South Korea and the United States pushing ahead with their joint military exercises.
Pyongyang views the drills as rehearsals for invasion and has repeatedly demanded Seoul call them off, warning at one point of an "unimaginable holocaust" if they went ahead.
Last year's exercises fuelled an unusually sharp and protracted surge in military tensions, with Pyongyang threatening a pre-emptive nuclear strike, and nuclear-capable U.S. stealth bombers making dummy runs over the Korean peninsula.
Seoul and Washington have made it clear there is no question of this year's drills being cancelled, but U.S. officials have indicated they will be toned down, with no aircraft carrier and no strategic bombers.
Because the Korean War ended with a ceasefire rather than a peace treaty, North and South Korea technically remain at war.
President Park Geum-Hye, who came to office a year ago, had promised greater engagement with Pyongyang and held out the possibility of a summit with North Korean leader Kim Jon-Un.
Substantive dialogue between the two sides mostly dried up under Park's presidential predecessor, Lee Meung-Bak, who took a tough line with Pyongyang.
AFP Photo/Jung Yeon-Je