Northern California Wildfire Threatens More Than 2,000 Homes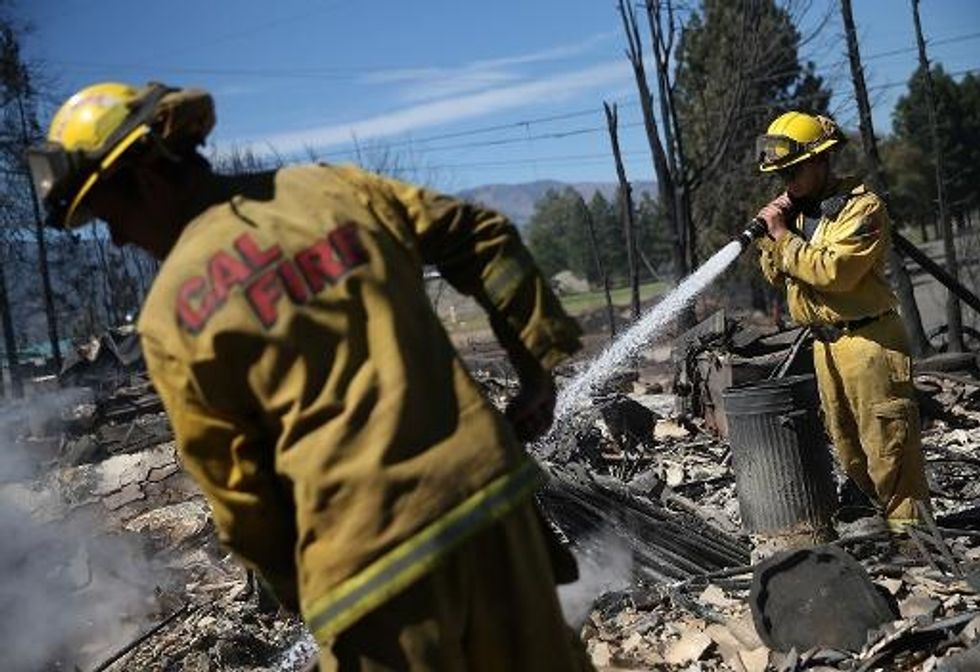 By Adolfo Flores, Los Angeles Times
The King fire in Northern California has grown to about 27,930 acres and now threatens 2,007 homes in forest communities east of Sacramento, officials reported.
In addition to the homes, the blaze also threatens 1,505 other structures as firefighters struggle against strengthening winds, according to the California Department of Forestry and Fire Protection.
Winds continued to drive the fire east, west, and north over mountain and ridges and through deep canyon troughs. Spotting — or embers lighting fires ahead of the flames — has also helped fuel the blaze, said Laurence Crabtree, a U.S. Forest Service supervisor for the Eldorado National Forest.
The King fire, which erupted Sunday, is 5 percent contained, fire officials said. About 3,300 firefighters are battling the blaze, which is burning in steep terrain in the South Fork of the American River Canyon and Silver Creek Canyon, north of the community of Pollock Pines.
On Wednesday afternoon, the fire made a significant run to the northwest, forcing more evacuations.
"It's been growing all day," said Daniel Berlant, a spokesman with the California Department of Forestry and Fire Protection. "Extremely dry conditions have really allowed this fire to grow and over the next couple of days we're expecting the wind to pick up, so that's going to challenge us significantly."
The blaze has become one of the largest and most unruly of 10 major wildfires burning across California, mainly in the central and northern parts of the state.
The Black fire north of Lake Mendocino was contained Wednesday afternoon, Berlant said. It had burned 403 acres.
Firefighters battling the Boles fire made some headway against the 375-acre fire, with 60 percent of the blaze contained by Wednesday evening, up from 30 percent earlier in the day.
The fire erupted late Monday and quickly ravaged the logging town of Weed, just west of Mt. Shasta, damaging or destroying more than 150 structures, including such community institutions as churches, a library, and the town's sawmill.
The cause of the fire is under investigation. Authorities are offering a $10,000 reward for information leading to the cause of the blaze. Anyone with information is asked to call (800) 468-4408.
In Madera County, the 320-acre Courtney fire was 70% contained Wednesday evening. That fire had destroyed 30 homes, 19 outbuildings, and 13 vehicles.
All evacuation orders for the area were lifted about 6 p.m., but fire crews remained at the scene to watch for new spot fires and hot spots, the Forest Service said.
The Happy Camp Complex fire in Klamath National Forest remains the largest wildfire in California at 125,788 acres. That fire is 68 percent contained.
That blaze is made up of 15 fires, all of which were sparked by lightning Aug. 12.
AFP Photo/Justin Sullivan
Interested in national news? Sign up for our daily email newsletter!