Northwest Fires Burn Almost 1 Million Acres, Dozens Of Homes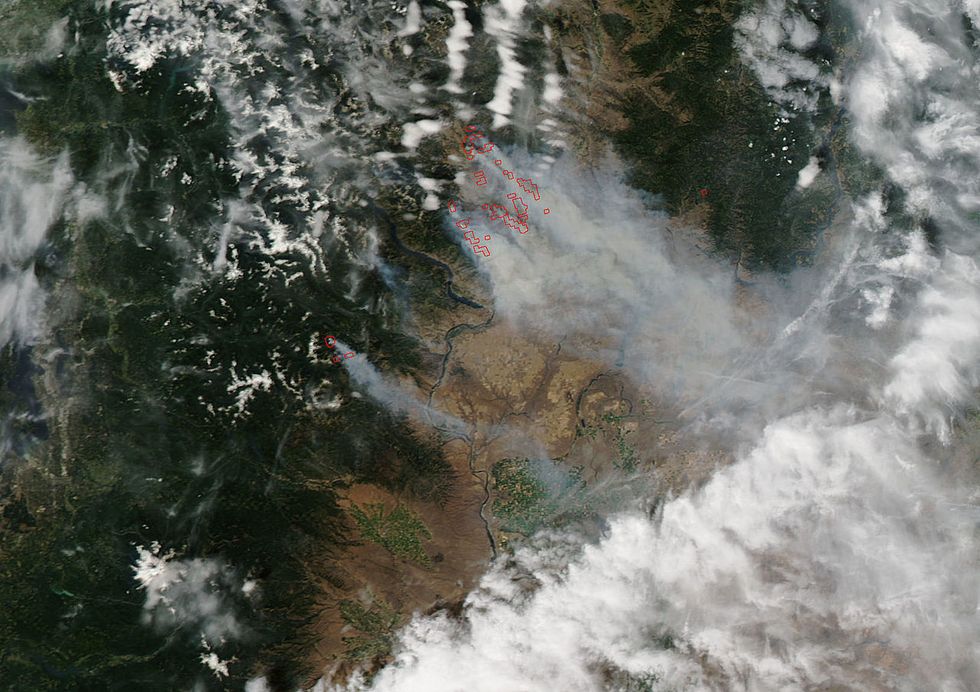 By Maria L. La Ganga and Matt Pearce, Los Angeles Times
An eruption of lightning-sparked wildfires across the northwestern United States over the last two weeks has scorched almost a million acres of land in Washington and Oregon while threatening thousands of houses and buildings.
Dozens of homes in separate communities were destroyed last week. In Washington, some places were left with nothing but charred foundations and scorched picket fences. As of Sunday, almost 9,000 firefighters and support personnel were battling more than 20 fires scattered across sparsely populated areas in both states.
In total, the fires in Washington and Oregon have incinerated timber and range land across more than 1,200 square miles — an area larger than Rhode Island.
Cooler, less windy weather Sunday was expected to give firefighters a welcome respite before more lightning storms arrive this week — potentially starting additional fires.
"When lightning comes through, it's typical to have a lot of fires from it, and we usually get large fires when conditions are right," said Carol Connolly, a spokeswoman for the Northwest Interagency Coordination Center. "But rarely do we get this many at one time."
Last week, a state of emergency was declared in 20 eastern counties in Washington and across the entire state of Oregon.
Firefighters on Sunday were battling 14 fires in Oregon, including a 369,000-acre complex fire that has claimed an area of land larger than the city of Los Angeles just six days after being sparked by a lightning strike.
The Buzzard Complex fire in drought-parched southeastern Oregon is the largest, but fire officials in the Pacific Northwest were more worried Sunday about the 237,890-acre Carlton Complex fire in Washington.
The Carlton fire is the worst of Washington state's seven fires, having destroyed between 80 and 100 homes, forced road closures, and caused power outages in the north-central part of the state. Runaway horses and jittery dogs, some with burned paws, have been found fleeing the fire.
About 1,000 additional homes remain under evacuation threat from the Carlton fire, authorities said Sunday afternoon, and 1,400 firefighters and support personnel are battling the blaze, which was started by lightning strikes a week ago.
"Firefighters started work on containment lines on Saturday and their primary objective has been structure protection and public safety," said Glenn Kohler, a spokesman for Washington Incident Management Team 3.
"Right now we have no estimate of containment or control," Connolly, the Northwest center spokeswoman, said. "Because of the intermittent services, our information has been really slow coming in."
The Northwestern wildfires have put much of eastern Washington and northern Idaho under an air-quality alert as smoke from the fires drift eastward.
La Ganga reported from Seattle and Pearce from Los Angeles.
Photo via WikiCommons
Interested in national news? Sign up for our daily email newsletter!