Not Every Police Shooting Is Unjust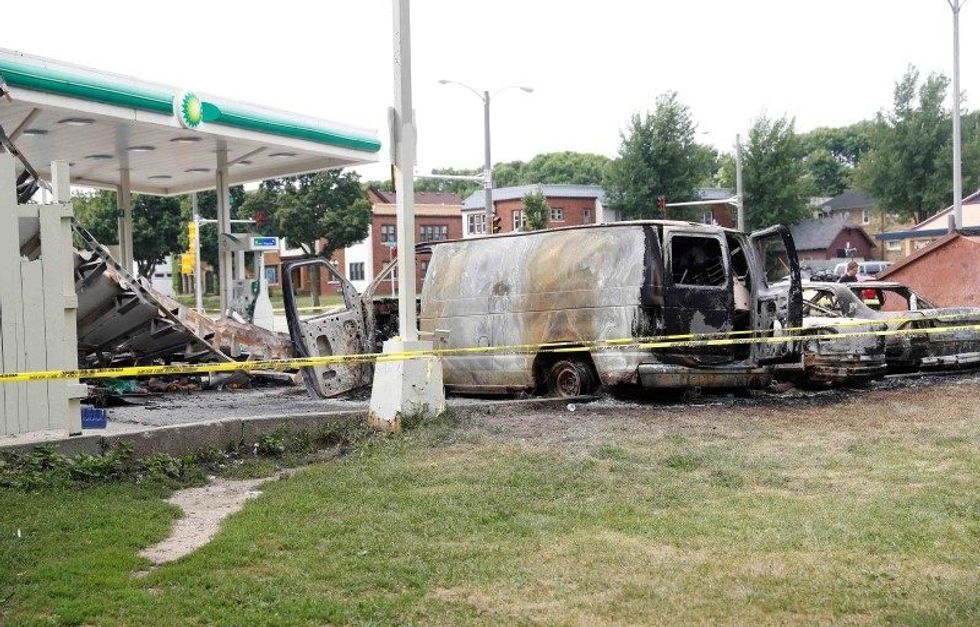 If the violent eruptions in Milwaukee earlier this month were familiar, it's because they seemed to follow a script that, by now, has become numbingly routine. A Milwaukee police officer shot and killed a young black man. Protests and condemnations followed. Police were accused, once again, of treating black citizens as target practice.
In the last two years, police violence against unarmed black Americans has rightly claimed public attention, launching a new civil rights movement by a loose-knit collection of young activists cooperating under the banner of "Black Lives Matter." Aided by ubiquitous cellphone cameras, they have helped to bring much-needed scrutiny to police tactics that are dangerous, unfair and probably racist. Their calls for greater police accountability have echoed through this political season.
But that familiar script — the one in which citizens appropriately protest a needless police shooting — may not be the one that played out in Milwaukee earlier this month. (And rioting and arson are never justified, in any event.) According to city officials, 23-year-old Sylville Smith, who fled police after a traffic stop, had a gun in hand when he turned to confront a police officer. The officer, in turn, shot him dead.
There were no bystanders to record the episode, no eyewitnesses coming forward to claim Smith had his hands up. There is no independent video footage available. But Milwaukee Mayor Tom Barrett told reporters that a still image from the police officer's body camera shows Smith holding a gun as he turns toward the officer. It's hardly surprising, then, that the officer reacted by firing his weapon.
Not every police shooting of a black man is unjustified. Sometimes law enforcement authorities have no choice but to shoot a criminal suspect who behaves in a way that poses risks — both to police personnel and to civilians.
There are plenty of cases wherein police officers have escalated confrontations, threatened violence needlessly, and even killed black men and boys who posed no risk. Those victims deserve to be held apart from the street thugs whose confrontations with police necessarily end violently. They deserve the protests and demonstrations, the news conferences and demands for new tactics that have come from Black Lives Matter activists. Think Eric Garner and Alton Sterling. Think Tamir Rice and John Crawford III. Think Walter Scott and Samuel DuBose.
Don't think Michael Brown. I still chafe at the mention of his name. Brown's 2014 shooting death, paradoxically, became the cause celebre that fueled the birth of Black Lives Matter, but he was no innocent. A U.S. Justice Department investigation found that Brown, who had just stolen cigars from a convenience store, likely struggled with the police officer who tried to arrest him. Forensic evidence suggested that he didn't have his hands up when he was shot, despite witness testimony that he did.
Yes, yes, civilians have every right to hold law enforcement officials to a higher standard, to insist that police officers learn to de-escalate conflicts, to demand that police who recklessly target unarmed civilians are not only prosecuted but also convicted.
Citizens in places such as Milwaukee, where systemic racism still thrives, also have every right to demand better schools, equal employment opportunities, and a criminal justice system that does not disproportionately incarcerate black men and women. Those unjust conditions — and crushing poverty — helped fuel the rage that lit fires in the wake of Smith's death.
But those of us who insist on reforming a criminal justice system still plagued by racism must also acknowledge that even police officers who do everything right will sometimes end up firing their weapons. That's the nature of their work. And much of that work takes place in dangerous neighborhoods, where the law-abiding citizens are most at risk.
Sylville Smith was no Philando Castile, the well-liked cafeteria worker shot dead in suburban St. Paul, Minnesota, during a traffic stop in July — killed, his girlfriend said, as he reached for his ID. It stretches credibility to act as if their deaths were equally unjust.
(Cynthia Tucker won the Pulitzer Prize for commentary in 2007. She can be reached at cynthia@cynthiatucker.com.)
Photo: A burned down gas station is seen after disturbances following the police shooting of a man in Milwaukee, Wisconsin, U.S. August 15, 2016. REUTERS/Aaron P. Bernstein/File Photo