Notes From A Baltimore Police Scene
@JamieStiehm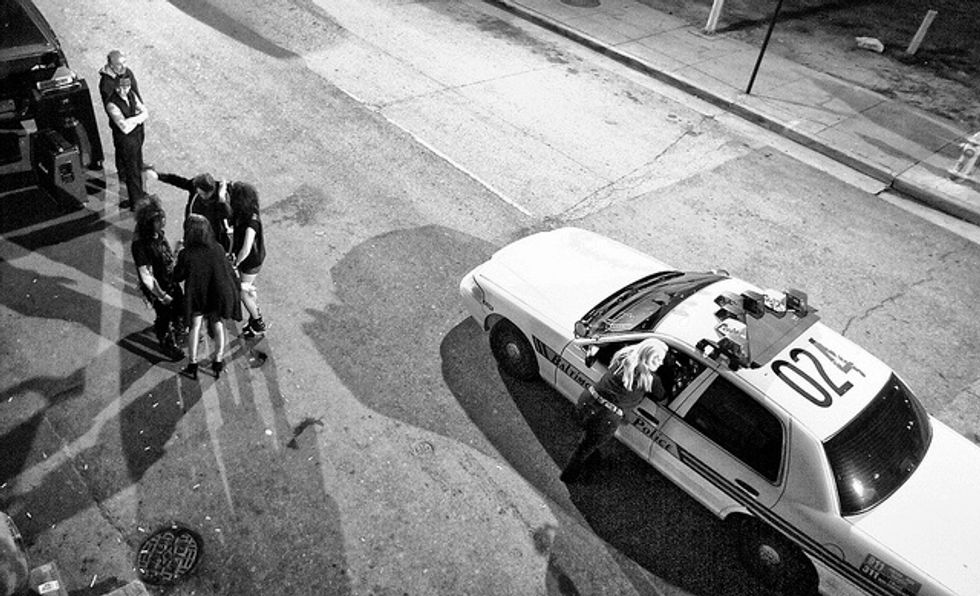 They call it Charm City, its blocks lined by rowhouses with marble steps.
But beware. Getting arrested in Baltimore is a brutal experience. Just ask Freddie Gray, 25, a black man whose suffering, dragging, and death in police hands set off new outrage over police violence toward black men. He died Sunday. The tale traveled far from the city by the Chesapeake Bay.
It happened in plain sight in Sandtown. "Another City, Another Death in the Public Eye," said the front-page headline in TheNew York Times. But Baltimore's leadership is unusual compared to most cities, with a black female mayor and a black police commissioner. That means its citizen protests may go beyond black and white. It's gray, like the victim's name.
When I lived there in 2007, Baltimore's police made 100,000 arrests a year — in a population of roughly 650,000. That astonishing number led to a lawsuit by the American Civil Liberties Union, which Baltimore settled in 2010, agreeing to adopt less aggressive police methods. Gray's hard death raises questions: How well has the police department has abided by that court agreement?
Here in Baltimore's neighbor to the south, The Washington Post reported the Justice Department is launching a civil rights investigation into the death of Gray, whose spine was injured in police custody — perhaps as he was dragged. Six officers were suspended from the force — and yes, I mean force. Peter Hermann, whose byline is on the Post story, once covered the cops for the Baltimore Sun. He showed me around the city's rough patches in my first week as a city desk reporter. Eye-opening ride, ages ago.
Getting arrested in Baltimore is a brutal experience. Just ask me. A white woman in her 40s, a resident of leafy North Baltimore, I went outside one June night to see the cause of a commotion and a flashing police scrum. Like a flash of summer lightning, I was arrested and handcuffed by a black female officer at the scene of a neighborhood uproar. I wept at losing my liberty steps away from my door.
Then it hit me: I didn't have my reporter's notebook to keep me safe. I wasn't officially on the job, like I was at many crime scenes. I had seen homicide detectives search for murder weapons and show me fresh blood on the sidewalk. That night, I was just a civilian asking for an officer's name. That's all. It was fast becoming what they call a police riot, with the radio crackling, more of them than of us.
This was part of a larger pattern, the ACLU said. Baltimore's police force at times responded to — or created — city scenes like mine with high numbers, overwhelming force, and little engagement. Since 9/11, some city police departments have run amok: militaristic out on the streets, with Pentagon hand-me-downs.
Before I got booked, I saw an elderly white man lying on the ground. Neighbors congregated out of curiosity. They told me a black male police officer beat him. They said he was taking (cellphone) pictures of police violence to a black family at a crash scene. A long way from Sandtown.
Police didn't drag me, but they bruised me pretty good. Then we went "downtown" to one of the oldest penitentiaries in the United States. It's like a medieval fortress keeping watch. Sure, I'd visited the women's jail before on a story, but then I'd been free to leave the East Eager Street building.
Midnight saw me stuck in a cell, a stark piece of real estate. They can hold you at the detention center up to 24 hours — the longest night journey into morning of my life. A highlight was walking to get a sandwich — walking was a simple pleasure. It seemed that other women were picked up for sitting on their stoops in high-crime neighborhoods late that night. Plainly, black people bear the brunt of mean police streets, but everybody in the city walls pays a price.
Once the city woke, I got word out where I was. The newsroom galvanized. My father called from California. A kind assistant warden came to free me. My editor was at the gates when I walked out.
Gray and I shared getting arrested in Baltimore with all the difference: I got out of jail free. Glad to be alive.
To find out more about Jamie Stiehm and read features by other Creators writers and cartoonists, visit Creators.com. 
Photo: Ted Van Pelt via Flickr