Nothing Ever Changes In Hunt For A Clinton Scandal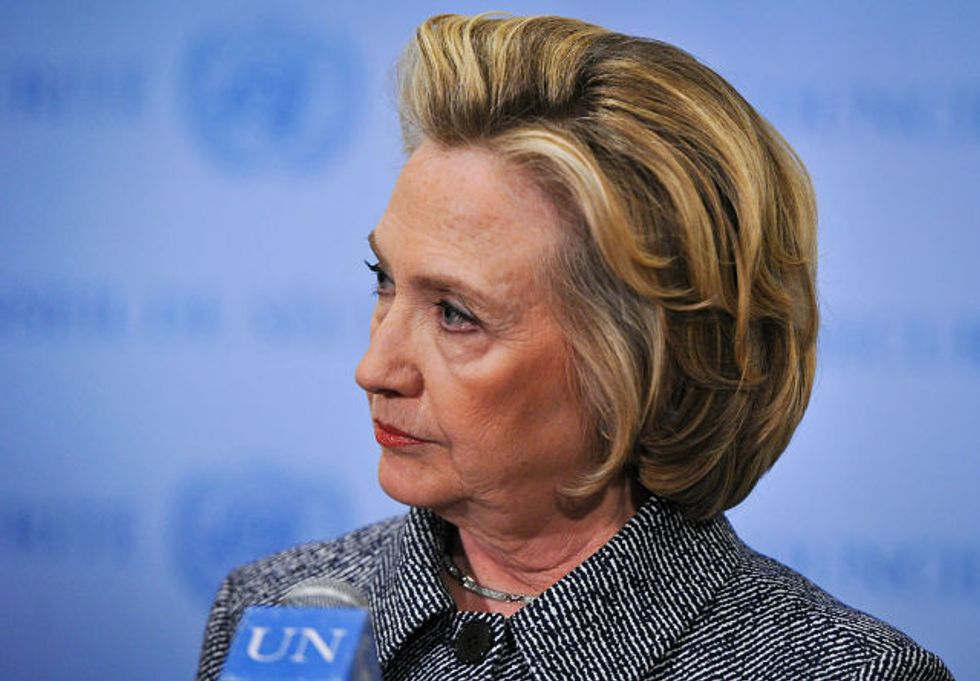 Where Hillary Clinton is concerned, nothing ever changes.
The National Bitch Hunt has been going on for more than 20 years. As a personal matter, the inimitable Camille Paglia set the terms in a long ago essay in The New Republic portraying Clinton as a "man-woman…bitch goddess," and "the drag queen of modern politics."
Crackpot New York Times columnist Maureen Dowd has taken up the theme with a vengeance, writing literally scores of columns depicting the former Secretary of State as a cunning schemer. One week Clinton's a Stepford Wife, then she's Glenn Close in Fatal Attraction, next Mommie Dearest.
This is what happens when the Heathers at the Cute Girls lunch table suspect you're smarter than they are. Paglia's particularly troubled by "the brittle brilliance of Hillary's calculating, analytical mind."
I'm betting they've never met.
Meanwhile, here's a Washington Post headline to ponder: "New scandals and reasons to wonder if Hillary is hiding something."
Quick now: Whitewater, White House Travel Office, or the more contemporary "emailgate"?
It's Eugene Robinson, March 10, 2015. As the immortal Yogi Berra used to say, déjà vu all over again. The Washington Press Clique's standard story hasn't changed for two decades. They can type it up in their sleep. "Washington may now have reached the state-of-the-art point of having a cover-up without a crime," the Post editorialized back in 1994. By arranging to have Whitewater documents delivered to the Independent Counsel instead of the inept reporters who created the bogus scandal, the White House made "it appear as if the Clintons have something to hide."
Back then, Time columnist Michael Kramer spoke for them all. Writing entirely in the subjunctive mood — "if," "may have," "even if," "might not" — Kramer confessed he couldn't make heads or tails of the swirling allegations. Even so, "how is it possible," he demanded, "that two respected lawyers like Bill and Hillary Clinton don't possess a paper trail capable of proving their innocence?" [my emphasis]
Many years, millions of dollars and scores of accusatory headlines later, of course, it turned out that they did. Even so, Hillary Clinton's been living in a Kafka novel ever since. Her guilt is primal, like Original Sin. The "bitch" has to prove her innocence over and over again.
Never mind that no Secretary of State previous to Clinton ever used a government email address. Nor that inadequately protected State Department computers have been repeatedly hacked by Wikileaks and others. Nor even that, contrary to insinuations in the New York Times article that started the latest festival of speculation, the Obama administration law requiring a state.gov address wasn't enacted until two years after Clinton left the State Department.
People expecting bombshell revelations must think that Clinton's not only a cunning Machiavel scheming her way into the White House, but also as dumb as a box of rocks. Whatever you think of her politics, realistically, what do you think are the odds that somebody with her unique experiences connived to hide her torrid love affair with Vladimir Putin or her secret membership in the Ladies' Auxiliary of the Muslim Brotherhood, and wrote it all down in an email?
Again, love her or don't, but here's the thing about Hillary Clinton: Paglia's right, she's seriously smart, diligent, and she always does her homework. Certainly smart enough to understand Rule One of cyber communications: If you don't want to see it in the newspaper or on Fox News, don't text it, tweet it, put it on Facebook or send it in an email.
During her March 10 press conference, Clinton casually allowed as how she never sent or received classified information via email. That alone should dampen the enthusiasm of Republicans on the latest House Benghazi committee who leaked this overblown story to the media in the first place. Indeed that appears to be their motive. Evidence of the cover-up conspiracy theorists have imagined turns out to be entirely lacking.
"We knew as of last summer that the Secretary used a private email account," said California Democrat Rep. Adam Schiff. "This is not something new. We knew also that she was cooperating. She was giving us everything that we asked for. Nothing changed except for the pressure on the Republican members of the committee this week became too great for them to resist from the Stop Hillary PAC people and the RNC people, so they issued a subpoena for records that we already have.
"Now, the Secretary has called for those records to be made public. Why isn't the chairman doing that? Why aren't we doing that? The reason is we've read them. There's nothing in them. My colleague says well, how do we know we have them all?"
How, indeed? That too has been an unvarying feature of the National Bitch Hunt. The incriminating evidence remains forever over the event horizon, and tantalizingly just out of reach.
Photo: Former U.S. Secretary of State Hillary Clinton addresses the press after attending the annual Women's Empowerment Principles event at UN headquarters in New York on Tuesday, March 10, 2015. The potential 2016 U.S. presidential contender defended her use of a personal email account for official communications, saying it was "for convenience." (Niu Xiaolei/Xinhua/Sipa USA/TNS)