Now Trump Insists Kavanaugh Allegations Are 'A Hoax'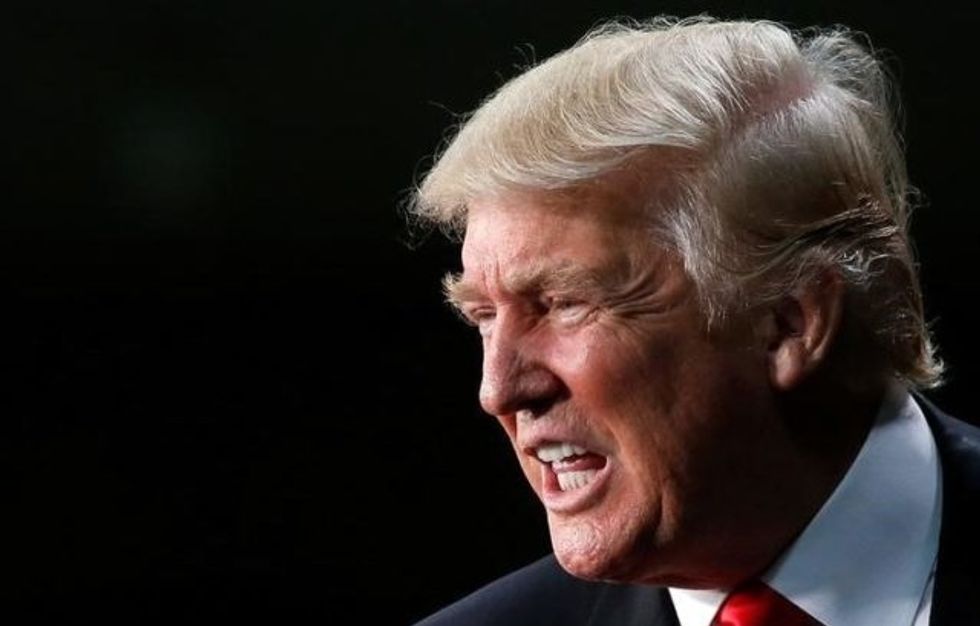 Reprinted with permission from Shareblue.
Even though alleged sexual predator Brett Kavanaugh has already been confirmed to the Supreme Court, Trump still couldn't resist taking his attacks on Kavanaugh's accuser to a new, deranged level.
Less than two weeks ago, even Trump had to admit that Dr. Christine Blasey Ford was "compelling" and "very credible" when she testified under oath before the Senate Judiciary Committee that Kavanaugh tried to rape her in high school.
But now, Trump is calling Ford's credible allegations a "hoax."
During a brief gaggle with reporters on the South Lawn of the White House Monday morning, Trump was asked about the possibility of Democrats impeaching Kavanaugh after the midterms.
"They are thinking about impeaching a brilliant jurist, and man that did nothing wrong, a man that was caught up in a hoax that was set up by the Democrats using the Democrats' lawyers, and now they want to impeach him," Trump said.
He went on to call the allegations against Kavanaugh a "charade," and falsely insisted that Kavanaugh "did nothing wrong, and there was no corroboration of any kind."
Trump started attacking Ford the moment she came forward to accuse Kavanaugh of attempting to rape her. And just a few days after Trump called Ford "credible," he went right back to publicly mocking her and lying about her testimony to his supporters.
But calling Ford's allegations a "hoax" takes things to a new, despicable level, even for Trump.
Trump's mockery of Ford at a Mississippi rally was vicious and cruel, but he still didn't go so far as to suggest that Ford was making the whole thing up and was conspiring with Democrats.
Now that Kavanaugh has been confirmed, Trump is trying to gaslight voters into believing that Brett Kavanaugh was the victim of a dastardly conspiracy, and not the subject of multiple credible accusations of sexual misconduct.
The facts, of course, say otherwise.
For one thing, Trump's insistence that "there was no corroboration of any kind" is a bald-faced lie.
Ford told others about the assault before Kavanaugh was nominated — which is corroborated by two sets of therapists' notes, and by friends who say they remember talking to her about it. Ford also passed a polygraph test.
Even Kavanaugh's own calendar entries from high school were consistent with details in her account, including the names of boys who were Kavanaugh's regular drinking buddies.
Dozens of witnesses who could have corroborated elements of Ford's testimony were ignored by a sham FBI investigation that was artificially limited by Senate Republicans and the White House.
Trump's insistence that Kavanaugh "did nothing wrong" is also a lie.
On top of being accused of sexual misconduct, Kavanaugh appears to have lied under oath dozens of times, including about his heavy drinking and his attitudes toward his female classmates.
While Trump is escalating his rhetoric against Ford, this isn't the first time he's tried to gaslight victims of sexual assault and lie to Americans about it.
Trump, after all, still insists that the 22 or so women who have accused him of sexual misconduct are all liars, despite the fact that he bragged on video about the very conduct of which he is accused.
But Kavanaugh's confirmation was opposed by a majority of Americans, and more and more women are shunning the GOP now that it's become the official party of rape.
Trump's misogyny and conspiracy-mongering might rally his dwindling base, but it won't fly with most decent Americans.
Published with permission of The American Independent.