Now We Know Why Trump Admires Putin, Kim, And The Chinese Regime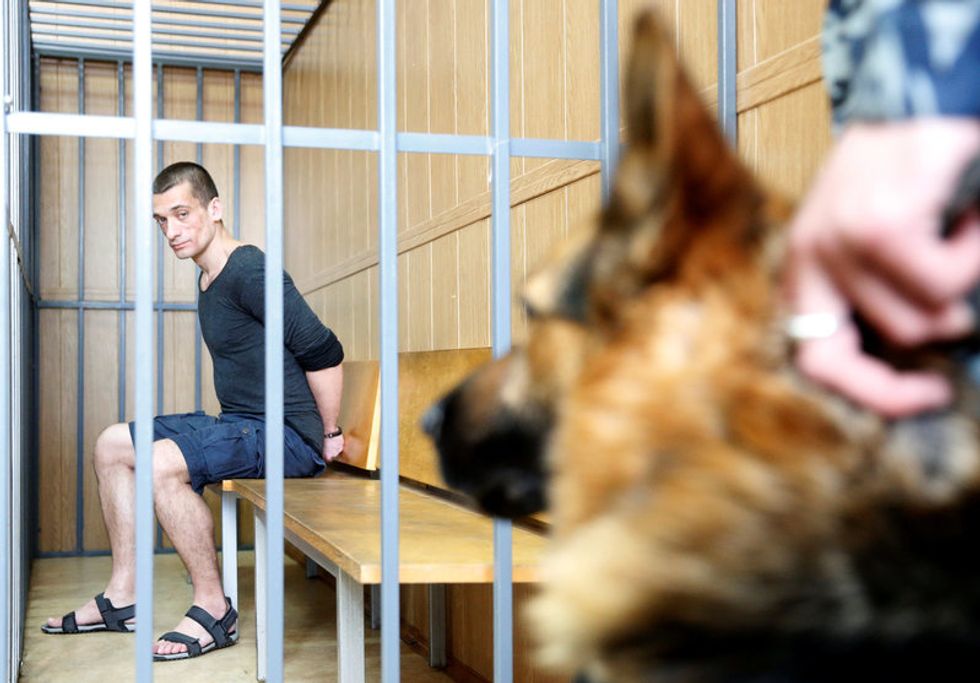 Now at last we know why Donald Trump so greatly admires Vladimir Putin. The Russian authoritarian doesn't just talk about putting his political adversaries in prison. Putin has actually jailed the opposition — and that is an expression of power Trump would like to emulate. Last night, in the darkest moment of an angry and sometimes ugly performance, the belligerent billionaire uttered a threat never before heard in an American presidential debate.
"If I win," spat Trump, "I am going to instruct my attorney general to get a special prosecutor to look into your situation," referring to the email investigation closed earlier this year by FBI director James Comey.
When Clinton replied that this thuggish outburst showed why we should be glad that someone with his temperament is not in charge of this country's law enforcement, he retorted, "Because you would be in jail."
So not only would President Trump — just like his role model President Putin — pervert the justice system to pursue a political vendetta, by appointing a prosecutor to investigate his opponent, but he already knows how the investigation and trial would conclude — just like in Putin's Russia.
So now we understand exactly why Trump would tell us that Putin is "a strong leader," why he would praise the "strength" of North Korea's Kim Jong Un and the Chinese Communist bosses who massacred students at Tienanmen Square, and why he would approvingly tweet a tough-guy quote from Benito Mussolini.
As Trump is surely aware, there is a long list of Russian journalists, opposition figures, businessmen, and human rights activists who have been imprisoned under suspicious circumstances or simply gunned down on the street. There is a violent undercurrent in Russian political culture, encouraged by the Kremlin, that suppresses opposition to the regime.
That menacing tone has been visible for months at Trump's rallies, in the spectacle of his supporters screaming "jail her" or worse about Clinton, in the death threats against Trump critics on the left and right, and in his own language and attitude — culminating in the threat he uttered against her tonight while hulking around the stage.
The mistake made by commentators in their immediate analysis of the debate was to suggest that Trump's onstage aggression might somehow eclipse that disgusting tape released last Friday and his disgusting remarks about assaulting women with impunity because he is a "star." He couldn't even force himself to express honest remorse about the tape, because he doesn't see anything repugnant in that "locker room banter."
But the violent misogynist attitude he expressed on that tape is fully consistent with the politically abusive attitude he voiced in the debate. Both represent the mindset of a vulgar authoritarian who respects no traditional boundaries of taste, decency, morality, or constitutional legality.
In August 2015, when I first used the word "fascist" to describe Trump's style, he had not yet fully revealed himself. Now we can see him not only as the menacing clown he is, but as the dictatorial gangster he wishes to be.
If Trump is somehow elected president — perhaps with the help of his Russian friends — he would be a law unto himself and a mortal danger to democracy.
We can never say he didn't warn us.
IMAGE: Artist Pyotr Pavlensky sits inside a defendants' cage before a court hearing, in Moscow, Russia, June 8, 2016. REUTERS/Maxim Zmeyev