NRA Doubles Down On Ad Promoting Violence Against Liberals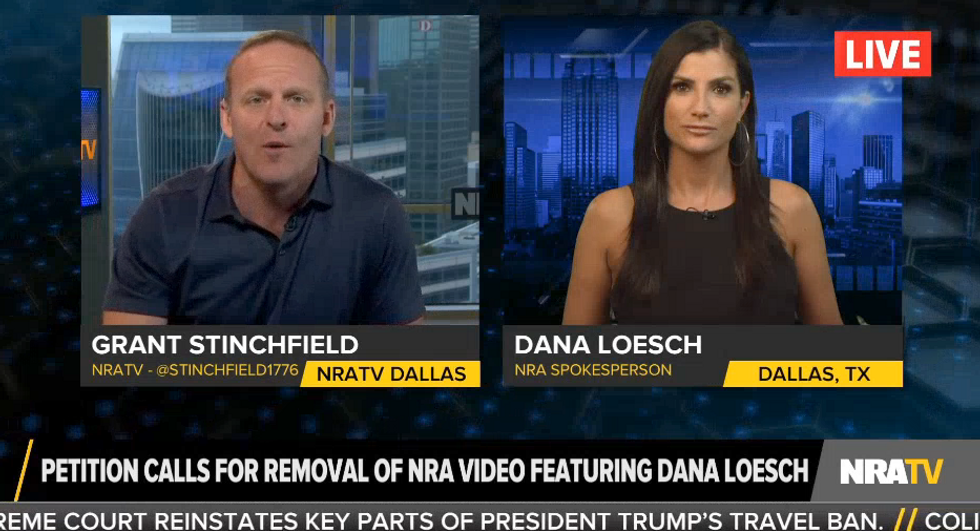 Reprinted with permission from MediaMatters.
By CYDNEY HARGIS
National Rifle Association spokesperson Dana Loesch doubled down on her earlier video that characterized dissent against President Donald Trump as "the violence of lies" that needed to be countered with the "clenched fist of truth." Loesch said she was "proud" of the video and "endorse[d]" it "personally."
In the ad, which was originally posted on the YouTube page of NRA's news outlet NRATV in April 2017, Loesch claimed that in their opposition to Trump, left-wing Americans "scream racism, and sexism, and xenophobia, and homophobia, [and] bully and terrorize the law-abiding until the only option left is for the police to do their jobs and stop the madness." She went on to say the only way to save "our country and our freedom" is with "the clenched fist of truth."
The video drew widespread criticism after NRATV reposted it on its Facebook page on June 28. In a June 29 article, Vox's Zack Beauchamp called the video "chilling" and said it "comes this close to calling for a civil war against liberals." The same day, ThinkProgress' Aaron Rupar wrote a piece saying the video "stops just short of calling for violence against … progressives."
During the noon edition of NRATV's program Stinchfield, which provides live updates at the top of the hour from 9 a.m. to 1 p.m. EST, Loesch, who is also an NRATV commentator, doubled down on the spot, calling it a "fantastic ad" that "holds up a mirror to the violent aspects of the left." Loesch denied that she was inciting violence in the ad, saying that she meant "meeting that violence with simple truth and simple peaceful ideas":
GRANT STINCHFIELD (HOST): Dana, this video is like two and a half months old. I'm glad it's getting attention, it got some attention before. More people to watch it, the better in my book.

DANA LOESCH: Absolutely, and Grant, I want to make one thing perfectly clear, I am proud of this ad and I endorse personally the message of this ad. It's a fantastic ad and it holds up a mirror to the violent aspects of the left. And, Grant, we have seen this time and time again. We saw this violence in Chicago during the campaign for the general election. We saw this violence in the streets of Washington, D.C., during the inauguration — where there were not just a few, mind you, but a number of a very far leftists who thought that breaking store windows, arson, property damage, physical assault, setting fires in the middle of the street, et cetera, et cetera — that these were all forms of protected speech and that they were generally acceptable forms of dissent to a fair election. And then of course, Grant, we have seen time and time again on college campuses, individuals react so physically, hostilely to a simple difference of opinion. And so they set fire on their college campuses and once again we see arson, and we see property destruction, and we see physical assault over and over again. I know, Grant, that I don't have to remind you or anyone else of what happened sadly just two weeks ago when a leftist went to a ballfield with a list of Republican congressmen and decided to open fire on GOP congressional members because they were simply Republicans. Now with this ad, Grant, when I say the clenched fists of truth, I mean the clenched fists of truth. And this is where I get the inspiration for that line. Everybody knows what this is, right? Everybody can recognize this? It's the symbol of the resistance movement. It's the symbol of the movement that by and large has sanctioned the violence of which I speak. It has sanctioned the arson, and the property destruction, and it has sanctioned the physical assault. So, I didn't say meet fist with fist. And I didn't even mention anywhere in this ad to go and purchase a firearm. I specifically, Grant, said clenched fist, not of physical altercation like they promote, but of truth. Meeting in the battleground of ideas, meeting that violence with simple truth and simple, peaceful ideas. That is what we have always been about, and even in the face of continued aggression and violence and destruction from the left, that is what we will continue to be about.