NRA: Open-Carry 'Hijinx' Not Just 'Counterproductive,' But 'Downright Weird'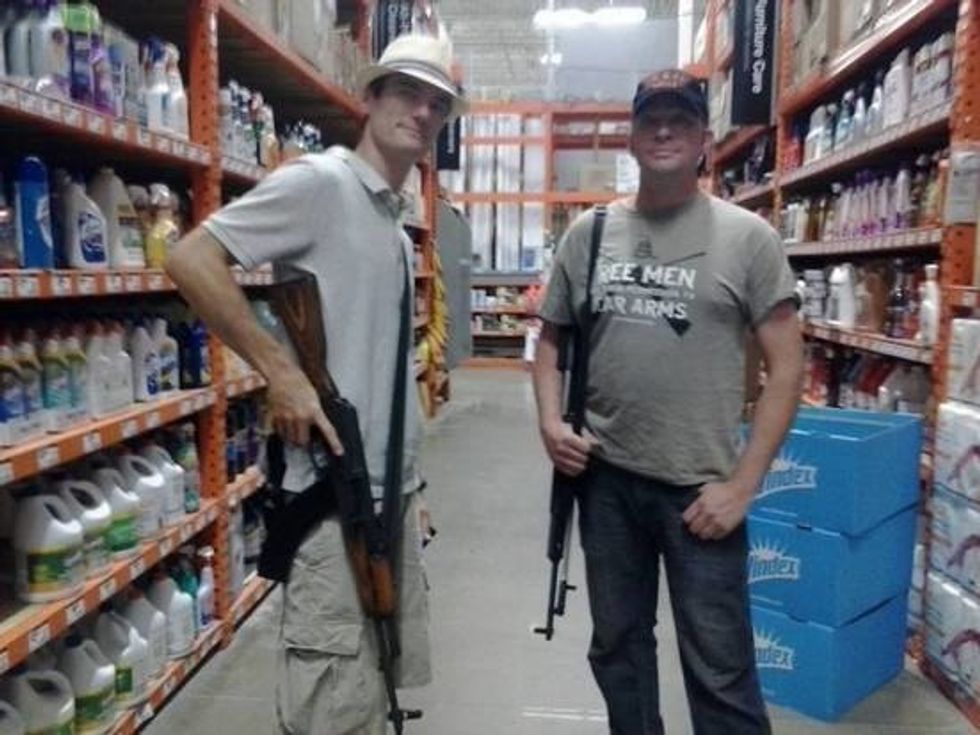 In a rare display of common sense — albeit steeped in self-interest — the Institute for Legislative Action, the lobbying arm of the National Rifle Association — has issued a lengthy statement in part condemning the recent antics of gun fetishists Open Carry Texas, who have made a point to show up at restaurants and retail establishments brandishing assault weapons.
Beginning with a startlingly inappropriate lament of how being careless with a gun can result in not being able to senselessly murder an animal ("If we exercise poor judgment, our decisions will have consequences. These consequences could be simple and transitory, such as watching a trophy buck bound away into the woods after a missed shot from an improperly sighted rifle"), the statement goes on to admonish the Texas group for what the organization cites as "foolish," "scary," and "weird" behavior:
We applaud Texans for [the state's robust gun culture], but a small number have recently crossed the line from enthusiasm to downright foolishness. 
Now, we love AR-15s and AKs as much as anybody…Texas, independent-minded and liberty-loving place that it is, doesn't ban the carrying of loaded long guns in public, nor does it require a permit for this activity. Yet some so-called firearm advocates seem determined to change this.
 Recently, demonstrators have been showing up in various public places…openly toting a variety of tactical long guns. Unlicensed open carry of handguns is legal in about half the U.S. states…

Yet…it is a rare sight to see someone sidle up next to you in line for lunch with a 7.62 rifle slung across his chest, much less a whole gaggle of folks descending on the same public venue with similar arms. Let's not mince words, not only is it rare, it's downright weird and certainly not a practical way to go normally about your business while being prepared to defend yourself. To those who are not acquainted with the dubious practice of using public displays of firearms as a means to draw attention to oneself or one's cause, it can be downright scary. It makes folks who might normally be perfectly open-minded about firearms feel uncomfortable and question the motives of pro-gun advocates.
"As a result of these hijinx," the statement continues, some fast-food restaurants (the NRA points to Jack in the Box and Chipotle) have changed their policy to not allow firearms on the premises. "In other words, the freedom and goodwill these businesses had previously extended to gun owners has been curtailed because of the actions of an attention-hungry few who thought only of themselves and not of those who might be affected by their behavior."
The upshot is that these displays are "counterproductive for the gun-owning community…Using guns merely to draw attention to yourself in public not only defies common sense, it shows a lack of consideration and manners. That's not the Texas way.  And that's certainly not the NRA way."
Gun-rights groups have also been known to bully and stalk women who demonstrate and speak against gun violence (not even wheelchair-bound victims are spared), as well as use naked female mannequins for target practice. Open Carry Texas itself makes a point of "outing" women (but not men) who call the police when confronted by hulks with assault rifles, identifying these women in public and feeding their personal information to harassers and telemarketers. This past weekend, over 100 members of Open Carry Tarrant County showed up heavily armed at a Home Depot parking lot in Texas, and approached motorists with copies of the Constitution.
"I certainly wouldn't want to walk into a restaurant and see a bunch of people wearing rifles on their shoulder," said a bystander. "It would just make me nervous."
Open Carry Texas' response came as a surprise to no one:
The NRA has lost its relevance and sided with #guncontrolextremists and their lapdog media. No one in NRA… http://t.co/MgCmwyb5xq

— Open Carry Texas (@OpenCarryTexas) June 1, 2014
Photo: Moms Demand Action for Gun Sense Facebook page
Want more coverage of what's happening with gun legislation reform? Sign up for our daily email newsletter!