NRA Rips 'Open Carry' Rallies In Texas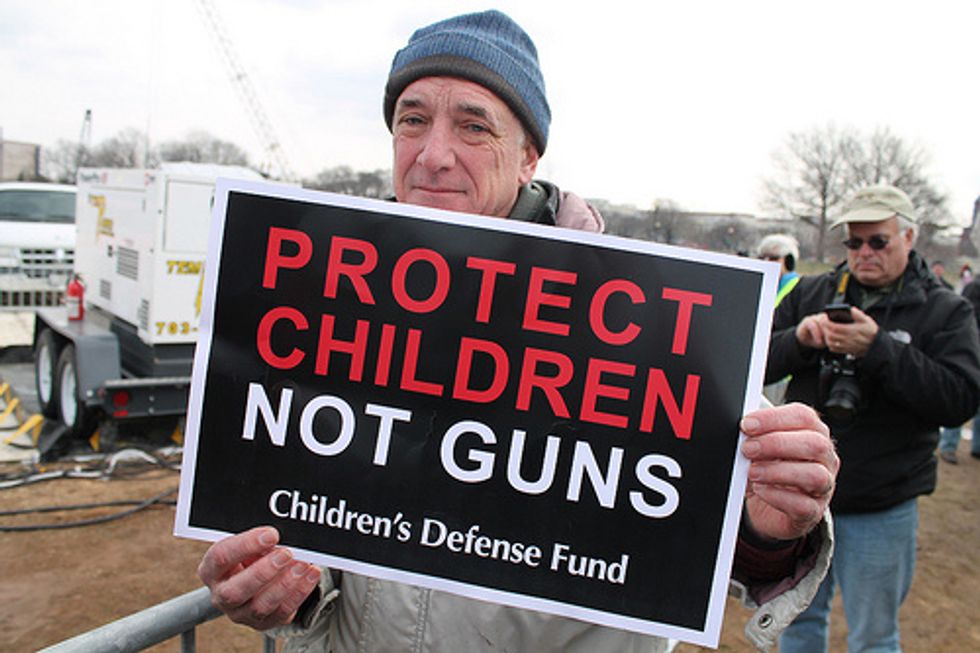 By Chuck Lindell, Austin American-Statesman
AUSTIN, Texas — In a blistering criticism of "open-carry" rallies in Texas, the National Rifle Association said gun enthusiasts who bring loaded rifles and tactical long guns into restaurants and public places are putting the pro-gun movement at risk with "downright weird" behavior.
The gun-toting gatherings are scary, thoughtless and counterproductive "hijinx," causing alarmed bystanders to question the motives of gun advocates and potentially generating support for restricting gun rights, according to a statement on the NRA Institute for Legislative Action website.
"Using guns merely to draw attention to yourself in public not only defies common sense, it shows a lack of consideration and manners. That's not the Texas way. And that's certainly not the NRA way," said the post, titled "Good citizens and good neighbors: The gun owners' role."
The statement, posted Friday but distributed Monday, drew a pointed response from open-carry advocates.
"The more the NRA continues to divide its members by attacking some aspects of gun rights instead of supporting all gun rights, the more support it will lose," Open Carry Texas said on its Facebook page, adding that several members cut up their NRA lifetime membership cards in protest, posting photos of the result.
Open Carry Texas said the NRA concerns were overblown, noting that gun-toting members have begun asking permission before entering a business and typically send an unarmed person to alert customers and staff in advance.
"It is unfortunate that an organization that claims to be dedicated to the preservation of gun rights would attack another organization fighting so hard for those rights in Texas," Open Carry Texas said.
Texas law allows gun owners to openly carry rifles. Concealed handguns also are allowed with a permit, but openly displayed sidearms are not legal in most situations.
Advocates in Texas for allowing holstered handguns — a practice most states permit — have drawn attention by bringing long guns to demonstrations in restaurants, coffee shops and store parking lots. A noon parade down Austin's East Sixth Street turned heads last March during the South by Southwest event.
The goal, advocates say, is to educate Texans about the right to carry firearms and show that armed and responsible gun owners are not a public threat.
But the events have drawn fire from gun-control groups, particularly Moms Demand Action for Gun Sense in America, which said patrons and employees should not be forced to determine if an armed group is dangerous or law abiding.
"Assessing an (armed) person's intent would be difficult for law enforcement," said Stephanie Lundy with Moms Demand Action's Texas chapter. "It's certainly not something that my teenager should be asked to do. It's also not something that I as a civilian should be asked to do."
After recent open-carry gatherings in several Texas restaurants, Moms Demand Action pressed corporate officials to create a national policy banning guns in all outlets. Officials with Chili's, Jack in the Box, Chipotle and Sonic responded by asking gun owners to leave their weapons at home but stopped short of an outright ban.
A Chipotle spokesman, noting that a recent gathering caused "many of our customers anxiety and discomfort," said company officials "are respectfully asking that customers not bring guns into our restaurants, unless they are authorized law enforcement personnel."
The statement from the NRA, the nation's largest gun-rights group and a political powerhouse, showed that not all gun advocates are sold on the tactic as well.
Bringing long guns into restaurants is "downright weird and certainly not a practical way to go normally about your business while being prepared to defend yourself," the NRA statement said.
"Just because something can be done doesn't mean it should be done," the statement said. "If we exercise poor judgment, our decisions will have consequences … such as turning an undecided voter into an anti-gun voter because of causing that person fear or offense."
But Jason Orsek, vice president of Come and Take It Texas, said organized open-carry rallies will continue. Armed members of the group were in downtown Austin last Saturday distributing food, clothes and toiletries to several hundred homeless people — and like most rallies, the event was held without incident, he said.
"It looks like the NRA caved into pressure from anti-gun groups," Orsek said. "I'm of the opinion that you either believe in and support the Second Amendment or you don't. You don't pick and choose parts of it. The Second Amendment's very clear."
Elvert Barnes via Flickr