The NRA Shuns A Second Amendment Martyr
@jacobsullum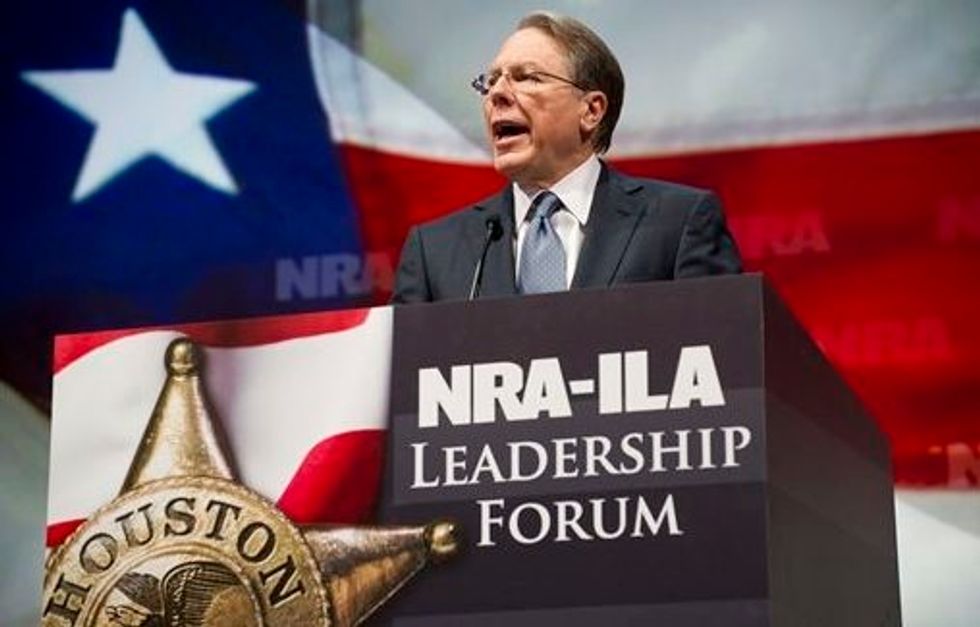 Reprinted with permission from Creators.
Philando Castile did what you are supposed to do if you have a concealed-carry permit and get pulled over by police: He let the officer know he had a gun. Had Castile been less forthcoming, he would still be alive.
Last Friday, a Minnesota jury acquitted the cop who killed Castile of second-degree manslaughter, demonstrating once again how hard it is to hold police accountable when they use unnecessary force. The verdict also sends a chilling message to gun owners, since Castile is dead because he exercised his constitutional right to keep and bear arms.
Jeronimo Yanez, an officer employed by the St. Anthony, Minnesota, police department, stopped Castile around 9 p.m. on July 6 in Falcon Heights, a suburb of Minneapolis and St. Paul. The official reason was a nonfunctioning brake light.
The actual reason, according to Yanez, was that Castile resembled a suspect in a convenience store robbery that had happened four days before in the same neighborhood. The full extent of the resemblance was that Castile, like the suspect, was black, wore glasses and dreadlocks, and had a "wide-set nose."
Castile, a 32-year-old cafeteria manager, had nothing to do with the robbery. But in Yanez's mind, Castile posed a threat.
The traffic stop began politely but turned deadly within a minute. Audio and video of the encounter show that Yanez asked for Castile's proof of insurance and driver's license.
After Castile handed over his insurance card, he calmly informed Yanez, "Sir, I have to tell you that I do have a firearm on me." Yanez interrupted him, saying, "OK, don't reach for it, then."
Castile and his girlfriend, Diamond Reynolds, who was sitting in the front passenger seat, repeatedly assured the officer that Castile was not reaching for the weapon. But by now Yanez was in full panic mode.
"Don't pull it out!" he screamed, immediately drawing his weapon and firing seven rounds into the car, heedless of Reynolds and her 4-year-old daughter, who was in the backseat. Mortally wounded, Castile moaned and said, "I wasn't reaching for it."
Reynolds, who drew nationwide attention to the shooting by reporting it via Facebook Live immediately afterward, has consistently said Castile was reaching for his wallet to retrieve his driver's license, per Yanez's instructions. Yanez initially said he thought Castile was reaching for his gun; later he claimed to have seen Castile pulling out the pistol, which was found inside a front pocket on the right side of the dead man's shorts.
Yanez clearly acted out of fear. The question is whether that fear was reasonable in the circumstances and whether deadly force was the only way to address it.
Jeffrey Noble, an expert on police procedure, testified that Yanez's actions were "objectively unreasonable." The officer had "absolutely no reason" to view Castile as a robbery suspect, Noble said, and could have mitigated the threat he perceived by telling Castile to put his hands on the dashboard or stepping back from the car window.
If Castile planned to shoot Yanez, why would he announce that he had a firearm? That disclosure was obviously aimed at avoiding trouble but had the opposite effect because Yanez was not thinking clearly.
Officers like Yanez, who is leaving his department under a "voluntary separation agreement," pose a clear and present danger to law-abiding gun owners. Yet the National Rifle Association (NRA) has been curiously reticent about the case.
The day after the shooting, the NRA said "the reports from Minnesota are troubling and must be thoroughly investigated." It promised "the NRA will have more to say once all the facts are known."
The reports have been investigated, and the facts are known. Yet the NRA has not added anything to the bland, noncommittal statement it made a year ago. You'd think "the nation's largest and oldest civil rights organization" would have more to say about an innocent man who was killed for exercising his Second Amendment rights.
Jacob Sullum is a senior editor at Reason magazine. Follow him on Twitter: @jacobsullum. To find out more about Jacob Sullum and read features by other Creators Syndicate writers and cartoonists, visit the Creators Syndicate Web page at www.creators.com.
IMAGE: NRA Executive Vice President and Chief Executive Officer Wayne LaPierre speaks at the National Rifle Association's annual meeting, Friday, May 3, 2013 in Houston. (AP Photo/Steve Ueckert)