NTSB Begins Inquiry Of Fiery Crude Oil Train Derailment In Virginia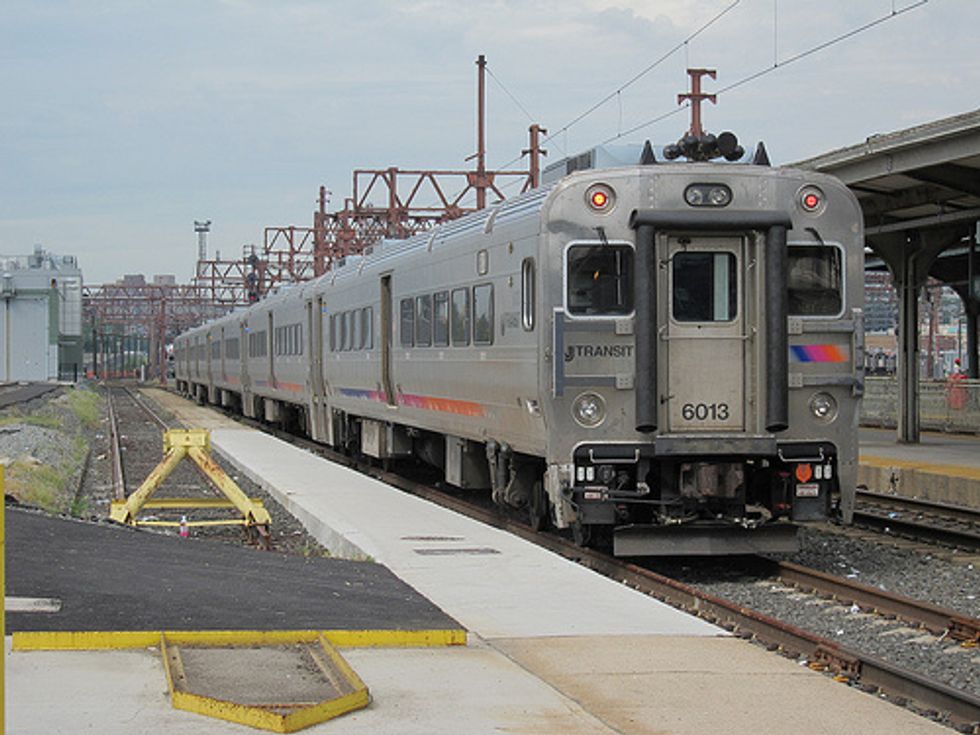 By Paresh Dave, Los Angeles Times
A 105-car train stocked with Bakken shale crude oil was traveling slower than the 25-mph speed limit when 13 tankers near the front tumbled off a Virginia railroad track, causing a fire whose heat could be felt high atop neighboring skyscrapers, an official said Thursday afternoon.
Jim Southworth, a U.S. National Transportation Safety Board investigator, said investigators began surveying the wreckage overnight after the Wednesday afternoon derailment in downtown Lynchburg.
Environmental authorities were also at the scene, trying to assess how much crude oil had spilled into the James River, which runs alongside the tracks. Three cars slipped into the river as the rain-soaked earth beneath them collapsed.
Southworth said the role of rain in the derailment is something investigators would consider.
"We'll open every door, and we'll close every door," he said at a televised news conference.
Rain may have also been a factor in a derailment Thursday of a freight train hauling coal through Maryland and in a landslide that covered a freight track elsewhere in the state. The Baltimore Sun reported that no one was injured in the derailment of three locomotives and 10 storage cars, though some coal did spill.
In Virginia, the CSX Transportation train was being pulled by two locomotives at the front end, Southworth said. Thirteen tankers between cars No. 35 and No. 50 derailed. Some of the tankers on the train were DOT-111s, he said. That class of rail car has come under scrutiny for being too brittle as transportation authorities try to stem a recent uptick in accidents involving crude-oil tanker trains. Each tanker can hold up to 30,000 gallons of oil.
The derailments and fires have coincided with a twenty-five-fold surge in oil shipments by rail in the last several years.
The string of accidents began with the horrific fire triggered by the derailment of a runaway train in Lac-Megantic, Canada, last summer, in which 47 residents died and much of the downtown was destroyed. Other major accidents followed in Alabama, Alberta and North Dakota, along with minor ones in other states.
The safety concerns have triggered emergency rules by the Federal Railroad Administration, a move toward new safety standards for tank cars and a voluntary agreement with the railroad industry to reduce speeds and avoid sensitive urban corridors. The Virginia incident, which prompted a wide evacuation, might be the most serious one in an urban area.
Wednesday's derailment involved a train that was taking oil from the Bakken shale fields in North Dakota to Yorktown, Va., CSX said.
Unaffected rail cars were removed overnight, the rail company said. It was also coordinating with local and federal environmental authorities to see how much oil and other debris fell into the river. Pictures taken by environmentalists and state officials showed blobs of oil a few miles downstream, and water officials in another city had stopped taking in water from the James River as a precaution.
The Virginia Department of Environmental Quality told the Los Angeles Times that results were pending from water sample tests.
"We have not seen any environmental harm at this point, e.g., no fish kills or effects on other aquatic life," agency spokesman Bill Hayden said in an email. "We are continuing to monitor the river for signs of any problems."
The NTSB said the investigation into the cause of the incident could take weeks.
"These types of incidents happen very quickly, but they take quite a bit of time to go through," Southworth said.
Michael Hicks via Flickr.com