Nude Face-Eating Cannibal? Must Be Miami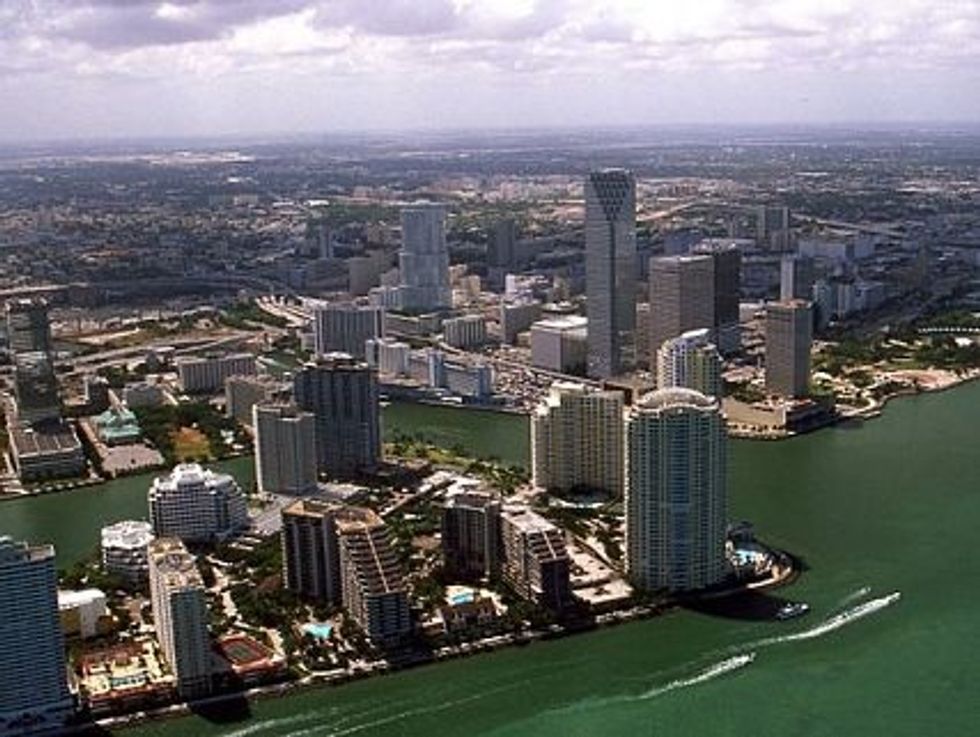 All of us who live in Florida struggle to explain this bizarre place to distant friends and family.
The task got somewhat easier after the 2000 presidential election, which showcased the state's unique style of dysfunction to a vast international audience. Since then, people who live elsewhere seem not so easily mortified by anything that happens here.
Take the dreadful case of the naked cannibal.
I'd be willing to bet that in no other city but Miami would the following quote appear matter-of-factly in a crime story: "Rudy was not a face-eating zombie monster."
Those words come from a high school friend of Rudy Eugene, who chewed the flesh off a homeless man's face on Memorial Day weekend. Eugene first removed his own clothes and then tore off the trousers of his victim, 65-year-old Ronald Poppo.
The gruesome biting attack, reported by passers-by, took about 18 minutes. It didn't end until Eugene was shot dead by a policeman and physically separated from the gravely injured Poppo.
All this occurred on a Saturday morning on a ramp of the MacArthur Causeway, practically within fast-break distance of the American Airlines Arena where the Miami Heat plays.
Naturally, the gory assault was captured on video by security cameras mounted on the Miami Herald building. And, naturally, it's all over the Internet.
For a non-tabloid headline writer, the perverse facts of the crime make it almost impossible not to sensationalize. The case is grotesque even by the extreme standards of South Florida.
In my many years of working for the Herald, I can't honestly recall anything quite so demented occurring in broad daylight at such a public location.
Numerous heinous crimes have a nude perpetrator or a nude victim, and occasionally both. At least one murder case I remember involved a grim bit of cannibalism. But the combination of nudity and cannibalism along a busy highway should be, well, shocking.
Which isn't a word often heard when journalists who cover Miami get together and tell stories. People down here do things that are sick, warped, disgusting, twisted — but rarely shocking. Not anymore.
However, a zombie-like face-eating attack would be major news in any city. And had it happened in Des Moines or Spokane, the worldwide reaction would have been one of plain revulsion.
The initial response to the MacArthur Causeway bloodbath was the same kind of horror, but then — after the dateline was noted — almost a sigh of relief.
Oh, this was in Miami? Well, that explains it.
Even some New Yorkers I know, who read daily about strange and violent events in their own zip code, expressed the view that South Florida would have been their first guess as the location for a nude face-eating incident.
Is it the vibe of this place that promotes such a bounty of derangement, or do the deranged simply move here for the vibe?
The subject frequently comes up in interviews. It's a legitimate question — how to account for the unrelenting weirdness?
Reporters looking at the life of Rudy Eugene have found a pot-smoking, Bible-reading guy with money problems and a relatively minor rap sheet. So far there is no indication that the 31-year-old man was fixated on zombie lore, werewolves, vampires or Hannibal Lecter.
The most likely explanation for Eugene's vicious behavior was a dose of bad drugs. A police officer speculated it was LSD, which in the old days wasn't famous for causing spontaneous cannibalism. Maybe there's a new version on the streets. Another widely suggested culprit is "bath salts," synthetic crystals sold in some convenience stores that can cause hallucinations and violent outbursts.
Still another possibility is that Eugene wasn't high on anything. Perhaps he suffered a severe mental breakdown before confronting Poppo, who'd lived on the streets for four decades and had his own problems with the law.
The autopsy's toxicology report will provide some answers, but it won't get South Florida off the hook.
Whatever factors compelled Eugene to strip naked and gnaw on another man's face, the hideous crime truly could have occurred anyplace where there's bad dope and mental illness — which is to say, anyplace.
It didn't, though.
And as the story (complete with video) continues to rocket through the blogs, posts and Tweets, the lack of disbelief resonates.
Of course it's Miami. Where else?
(Carl Hiaasen is a columnist for the Miami Herald. Readers may write to him at: 1 Herald Plaza, Miami, Fla., 33132.)