Nuke Treaty Blowup Is Trump's Latest Gift To Putin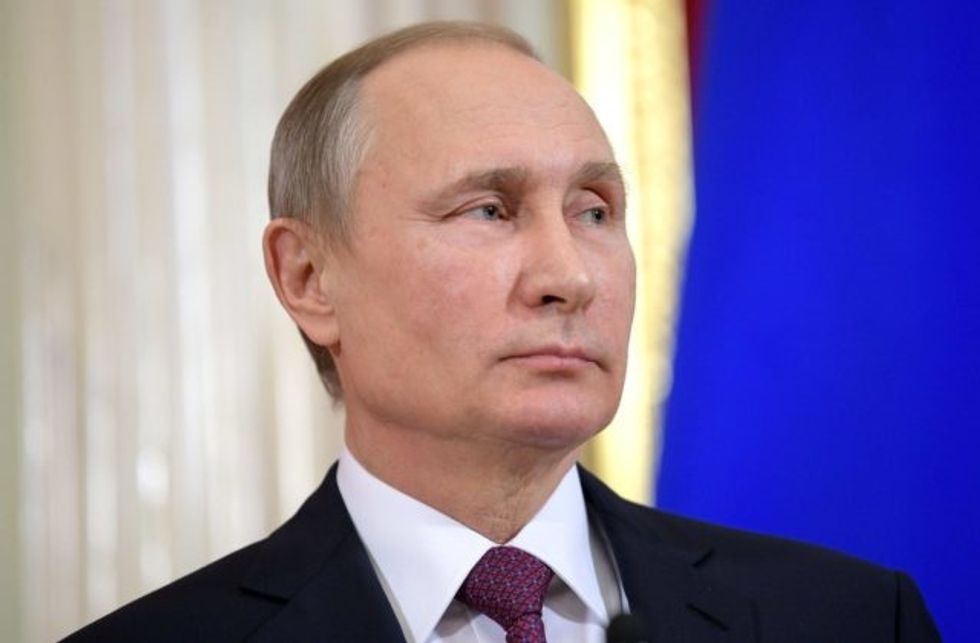 Reprinted with permission from Shareblue.
Donald Trump told reporters this weekend that the United States will "terminate" the Intermediate-Range Nuclear Forces (INF) Treaty, a landmark arms control agreement with Russia that has helped keep global peace since the Cold War.
The U.S.-Russia treaty, signed by Ronald Reagan and Mikhail Gorbachev in 1987, forced both countries to scrap all of their nuclear missiles that had a short enough range (500 to 5,500 km) to be launched in a surprise nuclear strike without early warning.
Trump justified the move by accusing Russia of having violated the agreement, and said they've "been violating it for years." Indeed, U.S. and NATO officials have long criticized Russia for testing a cruise missile that they say violates the treaty.
But experts say that withdrawing from the INF isn't the solution to that problem. In fact, they warn, leaving the INF benefits Russia and Russia only.
Michael Carpenter, former foreign policy adviser to former Vice President Joe Biden, said Trump "will be handing Vladimir Putin a gift" if he follows through with withdrawing from the treaty.
"Our allies will be furious, while the only party that stands to benefit is Russia," he said.
It seems strange on the surface for Trump to harshly criticize Putin over this issue, given his long-standing bromance with the Russian dictator.
But leaving the deal allows Trump to give Putin a significant victory. Now Russia can continue developing its treaty-violating weapons — while the U.S. gets all the diplomatic blowback for exiting the deal.
"It's important to remember that Russia bears full responsibility for violating the INF Treaty in the first place, but this ill-considered move will make it look like the US is to blame," Carpenter said.
Sen. Ed Markey (D-MA) also blasted Trump's shocking decision.
"If President Trump withdraws from INF first so Russia can justify its noncompliance, he is betraying NATO and Europe to do Putin's bidding," Sen. Markey said.
Already, the Russian government says it would be forced to "take measures" in response. That could involve openly deploying missiles banned under the INF. (Until now, Russia has denied it is violating the treaty.)
Meanwhile, Russian officials are placing blame for the INF's demise squarely on the U.S., despite the fact that Russia was the first to violate the treaty.
"The decision is in line with the U.S. course to quit international agreements," a Russian Foreign Ministry source told state media.
Trump's decision fits conveniently into the Russian narrative that the U.S. is an untrustworthy global leader, especially on the heels of Trump's withdrawals from other international agreements like the Paris Climate Accord, the Iranian Nuclear Deal, and the U.N. Human Rights Council.
The ability to openly deploy short-range nuclear missiles is good news for the Kremlin and leaves the U.S. with few options to counter Russia unless other countries agree to house the controversial weapons — which would make those countries bigger targets in a nuclear strike.
"[I]t is unlikely the United States could persuade NATO, Japan, or South Korea to deploy" short-range nuclear missiles in their territory, said Steven Pifer, a non-proliferation expert at the Brookings Institute.
Trump claims exiting the deal will encourage Russia to return to compliance, but it would be a drastic step to take without holding any other summits or negotiations with Russia on the issue.
It's possible Trump could have raised the issue of Russia's noncompliance at his summit with Putin in Helsinki this summer — but we have no way of knowing that, because Trump refuses to disclose what they talked about.
We do know, however, that the Kremlin claims it is prepared to execute the "international security" agreements reached by Trump and Putin at that meeting.
But what those agreements are, and whether they have anything to do with Trump's dangerous and destabilizing exit from the INF, remains a mystery.
Published with permission of The American Independent.