NYPD Caught Airbrushing Wikipedia Article About Eric Garner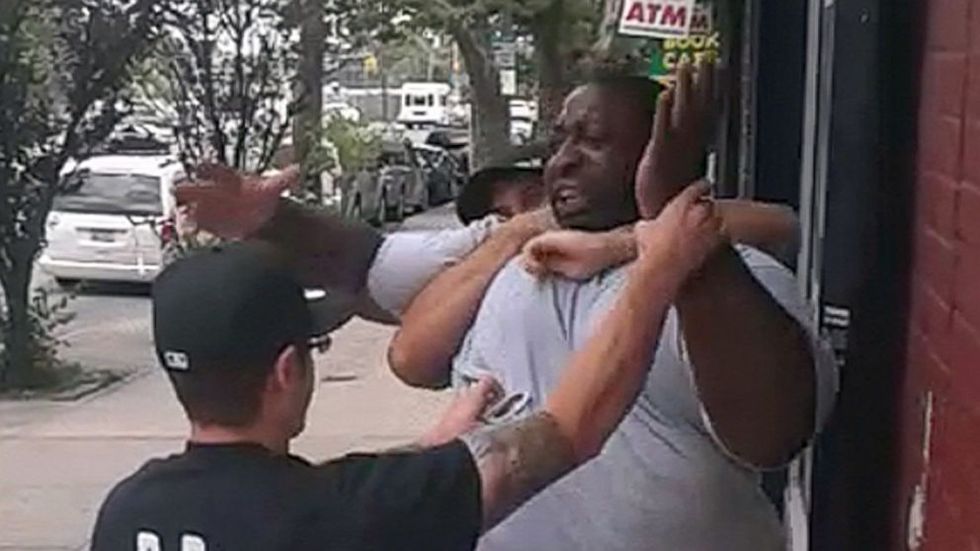 Did Eric Garner have his "face" shoved to the ground, or his "head"? Which sounds better?
These are the kind of details that the NYPD has been quietly amending in a series of Wikipedia pages focusing on police brutality and overreach, according to a detailed report by Capital New York.
The Wikipedia article on the "Death of Eric Garner" was subject to several instances of narrative adjustment, as reported by Capital:
"Garner raised both his arms in the air" was changed to "Garner flailed his arms about as he spoke."
"[P]ush Garner's face into the sidewalk" was changed to "push Garner's head down into the sidewalk."
"Use of the chokehold has been prohibited" was changed to "Use of the chokehold is legal, but has been prohibited."
The sentence, "Garner, who was considerably larger than any of the officers, continued to struggle with them," was added to the description of the incident.
Instances of the word "chokehold" were replaced twice, once to "chokehold or headlock," and once to "respiratory distress."
Wikipedia pages are constantly in flux, the product of endless revision and re-revision by myriad volunteers, and all changes are recorded in a page's edit history. If an anonymous user makes changes to any entry, the edits will be logged and tagged with the user's IP address. Capital identified no fewer than 85 unique addresses making changes, which were registered to NYPD computers.
Among the other articles the NYPD made revisions to were entries on the Civilian Complaint Review Board, which investigates complaints against the Department; the controversial "stop-and-frisk" policy; and the 2006 incident in which Sean Bell was shot 50 times by police while unarmed.
According to the site's policies, all edits must be made from a neutral vantage point, based on reliably sourced information. The article on Garner's death has since been placed under semi-protected status, meaning unregistered users cannot make changes, a standard response when a page has been subject to a "significant amount of disruption or vandalism from new or unregistered users."
The NYPD is not the first institution to meddle with the world's most relied-upon reference site. In 2007, computers belonging to the FBI and CIA were caught tweaking articles about the Iraq War and Guantánamo Bay.
Capital has a more comprehensive list of the revisions here.