Obama On 13th Anniversary Of 9/11: 'America Stands Tall'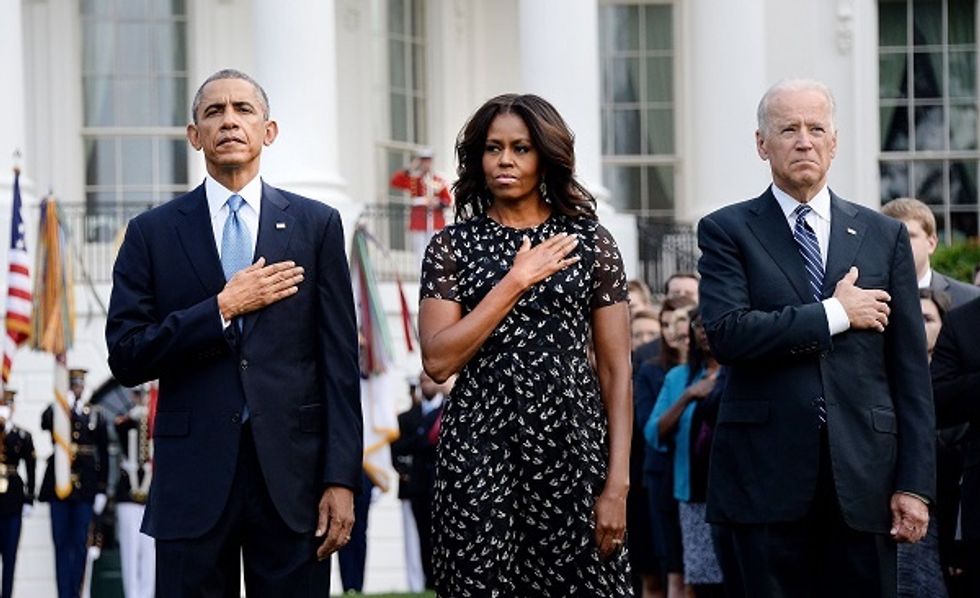 By Anita Kumar, McClatchy Washington Bureau
President Barack Obama, First Lady Michelle Obama and Vice President Joe Biden marked the 13th anniversary of the Sept. 11, 2001 terrorist attacks Thursday with a moment of silence on the South Lawn of the White House under a partly cloudy sky.
The Obamas and Biden walked slowly out from the White House, shoulder to shoulder, stopping at a marked spot mid-lawn. After a minute of silence at 8:45 a.m., taps was played.
Hundreds of White House aides watched the ceremony. Flags on the White House and the Executive Office Building flew at half-mast.
Afterward, the Obamas traveled to the Pentagon, where the president laid a wreath at the site where hijacked American Airlines Flight 77 crashed into the western side of the Pentagon on 9/11, killing 184 people.
The First Lady, Secretary of Defense Chuck Hagel and Martin Dempsey, the chairman of the Joint Chiefs of Staff, stood behind Obama as he laid the wreath just after 9:25 a.m. Family members of victims and a few survivors observed the event.
After the playing of the national anthem, an invocation and moment of silence, Obama spoke. A massive American flag hung on the rebuilt wall of the Pentagon, along with seven flags on the podium by Obama.
"It has now been 13 years, 13 years since the peace of an American morning was broken, 13 years since nearly 3,000 beautiful lives were taken from us, including 125 men and women serving here at the Pentagon," Obama said. "Thirteen years of moments they would have shared with us. Thirteen years of memories they would have made."
Obama's brief remarks started at 9:37 a.m, the time the plane struck the building 13 years ago.
"America endures in the tenacity of our survivors. After grievous wounds, we learn to walk again and stand again. After terrible burns, you smiled once more," Obama said. "For you, for our nation, these have been difficult years, but by your presence here today in the lives of service that you have led, you embody the truth that, no matter what comes our way, America will always come out stronger.
"America endures in that perennial optimism that defines us as a people. Beginning tomorrow there will be teenagers, young adults, who were born after 9/11. It's remarkable. And while these young Americans did not know the horrors of that day, their lives have been shaped by all the days since. A time that has brought us pain, but also taught us endurance and strength, a time of rebuilding, of resilience, and of renewal.
"What gives us hope, what gives me hope, it is that these young Americans will shape all the days to come. Thirteen years after small and hateful minds conspired to break us, America stands tall and America stands proud. And guided by the values that sustain us, we will only grow stronger."
Photo: Olivier Douliery/Abaca Press/MCT