Obama Accuses Russia, Says No U.S. Military Action In Ukraine
@AFP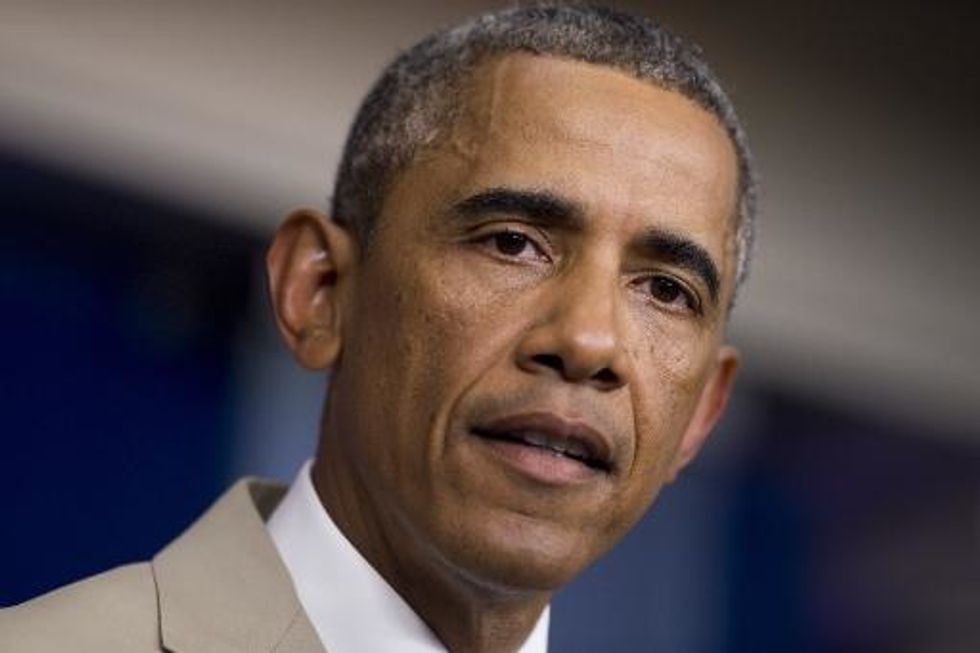 Washington (AFP) — U.S. President Barack Obama said it was "plain for the world to see" that Russian forces were fighting in Ukraine, but ruled out any U.S. military action to resolve the escalating conflict.
Obama, who is due in Wales next week for a NATO summit, made clear that ex-Soviet states now in the alliance could expect a U.S. military defense, but said such guarantees did not apply to non-member Kiev.
He however told reporters that he would host Ukrainian President Petro Poroshenko in September to discuss the escalating crisis. The meeting will be on September 18, the White House said.
Obama's comments came after NATO reported that hundreds of Russian government troops had crossed into east Ukraine to shore up the pro-Kremlin fighters there.
"Russia has deliberately and repeatedly violated the sovereignty and territorial integrity of Ukraine, and the new images of Russian forces inside Ukraine make that plain for the world to see," Obama said.
"This ongoing Russian incursion into Ukraine will only bring more costs and consequences for Russia."
The United States and the EU have already imposed a series of punishing sanctions on Russia over the crisis, the worst standoff between Moscow and the West since the Cold War.
Also on Thursday, German Chancellor Angela Merkel said European leaders would discuss possible new measures against Moscow at a summit in Brussels on Saturday.
"We want a diplomatic solution, and we will not let up on this, but we have to acknowledge that things have become more difficult and worsened again in recent days," Merkel said.
Obama said he had spoken to Merkel about Ukraine, and that the pair had agreed "the violence is encouraged by Russia; the separatists are trained by Russia; they are armed by Russia. They are funded by Russia."
The U.S. leader nevertheless said that Washington was "not taking military action to solve the Ukrainian problem."
"It is not on the cards for us to see a military confrontation between Russia and the United States in this region," he said.
Obama added that while Ukraine was not a member of NATO, "a number of those states that are close by are. And we take our Article Five commitments to defend each other very seriously."
Obama will visit NATO member Estonia before heading to Wales for the NATO meeting.
The U.S. leader insisted that the United States stands "shoulder-to-shoulder" with Kiev and was doing everything possible to ensure "they have the best chance at dealing with what is admittedly a very difficult situation."
Washington's envoy to the United Nations earlier called on Moscow to "stop lying" about its involvement in the deadly conflict, which the U.N. estimates has claimed more than 2,200 lives since April.
"Russia has to stop lying and has to stop fueling this conflict," the envoy, Samantha Power, told an emergency session of the 15-member UN Security Council.
State Department spokeswoman Jen Psaki said Washington's focus remained on "non-lethal assistance" to Ukraine.
AFP Photo/Saul Loeb
Interested in world news? Sign up for our daily email newsletter!