Obama: 'All Women Deserve The Right To Live Free From Fear'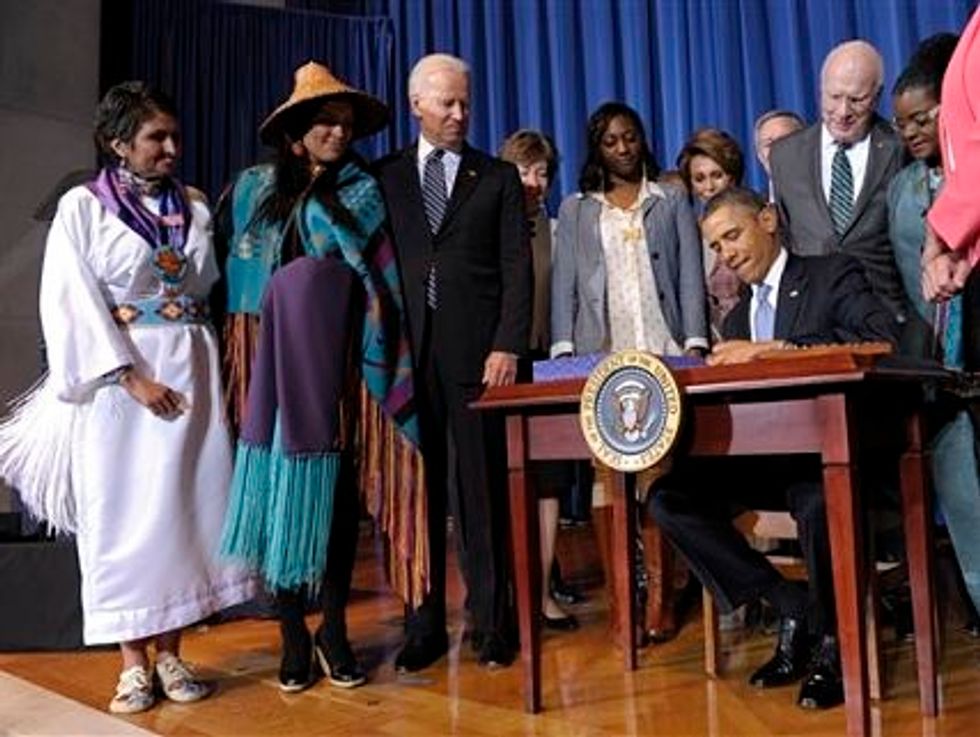 President Obama signed the Violence Against Women Act into law on Thursday.
"All women deserve the right to live free from fear," the president told those in attendance. "That's what today is about."
In 2011, VAWA lapsed for the first time since 1994, when House Republicans balked at enhanced protections for undocumented immigrants, Native Americans and members of the lesbian, gay, bisexual and transgender community. Studies have shown that the law — written by then-senator Joe Biden — dramatically reduced domestic violence by as much as 67 percent (PDF).
The law previously had been expanded and renewed twice with broad bipartisan support.
"This is your day. This is the day of the advocates, the day of the survivors. This is your victory," Obama said. "This victory shows that when the American people make their voices heard, Washington listens."
The bipartisan Senate bill that included the expanded protections was not even put up for a vote in the House last year. A GOP "civil war" that led to Speaker Boehner breaking the Hastert Rule — which requires a majority of the House majority to support any bill that gets a vote — was required before the bill was finally passed 288-138 earlier in February.
House Republicans also voted on their own version of the law without the new provisions, which failed to win majority support.
The law is so popular that Republican congressman Tim Walberg (R-MI) recently claimed he voted for the law even though he only supported the failed Republican version.
"One of the great legacies of this law is it didn't just change the rules, it changed our culture. It empowered people to start speaking out," Obama said.
Despite the continued effectiveness of the law — violence against women is down 64 percent just in the last decade — 1 in 5 women will be raped during their lifetime, the president noted.
"There are still too many women in this country who live in fear of violence," Biden said in his introduction of President Obama.
Not only does the law improve the criminal justice system's response to crimes against women, it authorizes about $659 million a year over five years to fund grants for transitional housing, legal assistance, law enforcement training and hotlines.
It also reauthorizes the Trafficking Victims Protection Act, adding stalking to the list of crimes that make immigrants eligible for protection, along with authorizing programs that help college campuses deal with sexual violence.
The president dedicated the victory to the victims of domestic violence.
AP Photo/Susan Walsh