Obama, On Asia Trip, Warns Russia About New Sanctions Over Ukraine Crisis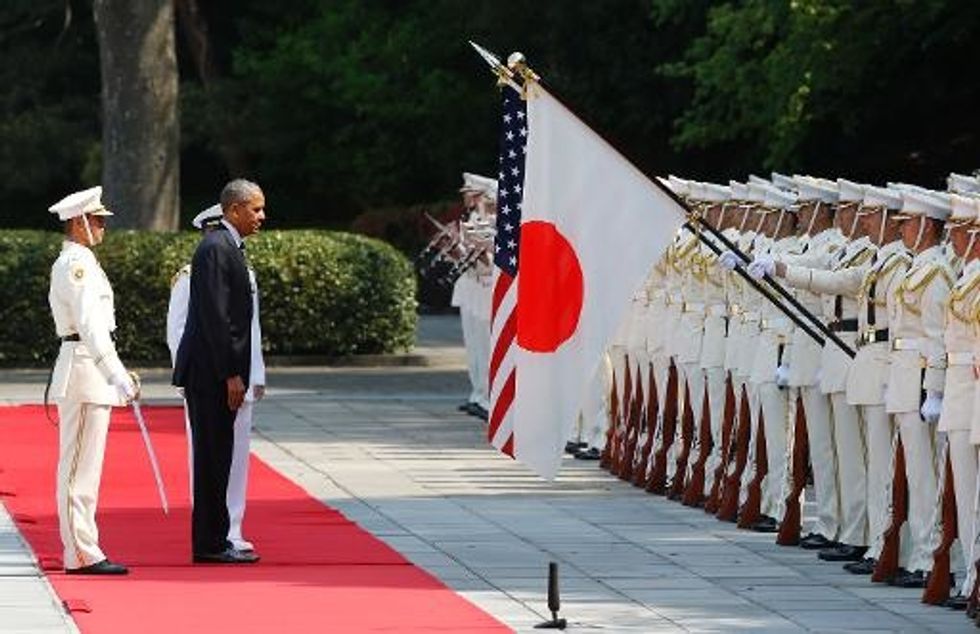 By Lesley Clark, McClatchy Washington Bureau 
TOKYO — President Barack Obama pledged new sanctions against Russia on Thursday if the country doesn't live up to an agreement to quell violence in embattled Ukraine and call on pro-Russian separatists to vacate government buildings.
"Assuming they don't follow through, we will follow through," Obama said, in "days not weeks," on threats to impose a new round of economic sanctions, including potential "sectoral" sanctions on Russian industries.
He noted it wouldn't "require a radical shift," just the "stuff they agreed to at least on paper last week."
The administration last week in Geneva struck an agreement to hold off on new sanctions against Russia if the country removed outlaw militias and took other steps to restore calm.
But Obama said there's no evidence Russia is abiding by the "spirit or the letter" of the agreement and that the administration "has been preparing for prospect that we will have to engage in further sanctions."
The remarks came as Obama opened his first full day of a weeklong Asia trip Thursday with the red-carpeted pomp of a visit to Japan's Imperial Palace and a much sought-after show of support from Japanese Prime Minister Shinzo Abe.
Standing next to Obama, Abe through an interpreter called the alliance between the two countries "unwavering and indispensable" and said Obama has displayed "tremendous enthusiasm" in the relationship.
Asian allies were said to be rattled by U.S. reluctance to intervene deeply in Syria and Ukraine, but Abe gave Obama unqualified support.
"I fully trust President Obama," Abe said.
The two, however, announced no agreement to reach a deal on the long-delayed Trans-Pacific Partnership trade deal, but said negotiators are continuing to talk.
Obama and Abe met at Akasaka Palace before the news conference, with Abe calling Obama's visit a testament to the administration's efforts to focus on Asia.
The initiative has been questioned by some allies in the region as the administration has appeared distracted by domestic budget battles and an array of international conflagrations in the Middle East, and more recently, in Ukraine.
"This greatly contributes to regional peace and prosperity and Japan strongly supports and also certainly welcomes this," Abe said of Obama's visit. He pledged that his administration, which has strained ties with South Korea — the next stop on Obama's visit — "intends to contribute to regional peace and prosperity more proactively than ever."
Obama called the alliance between the two countries the foundation "not only for our security in the Asia Pacific region, but also for the region as a whole."
He noted the region is facing a "whole range" of challenges, including threats posed by North Korea's nuclear weapons program.
And he put in a plug for Japan to move forward on his stalled trade pact, the Trans-Pacific Partnership, noting the two countries represent two of the three largest economies in the world and have an opportunity to "help shape an open and innovative and dynamic economy" in Asia.
Obama said at the news conference he believes the two countries are close to an agreement on the two sticking points: market access for the U.S. for items such as automobiles and agricultural products.
He said he's been upfront with Abe: "The U.S. needs access to markets in Japan. That's what will make (a) good deal for the U.S."
The visit is aimed at expanding cultural ties as well between the U.S. and the region, and Obama, before his talks with Abe, was received by Emperor Akihito and Empress Michiko at the Imperial Palace.
Obama wished the royal family well and noted that he had "very fond memories" of their last visit four years ago. Back then, the president joked, he didn't have any gray hair.
"You have a very hard job," replied the emperor, who told Obama the couple was pleased to welcome him to the palace.
While Obama has visited Japan before, this is the first formal "state" visit by a U.S. president since Bill Clinton in 1996. After touring a Tokyo science museum and shrine, Obama is to return to the palace Thursday night for a state dinner.
Obama kicked off the tour of Asia on Wednesday with a pointed message to China and the region: The U.S. stands resolutely with Japan in a long dispute over some small islands in the East China Sea.
As Obama landed in Japan, news here was dominated by his comments to a Japanese newspaper that the string of islands subject to a bitter Chinese-Japanese dispute fall within the scope of a U.S.-Japan security treaty.
U.S. policy is clear, the president said in written remarks to The Yomiuri Shimbun, that the tiny, uninhabited islands are administered by Japan and "therefore fall within the scope of Article 5 of the U.S.-Japan Treaty of Mutual Cooperation and Security."
Obama's statement affirmed longtime U.S. policy; he noted Defense Secretary Chuck Hagel and Secretary of State John Kerry have conveyed similar messages. But by underscoring the U.S position at the start of a weeklong trip to Japan, South Korea, Malaysia and the Philippines, the president worked to reinforce a key purpose of his voyage, reassuring allies about U.S. commitment in a region that's anxious about China and worried about U.S. commitment in the wake of a halting intervention in Syria and the crisis in Ukraine.
The Chinese government took offense at Obama's remarks. Foreign Ministry spokesman Qin Gang said the United States "should respect the facts, in a responsible manner abide by its commitment not to choose sides over a territorial sovereignty issue, be cautious on words and deeds and earnestly play a constructive role for peace and stability in the region."
China rattled nerves in the region last November when it expanded its airspace to claim control of the air zone over the contested waters between itself and Japan.
But Chinese state media also reported that numerous countries, including China and the U.S., have agreed to a code of conduct in order to reduce conflict and encourage communication over any encounters in the East and South China seas.
Obama isn't visiting China on this trip, but the country will loom large as the U.S. looks to assure Japan and other allies that its relationship with China won't affect its relationship with other Asian countries. China's assertion of a "great power" relationship with the U.S. has other countries worried that the two will create a relationship that excludes the others.
"We welcome the continuing rise of a China that is stable, prosperous and peaceful and plays a responsible role in global affairs," the president told the Japanese newspaper. "Our engagement with China does not and will not come at the expense of Japan or any other ally."
After arriving in Tokyo on Wednesday evening, Obama had a 90-minute dinner with Abe at one of the city's top sushi restaurants, Sukiyabashi Jiro, where the 89-year-old chef is a celebrity and a meal with 20 pieces of sushi costs about $300 per person.
"That's some good sushi right there," the president said as he emerged from the basement restaurant along with U.S. Ambassador to Japan Caroline Kennedy and National Security Adviser Susan Rice.
Abe, who repeatedly at the news conference referred to the president as "Barack," said the president told him it was the "best sushi" of his life.
AFP Photo/Shizuo Kambayashi