Obama Backs Interim Ukraine Prime Minister, Rebukes Putin
@AFP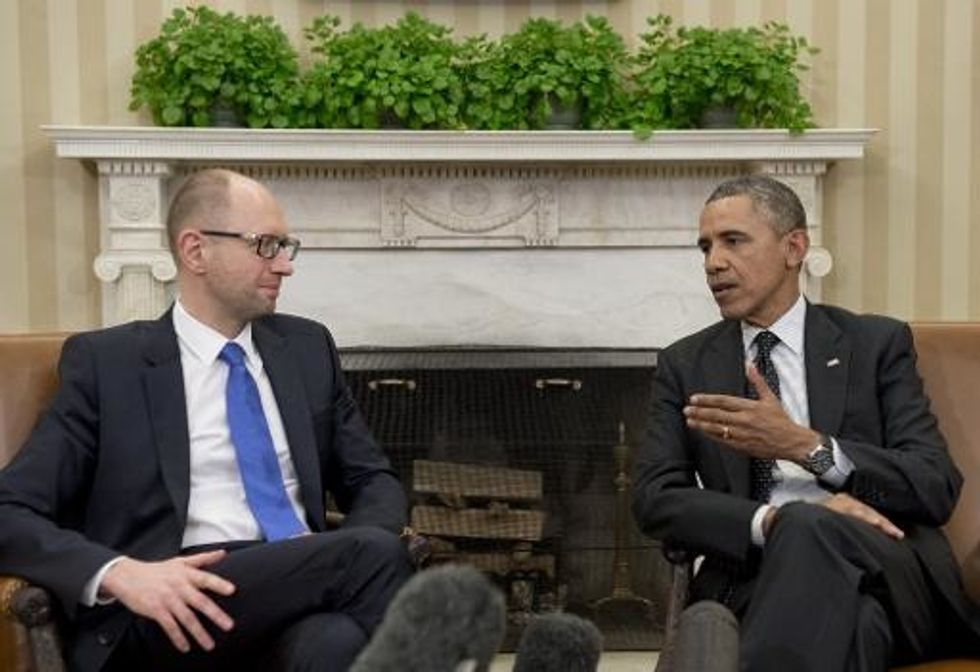 Washington (AFP) – President Barack Obama told Ukraine's Prime Minister on Wednesday that the United States would stand by his country's defense of its sovereignty, conferring symbolic legitimacy on the Kiev government in a direct rebuke to Russia.
Obama also said after meeting interim Prime Minister Arseniy Yatsenyuk that he hoped U.S. diplomacy with Moscow over the next few days could cause a "rethinking" of plans for a secession referendum in Crimea on Sunday.
Obama said that Russia had infringed international law with its incursion into Ukraine and warned that if President Vladimir Putin did not change course, he would face "costs" from the United States and the international community, which has already threatened economic sanctions.
Obama told Yatsenyuk in the Oval Office — in a visit intended to confer symbolic legitimacy on the Kiev government — that he had been impressed by the courage of the people of Ukraine during the ouster of president Viktor Yanukovych and the political turmoil that followed.
"We have been very clear that we consider the Russian incursion into Crimea… to be a violation of international law," Obama said.
"We have been very firm in saying that we will stand with Ukraine and the Ukrainian people in ensuring that territorial integrity and sovereignty is maintained," Obama said.
Yatsenyuk told reporters in the Oval Office that Ukraine would "never surrender" in its fight for territorial integrity, but also that it wanted to be a good partner to Russia.
Obama added that the United States would not recognize the results of the referendum in Crimea on joining Russia.
He said the vote was a "patched-together" exercise but hinted that he hoped talks between Secretary of State John Kerry and his Russian counterpart Sergei Lavrov later this week in London could change the situation.
"My hope is that as a consequence of diplomatic efforts over the next several days that there will be a rethinking of the process that has been put forward."
AFP Photo/Saul Loeb