Obama Calls For Voting Rights Reform On 50th Anniversary Of Historic Law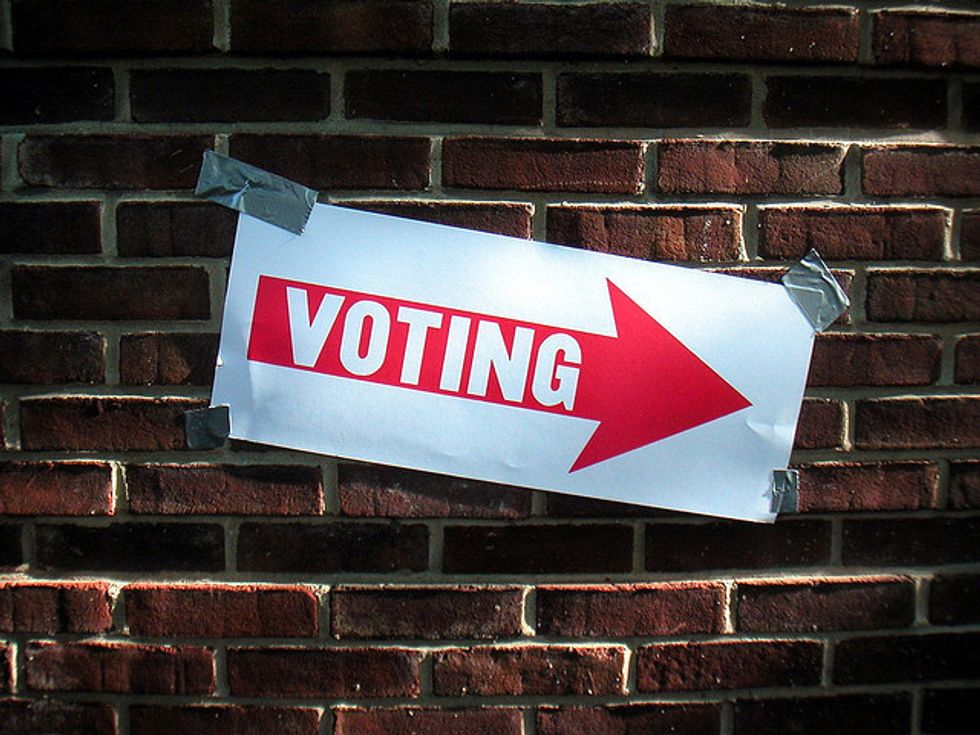 President Obama called on Congress to pass "an updated version" of the Voting Rights Act during a speech on Thursday, the 50th anniversary of the passage of the historic federal law. He also urged Americans to exercise their right to vote, citing the forthcoming National Voter Registration Day on September 22.
The White House commemoration of the voting law — which sought to protect the constitutional right to vote from laws created to bar people of color from the polls, such as literacy tests and poll taxes — came a day after a U.S. appeals court ruled that a Texas law requiring voters to show authorized identification violated the Voting Rights Act through its "discriminatory effects."
The president called on Congress to pass a new version of the Voting Rights Act that would correct some of the recent court rulings and actions by state legislatures that have weakened the enforcement of the original law.
"This has to be a priority. If this isn't working, then nothing's working," Obama said.
"Too many states are making it harder for folks to vote," the president added, citing how photo ID laws and restrictions on early voting disproportionately affect seniors and poor people.
The Supreme Court struck down key parts of the Voting Rights Act in 2013. After the SCOTUS ruling, then-governor of Texas Rick Perry said in a statement that "Texas may now implement the will of the people without being subject to outdated and unnecessary oversight and the overreach of federal power," referring to the Voting Rights Act's overseeing of certain states' voting laws.
On Thursday, countering what many conservatives call common-sense protections against voter fraud, Obama said voter fraud is too rare a crime to be fairly used as an argument in favor of laws that limit many eligible voters from casting ballots. "There are almost no instances of people going to vote in someone else's name," he said. "It's not a common crime."
The goal of these voter ID laws, the president stated, is "to make it harder for folks to vote."
The president on Thursday said Americans should not tolerate laws that aim to disenfranchise their fellow citizens. "How can you rationalize making it harder for people to vote?" Obama said.
"State legislatures are making it deliberately harder for people to vote and some are not shy about saying so," the president added.
In 2011, Wisconsin governor Scott Walker called a photo ID requirement he was signing into law "obviously special."
In 1965, a few months after Dr. Martin Luther King Jr. led thousands from Selma to Montgomery, Alabama, to protest legal barriers erected to prevent black people from voting, Congress passed the Voting Rights Act, which President Lyndon B. Johnson signed into law on August 6, 1965.
"The struggle for the right to vote has been a long, tedious struggle for the soul of America," John Lewis said, adding that the struggle continues today.
Recalling his time as a 25-year-old civil rights activist and witness of the signing of the Voting Rights Act on Capitol Hill, Lewis also spoke of the literacy tests, beating, arrests and even murders of black people attempting to exercise their right to vote.
"All across the American South it was almost impossible for people of color to register to vote," Lewis said.
Despite the progress, Lewis said there's a "deliberate, systematic effort" to make it more difficult for people of color, young people, poor people, seniors, and others to participate in the political system.
The president also made clear that low voter turnout rates in the United States are primarily due to citizens choosing not to exercise their right to vote, rather than being prevented from registering.
"Far more people disenfranchise themselves than any law does by not participating, by not getting involved," Obama said.
Photo: Keith Ivey via Flickr