Obama Defends $4-Trillion Budget, Cites National Security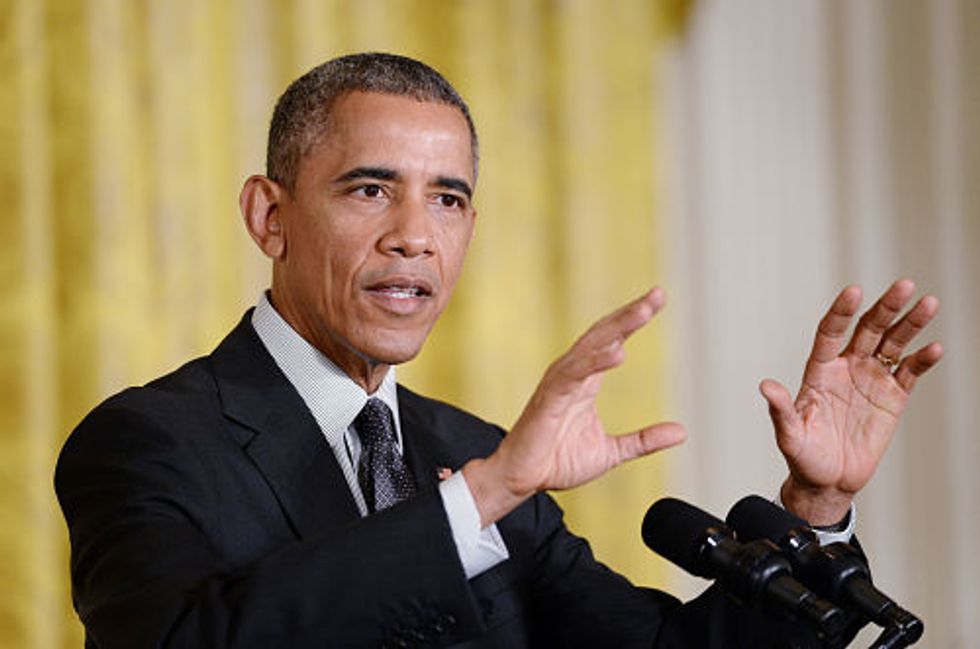 By Kathleen Hennessey and Christi Parsons, Tribune Washington Bureau (TNS)
WASHINGTON — President Barack Obama launched Monday into the first clash in a series of budget battles as he unveiled his nearly $4-trillion spending plan, immediately calling on Republicans to fully fund the Department of Homeland Security despite their objections to his new immigration policy that the agency will carry out.
"Don't jeopardize our national security over this disagreement," Obama said Monday in remarks at the department. Its funding is set to expire at the end of the month. He warned Republicans not to "play politics" with economic and national security.
Obama made the push as he released a budget for fiscal 2016 aimed at securing his political position as the defender of the middle class. His plan blows past mandatory spending caps to beef up programs that benefit lower- and middle-income Americans and proposes to pay for the programs with tax hikes on the wealthiest taxpayers, major corporations and financial firms.
The document completes Obama's shift from years of grim economic forecasts and austerity cuts into what he's labeled "America's resurgence." His budget projects an unemployment rate of 5.4 percent in 2016 and falls to a low of 4.9 percent in 2017 and 2018 — before climbing slightly over the next several years.
Over that same period, Obama's plan would essentially maintain deficit spending at the current levels as a slice of the economy – around 2.5 percent of gross domestic product — and would continue to add to the debt over the next decade.
Obama made the case Monday for the increased investment as necessary to sustain a strong recovery and to ensure the success of U.S. missions abroad.
"We can afford to make these investments while remaining fiscally responsive," Obama said. "In fact … we can't afford not to."
Obama's approach won poor marks from advocates of entitlement reform.
"Failing to address the drivers of the debt will ultimately undermine the president's other priorities," said Maya MacGuineas, president of the bipartisan advocacy group Committee for a Responsible Federal Budget. "The focus on promoting investment today will do little good if our massive debt is choking the investments of tomorrow. And the desire to strengthen middle-class families cannot be fulfilled if Social Security and Medicare remain on a path to insolvency with huge across-the-board cuts looming in the future."
Republicans have already declared much of the new spending a liberal pipe dream with no chance of winning approval – a point the White House did not dispute. Still, the plan was an opening offer with elements meant to draw Republicans into talks.
The president's budget includes a proposal to overhaul how companies pay taxes on offshore profits with a one-time 14 percent tax and a 19 percent tax rate going forward. The plan would pay for roughly half of a new $478 billion public-works program. Republicans have signaled their openness to such a scheme in the past.
Obama's budget also calls to end the so-called sequestration budget restraints set to take effect this spring. Republicans also have expressed interest on removing the caps – although only for defense spending.
Obama indicated he was ready to use that as leverage in winning money for domestic programs.
"I'm not going to accept a budget that locks in sequestration going forward," Obama said, adding that he would oppose a deal that "severs the vital link" between defense spending and domestic priorities.
"Those two things go hand in hand," he said.
Photo: U.S. President Barack Obama speaks at a event to promote a new health care program by approving $215 million for a Precision Medicine Initiative designed to help doctors tailor treatments to the individual characteristics of their patients in the East Room of the White House Jan. 30, 2015 in Washington, D.C. (Olivier Douliery/Abaca Press/TNS)