Obama Demands Congress Fully Fund Embassy Security, Vows To Fix IRS Problems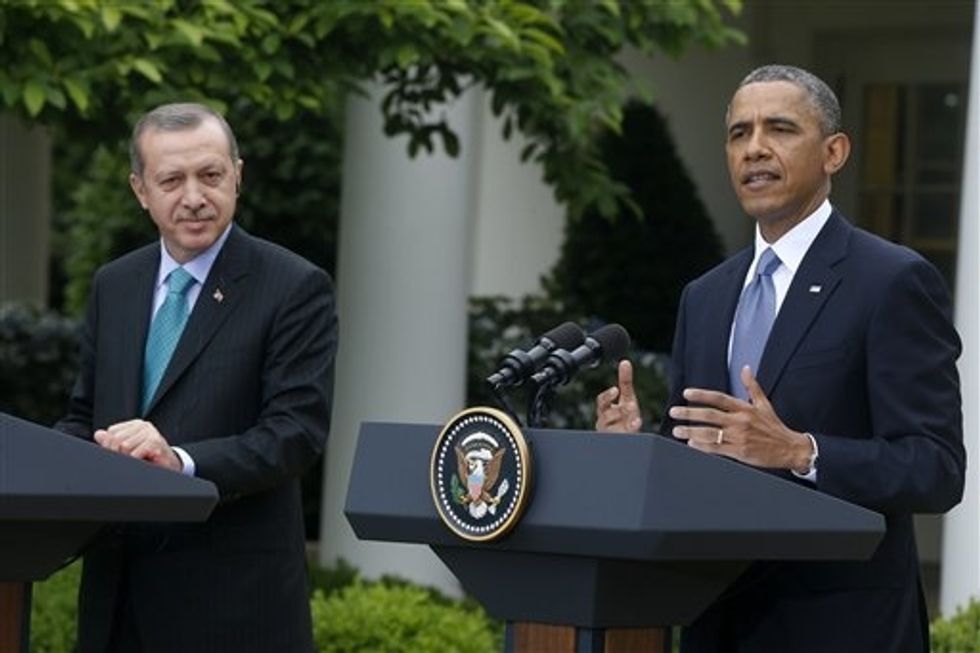 President Obama said Thursday that he did not know that agents in the IRS had been targeting Tea Party groups until the Inspector General's report leaked last week.
Speaking at a press conference with Turkish prime minister Recep Tayyip Erdogan in the White House Rose Garden, the president said that he first heard of the IRS misconduct through reports in the media.
"I can assure you that I certainly did not know anything about the report before the I.G. report had been leaked," Obama said.
The president again said that any targeting of groups for their political leanings was "outrageous and unacceptable." He vowed to fix the situation so that the agency would act "without even a hint of bias."
He added that he did not believe a special counsel was needed to investigate the issue. "My main concern is fixing a problem and we began that process yesterday by asking [for] and accepting the resignation of the acting director there," the president said.
Both leaders renewed calls for Syrian president Bashar al-Assad to step down but the "scandals" swirling around Washington occupied much of the president's attention, with Obama going on the offensive from his opening statement, calling on Congress to fully fund embassy security, a nod to the continuing investigation into the September 11 attacks on a diplomatic outpost in Benghazi.
Republicans have significantly cut funds for State Department security since taking over the House in 2010.
"We need to come together and truly honor the sacrifice of those four courageous Americans and better secure our diplomatic posts around the world," Obama said. "That's how we learn the lessons of Benghazi. That's how we keep faith with the men and women who we send overseas to represent America."
The president also refused to apologize for the activities of the Justice Department, which is receiving scrutiny for subpoenaing records of reporters from the Associated Press as part of an investigation into the publication of classified information.
"Leaks related to national security can put people at risk," he said.
After defending calls for a media shield law, the president interrupted a question to the Turkish prime minister to affirm his "complete confidence" in Attorney General Eric Holder, who recused himself in the AP investigation because he had testified in the case.
Photo: Charles Dharapak