Obama Expresses Skepticism On Russia's Aims In Ukrainian Conflict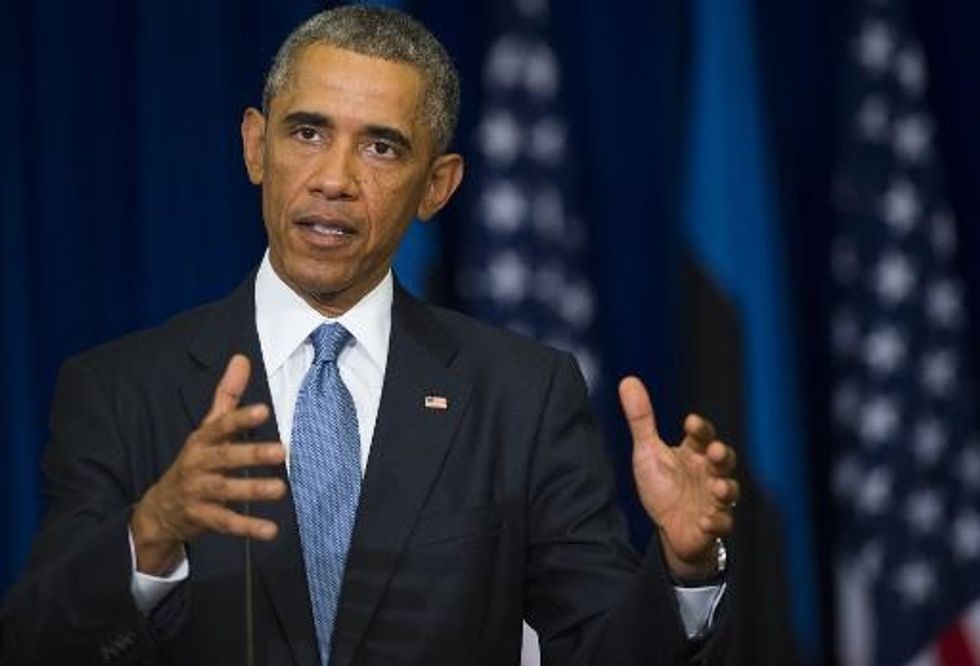 By Kathleen Hennessey, Los Angeles Times
ESTONIA — President Obama expressed skepticism Wednesday about Russia's aims in Ukraine after Kiev announced that the two countries had agreed to a cease-fire, a claim it later reportedly backed off of.
Noting that it was "too early to tell" whether Moscow would hold to such an agreement anyway, Obama said that if Russia is agreeing to stop backing separatist militias in eastern Ukraine, "that is something we all hope for."
But he stopped short of endorsing any sort of deal, and within hours, a spokesman for Russian President Vladimir Putin denied that a cease-fire had been reached, according to media reports in Russia. Eventually, a spokesman for Ukraine's president told The New York Times that his office went too far in describing a phone call between the country's leaders.
The stop-and-start reports came as Obama began a three-day European trip certain to be dominated by the escalating conflict between Ukraine and its eastern neighbor. Obama was due to meet with European allies struggling to agree on fresh financial penalties against Russia that could shift Moscow's engagement in the civil war across its border with Ukraine. At a NATO meeting in Wales later in the week, the alliance's leaders planned to counter what they've labeled Russian aggression with a new show of force in Eastern and Central European states.
To underscore that goal, the president began the trip in this Baltic capital, where he offered reassurance that the U.S. would defend Estonia, a NATO ally that also shares a border with Russia, should it be subject to similar aggression. He highlighted U.S. efforts to increase its military presence in the region in response to Russia's annexation of Crimea earlier this year. Obama said he hoped to win congressional support to further bolster the U.S. military presence, including additional Air Force units and air training exercises based at Estonia's Amari air force base.
The U.S. commitment to defend its ally, Obama said, "is unbreakable. It is unwavering. Estonia will never stand alone."
Obama delivered his message of reassurance to a nation keenly familiar with fears of about Russian aggression. The small, strategic outpost jutting into the Baltic Sea has spent much of the past century under the imposing shadow of its eastern neighbor. After more than four decades of Soviet control in Estonia, the last of the Russian Army soldiers left just 20 years ago.
Since declaring its independence, Estonia has sought security in Western alliances and prosperity in high-tech development and culture.
"I should have called the Estonians when we were setting up our healthcare website," Obama joked.
Estonia joined NATO in 2004, along with its Baltic neighbors Lithuania and Latvia, whose leaders Obama was slated to meet later with to discuss regional security before he delivers a speech later in the afternoon.
Obama held Estonia up as a model for contributing its share to NATO, which has struggled to get members to meet their targets for defense spending.
Estonia, a nation of just 1.3 million people, "truly punches above its weight," Obama said.
"We've not stayed back and waited for others to take care of our security," added Estonian President Toomas Hendrik Ilves.
Still, Ilves has sought a permanent NATO presence in Estonia, a move that has so far been rejected by other allies amid concerns that it would further heighten tensions between Moscow and the West. Under a series of agreements, NATO leaders have kept permanent bases out of front-line nations.
NATO leaders are due to announce a ramped-up rotation of NATO forces through Baltic nations, a new Readiness Action Plan some have described as de facto permanent bases.
Obama said the goal was to rid NATO of the "sense of complacency" that has arisen in recent years.
Ilves argued Wednesday that Moscow's moves in Ukraine, although it is not a NATO ally, have changed the security situation and should call for a rethinking of those previous agreements.
"This is an unforeseen and new security environment," Ilves said in English. The Estonian leader is the child of refugees, was raised in New Jersey and went to college and graduate school in the U.S.
Obama agreed that the "circumstances have changed" and added that previous assumptions should be looked at "with fresh eyes," but committed only to discussing the topic in Wales.
AFP Photo/Saul Loeb