Obama Faces Liberal Anger Over Judicial Nominees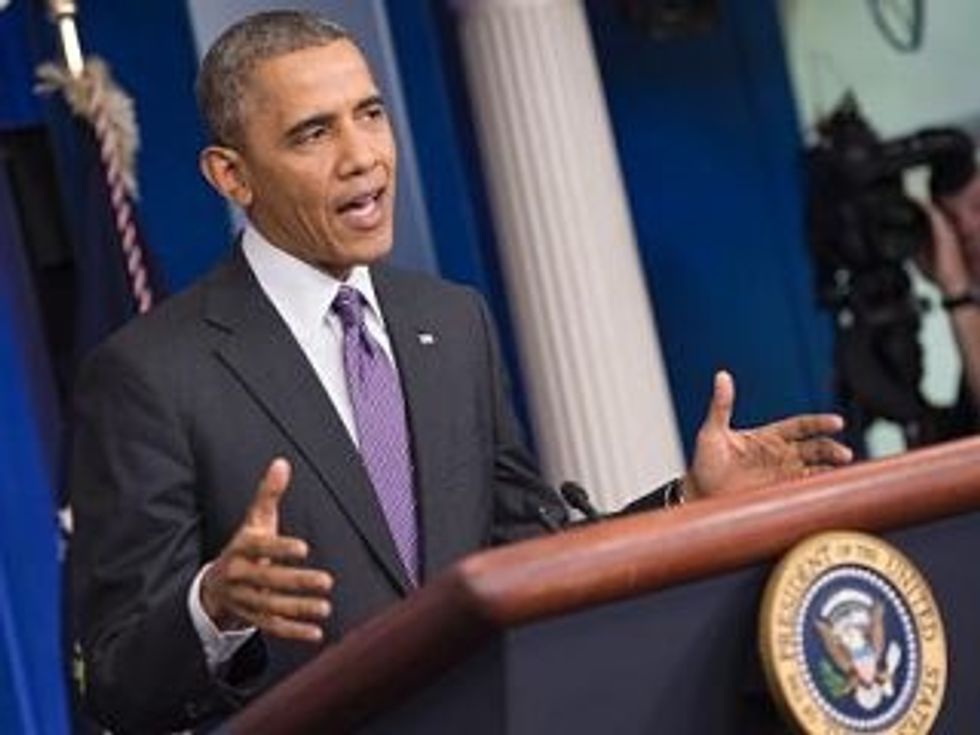 By Timothy M. Phelps, Tribune Washington Bureau
WASHINGTON — The Obama administration is facing a liberal revolt in the Senate over two high-priority judicial nominations, potentially jeopardizing its push to shape the federal judiciary in advance of the midterm congressional election.
The disputes, which involve hot-button issues including abortion, the Confederate flag and drones, could come to a head as early as Tuesday.
On one side, the White House is standing behind deals with Republican senators that were designed to allow several nominations to move forward. On the other side are some liberal groups, including the American Civil Liberties Union and NARAL Pro-Choice America, which find themselves for the first time in open conflict with the Obama administration over its choices for the federal bench.
The fights highlight an ongoing problem for Obama's nominees: Even though Democrats changed Senate rules to eliminate filibusters of judicial nominees other than Supreme Court justices, senators have other ways to stall action. That gives Republicans continued leverage, particularly now because administration officials know their party could lose control of the Senate in the November election and are anxious to gain approval of their picks while they still have a majority.
Two nominees expected to come up in the Senate on Tuesday are the particular focus of liberal ire, but the revolt could endanger half a dozen other nominees.
Liberals are incensed that the administration is pushing hard for Michael Boggs, a judge on Georgia's state Court of Appeals, to join the federal bench in Georgia. Boggs, a conservative Democrat, voted while in the state Legislature to reinstate a version of the Confederate flag as the state flag, opposed same-sex marriage and took positions on abortion that critics say would have limited women's rights.
His nomination "will go down in history as one of the worst acts of this president," said Rep. David Scott, D-Ga., a centrist African-American who represents Atlanta suburbs.
Obama "should have had the guts to say, 'You think I can do this to my own black people, nominate a man who would keep the vicious symbol of segregation and white supremacy?' " Scott said.
Women's groups are also upset, saying that legislation Boggs sponsored would have required parents to attend their teenagers' abortions and that he supported legislation to define children as "both born and unborn."
As that fight plays out, prominent senators from both parties, backed by the ACLU, are trying to block, or at least delay, a vote on Harvard law professor David Barron. Obama has nominated Barron to be a judge on the 1st Circuit Court of Appeals, which hears cases from New England.
As a Justice Department lawyer, Barron wrote at least one memo that provided the legal justification for the targeted killing of Anwar al-Awlaki, a U.S. citizen who was slain by a drone strike in Yemen in 2011.
The fight over Barron has made complicated alliances. Sen. Rand Paul, R-Ky., and Democratic Sens. Mark Udall of Colorado and Ron Wyden of Oregon have joined the ACLU in saying all of Barron's memos on drones must be made public or at least made available to senators before any vote.
The White House offered last week to make one memo available to senators, a move that did not satisfy critics.
"They've played one big game of 'hide the ball,' " said Christopher Anders, senior legislative counsel at the ACLU. "We want to see all the memos he's involved in writing."
At the same time, a coalition of civil rights groups on Friday supported Barron, a former Supreme Court law clerk to Justice John Paul Stevens, who is well known as a liberal legal scholar. Barron has gained opponents among conservatives for publicly criticizing some decisions by Chief Justice John G. Roberts Jr. and former Chief Justice William H. Rehnquist.
The White House is seeking to defend both of its nominees.
White House spokesman Eric Schultz said Barron "will bring outstanding credentials, legal expertise and dedication to the rule of law to the federal bench. The administration is working to ensure that any remaining questions members of the Senate have about Barron's legal work at the Department of Justice are addressed."
As for Boggs, officials say that as a judge, he has vigorously supported sentencing reform, a signature issue for Obama and Attorney General Eric H. Holder Jr.
Boggs, however, was not the administration's first choice for the federal bench.
For years Georgia's two Republican senators, Saxby Chambliss and Johnny Isakson, have blocked Obama's judicial nominees from that state. Although the filibuster is no more, the two senators have been able to maintain their veto because of a procedure, called a "blue slip," adopted by Sen. Patrick J. Leahy, D-Vt., chairman of the Senate Judiciary Committee.
Under the blue slip rule, both senators from a nominee's state must give approval before a nomination can get a hearing.
Last year, Chambliss and Isakson made a deal with the White House to approve two nominees to the 11th Circuit Court of Appeals, which covers Georgia and several other Southern states, as well as three other district court nominees, in return for nominating Boggs.
"The blue slip rule for judicial nominees has been more problematic than the filibuster because it can act as a silent, unaccountable veto," Schultz said. "But given this constraint, our choice is clear: Do we work with Republican senators to find a compromise or should we leave the seats vacant?"
The Judiciary Committee is scheduled to consider Boggs and other Georgia nominees Tuesday. Leahy is stepping aside to allow Sen. Richard Blumenthal, D-Conn., an outspoken critic of Boggs, to lead the hearing. And the room will be packed with opponents from women's groups, gay rights groups and civil rights groups.