Obama At Fort Hood Memorial: 'Tragedy Brings Us Together Again'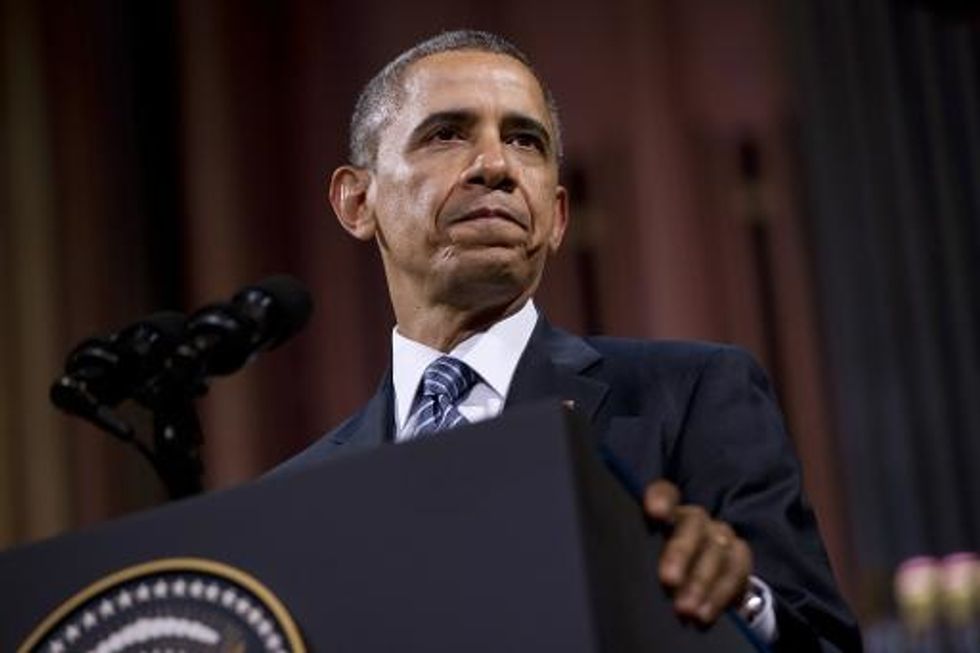 By Molly Hennessy-Fiske, Los Angeles Times
FORT HOOD, Texas — Five years after he sought to comfort soldiers devastated by the deadliest attack on a U.S. military base, President Barack Obama returned to Fort Hood on Wednesday to once more offer condolences and pledges of support, repeatedly invoking Scripture and its stirring words on the power of love to heal.
Obama, citing 1 Corinthians, said, "With God's amazing grace we somehow bear what seems unbearable. Love bears all things, believes all things, hopes all things, endures all things. Love never ends."
Love was the running theme of the president's remarks, delivered under a sunny sky before thousands of soldiers and dignitaries.
It was love of country, Obama said, that inspired the three soldiers killed in last week's shooting rampage to join the greatest army the world has ever known. "It was love for their comrades, for all of you, that defined their last moments," Obama said.
A week ago, Spc. Ivan Lopez opened fire in a building at the post, the start of an eight-minute rampage that killed three soldiers and wounded 16 others. Lopez, 34, fired more than 35 rounds before he was confronted by a military police officer and shot himself in the head.
Army investigators have said the shooter's motive remains a mystery. But officials told the Los Angeles Times that Lopez had recently that learned his request for a leave of absence after the death of his mother had been rejected, infuriating him.
Killed in the attack were three sergeants: Danny Ferguson, 39, of Mulberry, Fla.; Timothy Owens, 37, of Effingham, Ill., and Carlos Lazaney-Rodriguez, 38, of Aguadilla, Puerto Rico. Their bodies were being transported home this week, a military official said. Lopez's family plans to bury him Saturday in his hometown of Guayanilla, Puerto Rico.
Five of the injured remained hospitalized this week, three at a military hospital on the post where an official said they were improving and two at a hospital off post where a spokesman said they were in fair condition.
The rest of the injured have returned to duty at Fort Hood.
The last time Obama visited the Army post, among the largest military installations in the world, was for another mass shooting memorial.
"Tragedy brings us together again," Obama said.
The president recited the names of the three sergeants killed, just as other speakers also repeated the names — Ferguson, Owens and Lazaney-Rodriguez — again and again. The three men, Obama said, had racked up a total of nine deployments. Each served in Iraq, and one had returned from Afghanistan just last week.
Obama vowed to continue efforts to help soldiers and veterans struggling with mental illness, and urged the nation to support troops once they return.
"When we truly welcome our veterans home, we show them we need them not just to fight in other countries, but to build up our own," he said.
Five years ago, an Army psychiatrist opened fire, killing 13 and wounding more than 30. Maj. Nidal Malik Hasan was later convicted and sentenced to death for the attack, which he called an effort to protect the Taliban.
Before that memorial, soldiers erected a protective barrier around the field, stacking shipping containers to form a massive wall — just as they did this week.
The president stood at the same field in front of 13 sets of boots, rifles, helmets and photographs, listing the names of the dead and vowing that their memory would "endure through the life of our nation."
Again on Wednesday, Obama stood before a crowd of thousands of uniformed soldiers.
Again, he promised that the dead would not be forgotten.
"Know this," Obama said, addressing the Fort Hood community as a whole. "We also draw strength from you, for even in your grief, even as your heart breaks, we see in you that eternal truth: Love never ends."
AFP Photo/Saul Loeb