Obama Should Gut It Out; Ditching Keystone Is A No-Brainer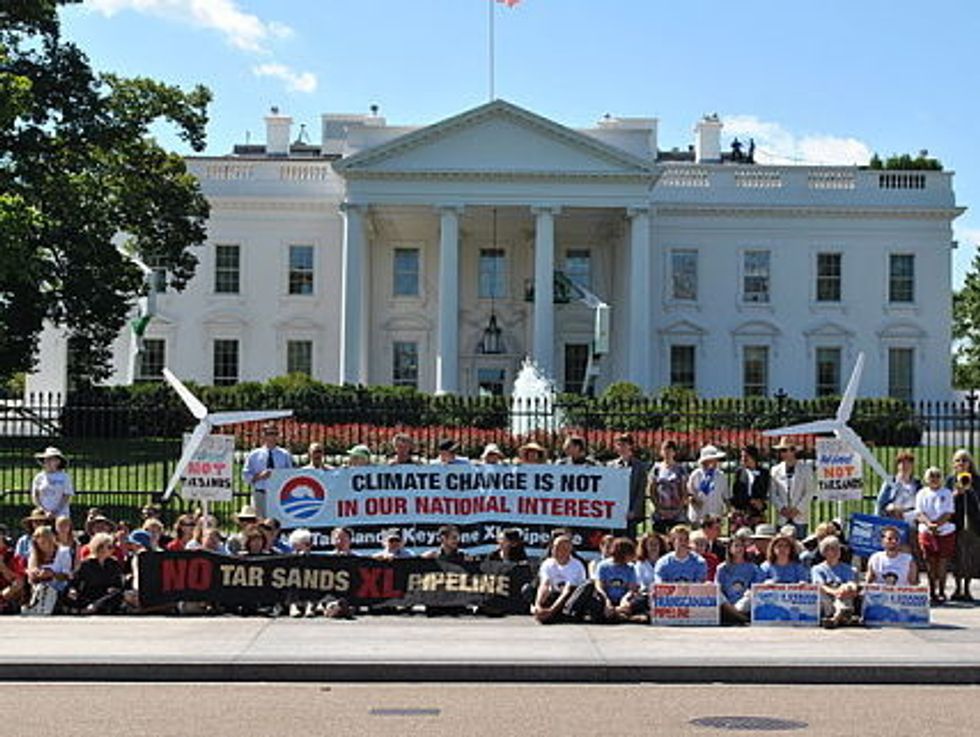 By Mark Weisbrot, Tribune News Service (TNS)
Ditching the Keystone XL pipeline should be a no-brainer.
The 1,179-mile pipeline extension would carry some of the world's dirtiest oil from the tar sands of Alberta, Canada to the Gulf Coast of Texas.
And it shouldn't be necessary to repeat this, but since we have a Congress controlled by a party that denies the reality of climate change, it is: 97 percent of climate scientists agree that human activity has warmed the Earth.
The evidence of climate disruption is all around us, from warming ocean surface and land temperatures, melting Antarctic ice sheets and glaciers, rising sea levels, and increasing heat waves and other changes in extreme weather events.
Supporters of the pipeline have tried to argue that the oil from Canada's tar sands will be exploited anyway, with or without the pipeline. There wasn't much to that argument a year ago, but after a 50 percent fall in oil prices, there is nothing left of it.
This oil is expensive to produce, and without a guarantee of cheap transportation, oil companies are not going to invest in expanding production in the 170-billion barrel reserves of Canada's tar sands.
This is important because it is estimated that if we are to have even a 50 percent chance of avoiding the 2-degrees Celsius (3.6-degrees Fahrenheit) warming that scientists have set as an upper limit, at least two-thirds of the world's proven reserves of oil must remain unexploited.
Keeping this oil in the ground will be one of the great struggles of future years, since oil companies could lose hundreds of billions of dollars of assets, and they are politically powerful.
But the longer any oil stays undeveloped, the less likely it is to be used: exploitation delayed is exploitation denied. And since the oil from Canada's tar sands brings much higher carbon emissions than the average oil produced today, it is a prime candidate for staying in the ground.
Unfortunately, although lower oil prices make the exploitation of more expensive and environmentally destructive oil less profitable, the net effect of cheaper oil is to accelerate the pace of oil consumption and therefore of climate change.
This is another reason for adopting a carbon tax that would reduce carbon-intensive energy use and bring the price of these energy sources more in line with their real — including environmental — costs.
The argument that the pipeline would create jobs is beyond exaggeration; it would create about 50 permanent jobs and about 2,000 temporary construction jobs.
The last refuge of scoundrels on the dirty oil front is the "energy security" argument.
Americans are rightfully sick and tired of endless wars, and naturally welcome the idea that becoming more self-sufficient in oil production — with Canada apparently included as part of "self" — might keep us out of wars.
But America's wars are not so much about securing access to oil — countries with oil tend to sell it on the world market, regardless of who governs them. Even when the U.S. had sanctions against Saddam Hussein and was trying to topple his government, Iraq was still one of the United States' biggest oil suppliers from the Middle East.
Washington has had conflicts with oil-exporting countries — Iraq, Iran, Venezuela — not so much because it wants their oil, which it has not had a problem buying. It is more of an empire thing: Those who control access to oil have more power in the world, which is what many of our most powerful political leaders crave most.
"Energy security" won't keep us out of wars until Americans force their leaders to adopt a less militaristic and more law-abiding foreign policy.
Photo via Wikimedia Commons