On Pardoning And Commuting Prison Sentences, Obama Is Way Behind His Goal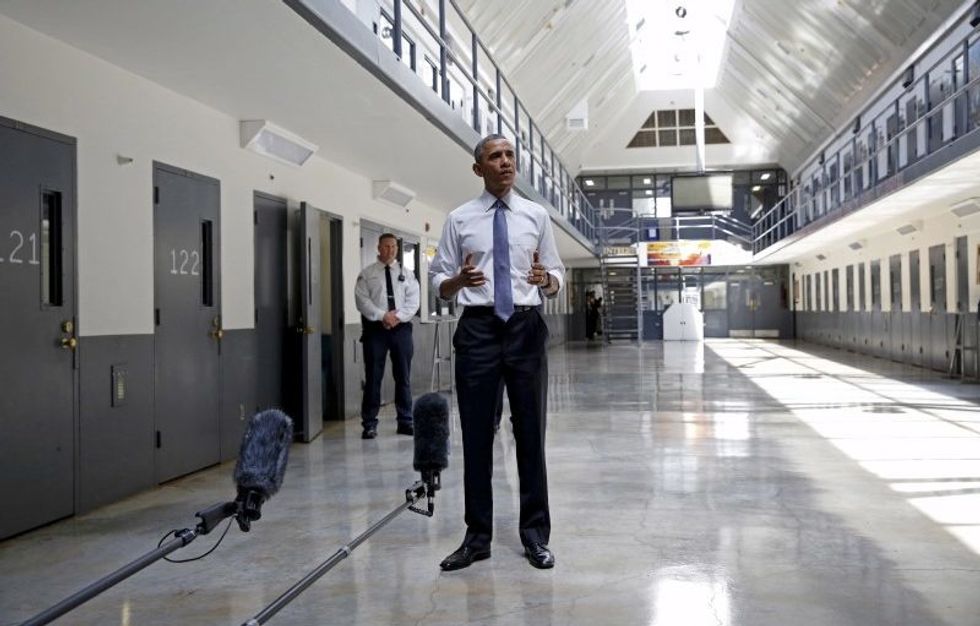 As of last week, President Obama has used his clemency powers to reduce the sentences of more federal inmates than any president in nearly a century, and more than the previous nine presidents combined, according to a White House press release which announced the largest single day clemency action in 116 years. Obama commuted 214 sentences to bring his total as president to 562. He broke Franklin Roosevelt's single-day record of 151, according to political scientist P.S. Ruckman, Jr.
But despite Obama's recent success pardoning large numbers of federal inmates, he hasn't come close to then-Attorney General Eric Holder's optimistic projections in 2011 — that as many as 10,000 people could be released early.
Since Obama began acting seriously on that projection, just two years ago (before then, he was on pace to be the lowest commuter and pardoner in 100 years, according to the Washington Post), the Justice Department has struggled to process an ever-increasing number of hopeful inmates' cases.
And as late as January of this year, Obama's Pardon Attorney, Deborah Leff, resigned in frustration, saying she was "unable to do [her] job effectively," and pointing to restricted access to White House counsel and instructions she said she had received "to set aside thousands of petitions for pardon and traditional commutation."
In her letter of resignation, Leff acknowledged the Obama administration's 2014 pledge to focus on commuting the sentences of non-violent drug offenders who, had they been sentenced today, would have received far shorter sentences.
Clemency Project 2014, a group of non-profits and pro bono lawyers helping the Justice Department process case files, was established to support that effort. But to date, the White House isn't anywhere near commuting the sentences of 10,000 people. That would have been a full five percent of the federal prison population.
And Obama's record on pardons, or the full erasure of criminal liability rather than simply making a sentence shorter, is still much worse that his predecessors: The president has fully pardoned only 70 people. President Reagan granted 393 pardons, President Clinton granted 396, and President George W. Bush granted 189, according to USA Today. In fact, Obama has pardoned fewer people than any president since William McKinley, the first president for whom such statistics were recorded.
Though Obama has pledged to try and make up for the discrepancy — there were 1,378 pardon petitions pending presidential approval as of June 6, according to the Office of the Pardon Attorney — a mammoth bureaucratic process stands in his way: Pardons require a full FBI background check, and every inmate pardoned requires a huge investment of Justice Department and FBI resources.
It doesn't help that the president is up against a political culture that has recently swung away from his favored motto on the issue, that America is "a nation of second chances" and towards Donald Trump's: "Law and Order."
Obama has mentioned the damaging effects of two notable cases on public sentiment towards the executive power today: Willie Horton, who committed rape and murder after being temporarily released from prison on a Massachusetts weekend furlough program, and Marc Rich, a billionaire commodities trader and Democratic donor on the lamb for tax evasion and other charges whose pardon the New York Times called "a shocking abuse of presidential power".
Those two extremes, of the president's clemency power as a representation of leniency towards violent criminals and political allies, may have inspired Obama's guidelines for applying for clemency in his administration: Individuals seeking free legal help from the Clemency Project were required to have served 10 years of their sentence for a non-violent crime, without any record of significant violence in prisons and without any significant ties to gangs or cartels, among other things.
Last week, the New York Timeseditorial board, noting Obama's broken promises, urged the president and the Justice Department to employ another tool at their disposal — the Sentencing Reform Act of 1984's "compassionate release" provision, which was recently widened in a ruling by United States Sentencing Commission to include age, family and medical circumstances, and "other extraordinary and compelling reasons" as justification for reconsidering an inmate's status.
Obama should act now to fulfill a central premise of his presidency — that the United States is a nation of second chances, and that it is a moral imperative to re-examine the cases of the unjustly imprisoned.