#EndorseThis: Obama Hits Back At Trump: Meaningless 'Radical Islamic Terrorism' Debate 'Is A Political Distraction'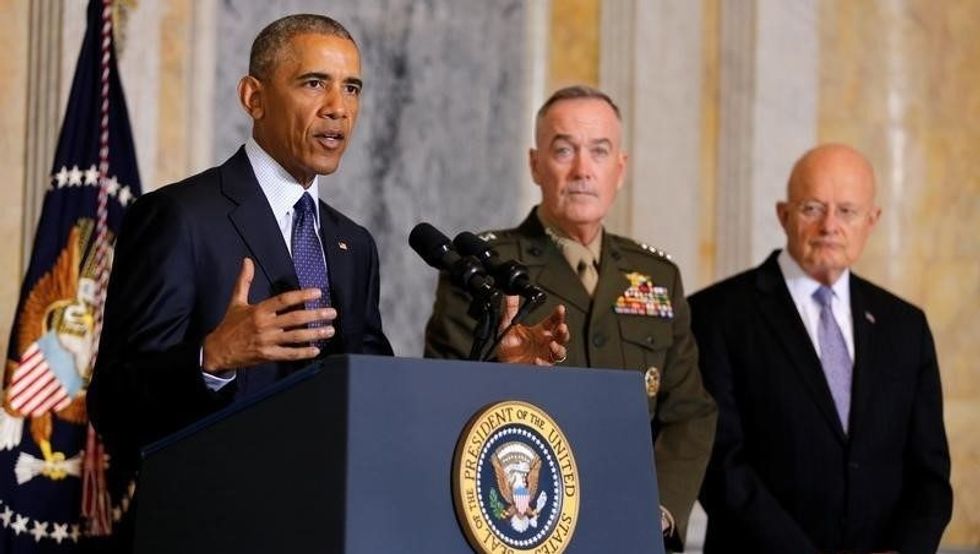 President Obama answered Donald Trump's dangerous, anti-immigrant, anti-Muslim post-Orlando message today in a remarkably forceful speech, saying that Donald Trump's insistence on calling the Orlando shooting and other domestic terror attacks "radical Islamic terrorism" is a political maneuver that doesn't make Americans safer.
"For a while now, the main contribution of some of my friends on the other side of the aisle … in the fight against ISIL is to criticize this administration and me for not using the phrase 'radical Islam.'

"'That's the key,' they tell us. 'We can't beat ISIL unless we call them 'radical Islamists.'

"What exactly would using this label accomplish? What exactly would it change? Would it make ISIL less committed to trying to kill Americans? Would it bring in more allies? Is there a military strategy that is served by this? The answer is, 'None of the above.'

"Calling a threat by a different name does not make it go away. This is a political distraction."

"There has not been a moment in my seven-and-a-half years as president where we have not been able to pursue a strategy because we didn't use the label 'radical Islam.' Not once has an advisor of mine said, 'Man, if we really used that phrase, we're going to turn this whole thing around.' Not once!"
President Obama went on to eviscerate Trump, without referring the Republican nominee by name, for his race-baiting and Islamophobic presidential campaign. "That's their propaganda! That's how they recruit!" Obama said of ISIS's attempt to paint their military and terrorist acts as part of a larger eschatological war between Islam and the West.
"We now have proposals from the presumptive Republican nominee for president of the United States to bar all Muslims from immigrating to America. We hear language that singles out immigrants and suggests entire religious communities are complicit in violence. Where does this stop?

"The Orlando killer, one of the San Bernardino killers, the Fort Hood killer — they were all U.S. citizens. Are we going to start treating all Muslim Americans differently? Are we going to start subjecting them to special surveillance? Are we going to start discriminating against them because of their faith? We've heard these suggestions during the course of this campaign!

"Do Republican officials actually agree with this? Because that's not the America we want. It doesn't reflect our Democratic ideals."
Watch the full speech below. Obama's remarks about "radical Islamic extremism" and Donald Trump start at 13 minutes.
Photo: U.S. President Barack Obama delivers a statement accompanied by Director of National Intelligence James Clapper (R) and Chairman of the Joint Chiefs of Staff General Joseph Dunford after a meeting with Obama's national security team at the Treasury Department in Washington, U.S., June 14, 2016. REUTERS/Carlos Barria