Obama Hopes To Win Over Voters With New Focus On Climate Change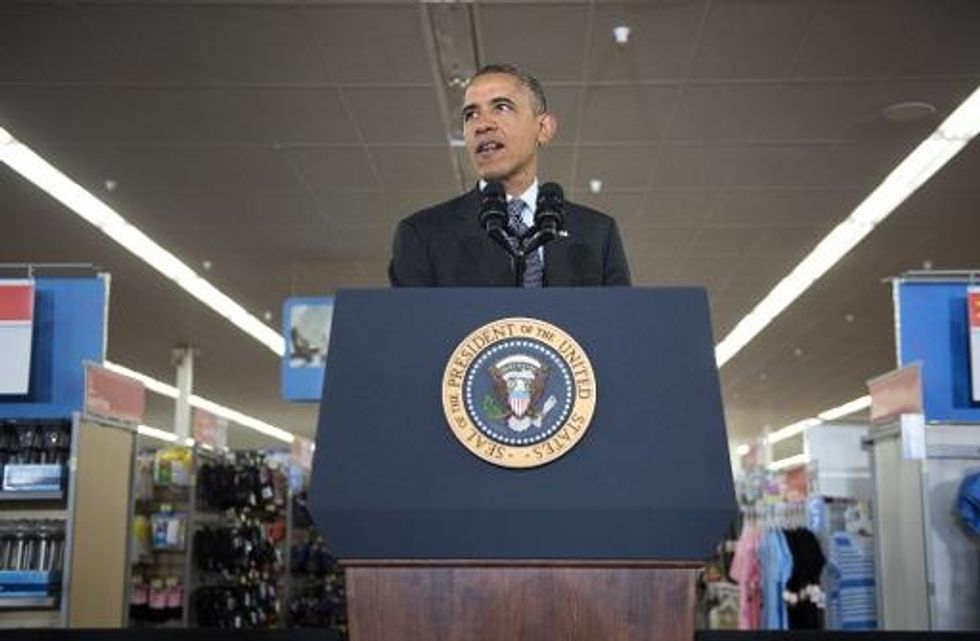 By Maeve Reston and Kathleen Hennessey, Tribune Washington Bureau
MOUNTAIN VIEW, Calif. — President Barack Obama capped a weeklong focus on climate change with a push for greater energy efficiency, a pitch particularly attuned to reaching two groups: big-dollar donors in the green movement and activists once inspired by his 2008 ambition to heal the planet.
Both groups will play a role in turning out Democratic voters in November, a crucial factor for the party's hope to retain control of the Senate. But Obama has faced palpable frustration among some supporters who had hoped for more progress on his 6-year-old promises.
Although he notched some early accomplishments, such as increasing fuel economy standards for automobiles and placing limits on air toxins from new power plants, he abandoned his pursuit of cap-and-trade and major energy legislation because of opposition in Congress.
More recently, though, Obama has pleased the environmental community by again delaying a decision on the Keystone XL oil pipeline, which environmentalists oppose. And next month, the administration plans to issue major new regulations to cut carbon emissions from existing power plants.
This week, the White House seized the moment to build greater credibility on climate change, a push timed to the administration's release of a major report and a Senate debate over energy efficiency legislation.
After the White House released the National Climate Assessment, which warned that the effects of climate change were immediate and widespread, Obama sought to highlight the issue in interviews with meteorologists, remarks at Democratic fundraisers across California and a speech Friday.
The White House on Friday also touted the completion of a largely symbolic accomplishment — the installation of solar panels on the White House 28 years after President Ronald Reagan removed them and four years after Obama promised to put them back.
From a stage surrounded by racks of tube socks and glitter-encrusted flip-flops in a solar-powered Wal-Mart store in Mountain View, Obama announced a series of corporate pledges to increase renewable energy use and several incremental steps to boost solar generation.
"Together, the commitments we are announcing today prove that there are cost-effective ways to tackle climate change and create jobs at the same time," Obama said. "Inside of Washington, we've still got some climate deniers who shout loud, but they're wasting everybody's time on a settled debate."
The message was a notable detour for Democrats, who have emphasized stagnant middle-class incomes and a higher minimum wage as their top-tier message in the midterm election. The shift reflects a strategy to use every lever to push the party's base to the polls — and ensure that left-leaning groups have the money needed to execute that plan.
The White House said it believes its climate push speaks to voters across the spectrum.
"For voters, any time you're taking an action that cuts pollution, it is as close as you can come to a position that has broad and deep appeal across the board," said one White House official, who would not be named talking about the politics of what the administration said was a policy effort.
The official said the message resonated with some of the groups that Democrats are most worried may sit out the election — particularly young people, who view acceptance of climate change as a threshold issue.
A number of pollsters and political scientists said, however, that the approach has its limits. Many noted that the voters who would be most excited by Obama's renewed focus on climate change formed a sliver of the electorate.
"There is a group of people who are intensely interested in climate change, but as a percentage of the American population, they're pretty small," said Arthur Lupia, a political science professor at the University of Michigan.
Only 29 percent of Americans believe global warming should be a top priority for the president and Congress, and it ranked second to last on a list of 20 issues, a Pew Research Center survey found this year. But a Gallup poll in March found that about 70 percent of 18- to 29-year-olds said they either worried a "fair amount" or a "great deal" about climate change.
Though young people tend to care more about the issue, John Della Volpe, director of polling at the Harvard University Institute of Politics, noted that their "mood is so sour when it comes to politics and voting, frankly for both parties right now, that it's unlikely that one issue will make a significant difference."
At the same time, Della Volpe said, "There could be a series of these kinds of events between now and October where (the president) re-establishes a connection with this generation" and reinforces the notion "that there is a difference between Democrats and Republicans."
But Stanford University professor Jon Krosnick, who has done extensive polling on climate change, said that his research on the 2008 and 2010 congressional elections showed clear evidence that candidates who publicized their support for tackling climate change gained an advantage with voters.
The president's focus is a "smart move," Krosnick said, "because it stands to address what is likely to be understandable feelings of disappointment and frustration among his potential Democratic supporters and independents … because he essentially made promises that he hasn't been able to deliver on."
Next month, when the administration unveils regulations to cut carbon emissions from existing power plants, the renewed attention to that issue could also activate the environmental donor community, which has sought a more assertive voice in the 2014 cycle.
California billionaire Tom Steyer, the mega-donor who elevated the Keystone XL pipeline into a litmus-test issue, has promised to raise and spend at least $100 million — half of it his own money — to target congressional and gubernatorial candidates who oppose initiatives to curb global warming.
Other environmental groups, such as the League of Conservation Voters and the Natural Resource Defense Council Action Fund, say they had seen a notable uptick in their fundraising efforts for the 2014 races.
"This is our biggest opportunity to prevent the most carbon pollution from going into the atmosphere that we've ever had," said Heather Taylor-Miesle, the director of the NRDC Action Fund. "Everything is kind of lining up for us to be able to make progress on this very real, very important issue."
Chris Lehane, a strategist for Steyer's NextGen Climate, said the White House advanced the issue this week with the National Climate Assessment by "really bringing it down to a local level."
"The president stepping out and really standing up on this is a real leading indicator that the politics are changing on this in a really fast way," said Lehane, who said NextGen would soon outline its electoral targets. "When elected officials begin to realize that they can talk about this, and not only be on sound ground, but talk about it and use it as a wedge issue to win — that's when you begin to change the politics."
At several fundraisers this week, the president used the climate change issue to make a forceful case to donors that they should "feel a sense of urgency" about the midterm election and the difference between Democrats and "this particular brand of Republicans" in Congress.
"We think climate change is real," Obama told an intimate gathering of high-dollar donors in Los Angeles' Bel-Air neighborhood. "Some of them say it's a hoax, that we're fabricating it."
AFP Photo/Brendan Smialowski