Obama Hosts Congress Leaders After Midterm Debacle
@AFP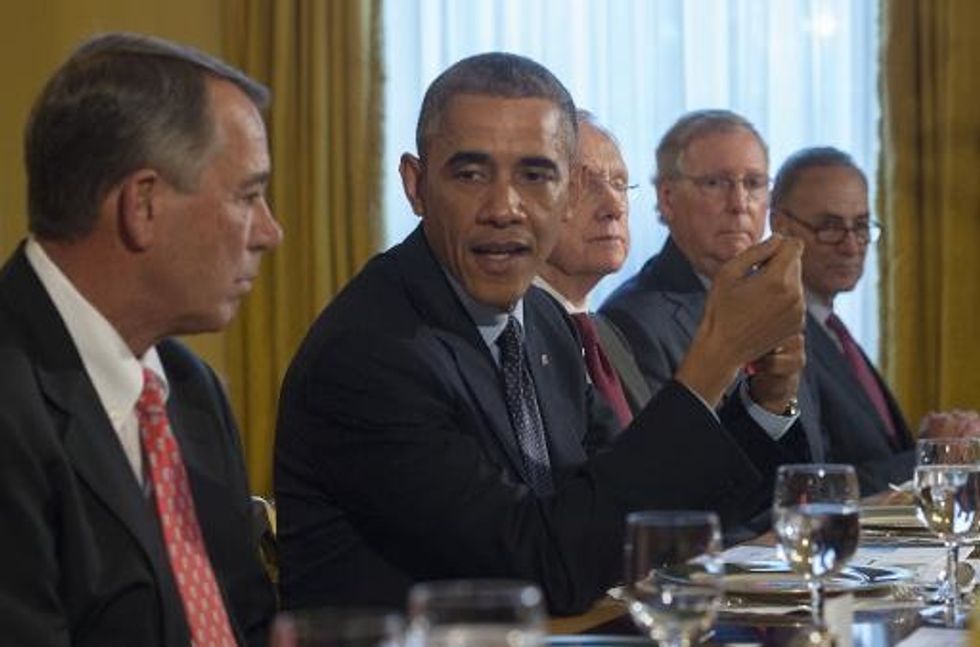 Washington (AFP) – Three days after his party's stinging midterm election defeat, President Barack Obama hosted congressional leaders at the White House Friday, vowing to embrace policies untainted by partisanship.
"The American people just want to see work done here in Washington. I think they're frustrated by the gridlock," Obama said in a White House dining room where more than a dozen congressional leaders were seated.
Americans would "like to see more cooperation, and I think all of us have the responsibility, me in particular, to try to make that happen," Obama said.
His guests included the incoming Senate majority leader, Republican Mitch McConnell, and Republican House Speaker John Boehner.
Outgoing Senate Majority Leader Harry Reid and top House Democrat Nancy Pelosi were also in attendance.
Republicans trounced Obama's Democrats in Tuesday's elections, gaining control of the Senate and expanding their majority in the House.
The Republican takeover could pit the party's leaders directly against the White House. Some among their ranks have suggested however that divided government could actually work in Republicans' favor, allowing them to be seen as the party best able to govern ahead of the 2016 presidential election.
Both parties are under intense pressure to ease the dysfunction in Washington, and Obama and Republicans have already spoken publicly about possible points of cooperation, including passing tax reform.
"I am not going to judge ideas based on whether they're Democratic or Republican; I'm going to be judging them based whether or not they work," Obama said.
The president, whose Democrats will be in the minority in both congressional chambers for the first time since 2006, reminded the leaders there was still important congressional work to be done this year, such as passing legislation to fund the federal government.
"My hope is that even as we enter into a new Congress, the previous Congress has the opportunity still to make progress on a whole bunch of fronts, and I'm confident we can get that done," he said.
Obama angered Republicans Wednesday when he said he would take executive action to reform the nation's immigration system, a move Republicans warned would "poison the well" for cooperation on various other issues.
AFP Photo / Jim Watson