Obama Increasingly Taking His Message Beyond Washington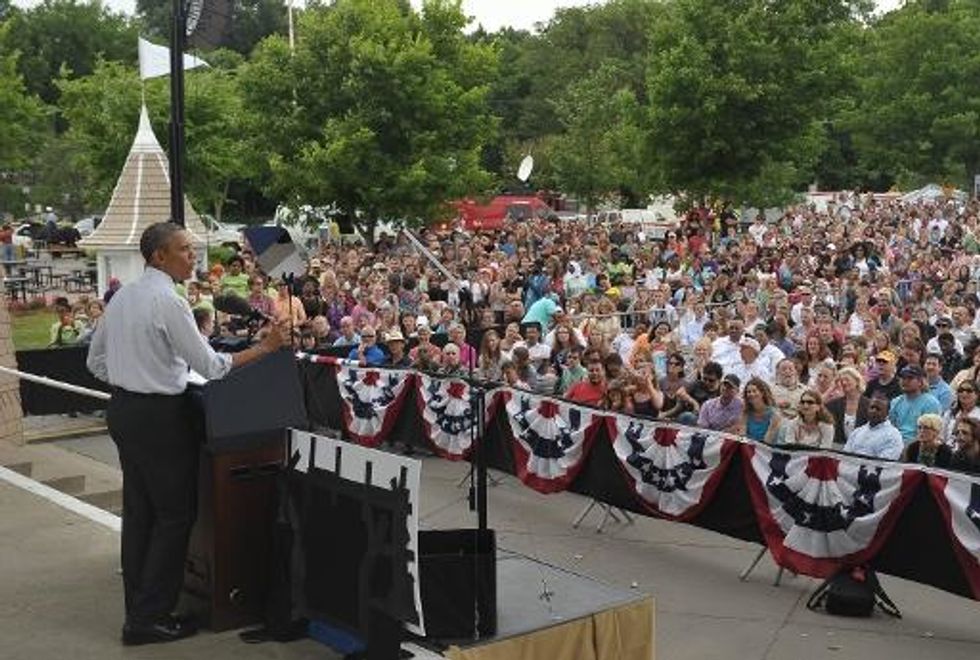 By Lesley Clark, McClatchy Washington Bureau

WASHINGTON — President Barack Obama is often seen this summer outside the White House, strolling down a city street, joking with ordinary Americans, grabbing a burger or a waffle cone. Just a regular guy.
This week it's in Denver. A few weeks ago, in St. Paul and Minneapolis. In between, it's in Washington, escaping the White House.
Yet Obama's forays into ice cream parlors and even a Chipotle are less spontaneous strolls than carefully orchestrated campaign-style events aimed at bolstering an unpopular president's image, along with his spirits.
"Being out and about is in his best interest. He's good on the stage, so take the stage with you," said political consultant Bill Miller, who advises both Republicans and Democrats in Texas, where Obama will stop this week on a three-day swing outside Washington.
"If he's in the White House he just looks like he's being banged on from every direction, for any reason," Miller said. "If he's out, he creates opportunities for himself, which is an advantage when everything incoming is negative."
White House aides say the trips out of town and even beyond the White House gates allow Obama to talk and to listen to everyday Americans and humanize his initiatives, most of which face Republican opposition. The encounters also provide his media operation with footage of a casual, everyday kind of guy, relating to the American people.
"The president has always enjoyed getting outside the bubble of Washington and seeks any opportunity to connect with folks in order to hear firsthand the challenges they face, and talk about the ways Washington can help them do better," said White House spokesman Eric Schultz.
Obama has likened the ventures to a "caged bear" being released, such as when he eschewed his motorcade for a stroll to an event at the Interior Department. But he didn't really walk away from the bubble; he greeted tourists as a White House video crew filmed the scene, which was later posted on the White House website.
"This is like the best day of my life!" exclaimed one excited tourist as she hugged Obama. "Oh my gosh, someone's going to think you're like wax."
White House senior adviser Dan Pfeiffer said Tuesday the notion of an everyman itching to get out among the people dates to the 2008 campaign. When Obama "shook off his schedule and busted out of the bubble," staffers joked that the "bear is loose," Pfeiffer said in a White House blog post. He added, "lately, the bear has been loose a lot and this week will be no different."
Republicans suggested he'd be better off staying at the White House.
Obama is "traveling around the country this week to give campaign speeches — not working with Congress (to) help middle-class families struggling under the weight of his policies," Senate Minority Leader Mitch McConnell (R-KY) said Tuesday.
White House advisers wouldn't say how often Obama plans to get out. But the Minnesota visit last month and this week's trip to Colorado and Texas are part of a planned "Day in the Life" series, in which Obama will spend time with people who have written him letters or emails.
Obama reads 10 letters a night selected by his staff. Those picked for a presidential visit will showcase a presidential priority — such as raising the minimum wage or providing preschool to all 4-year-olds.
Obama was meeting Tuesday night in Denver with a woman the White House identified only as Alex. She wrote to Obama earlier this year to thank him, saying that her boss was "inspired" by Obama's State of the Union address and gave her a raise.
In Minnesota, Obama repeatedly cited Rebekah Erler as he championed his initiatives and bashed Republicans for blocking them.
The state Republican Party noted that Erler once worked for Sen. Patty Murray (D-WA). Republican National Committeewoman Janet Beihoffer called his visit a "slick, choreographed stunt."
But the White House likely got what it wanted: newspaper and television coverage of Obama walking down the street for an ice cream, enjoying a burger. Obama himself joked he had done everything but kayak over the falls at Minnehaha Park.
"The visit from a public relations standpoint was a home run for the White House, no question," said Michael Brodkorb, a Minnesota blogger and former Republican Party official. "They took the powerful office of the president and brought it down to a neighborhood level. That's what people are left with, 'Hey, the president can relate."'
Advisers say Obama would do more of the out-of-Washington ventures if he had the opportunity, and the wanderlust has prompted some speculation about whether he's frustrated with his job.
Senior adviser Valerie Jarrett told reporters that it's not discontent but the weather that's prompting the walkabouts.
"We kind of joke about the bear," she told reporters at a recent Christian Science Monitor breakfast. "We all have cabin fever, it was a long, tough winter all across this country, and when the sun comes out and birds are chirping and everything turns green, why wouldn't he want to go for a walk?"
AFP Photo/Mandel Ngan