Obama Lobbies Skeptical Lawmakers To Support Syria Strike
@AFP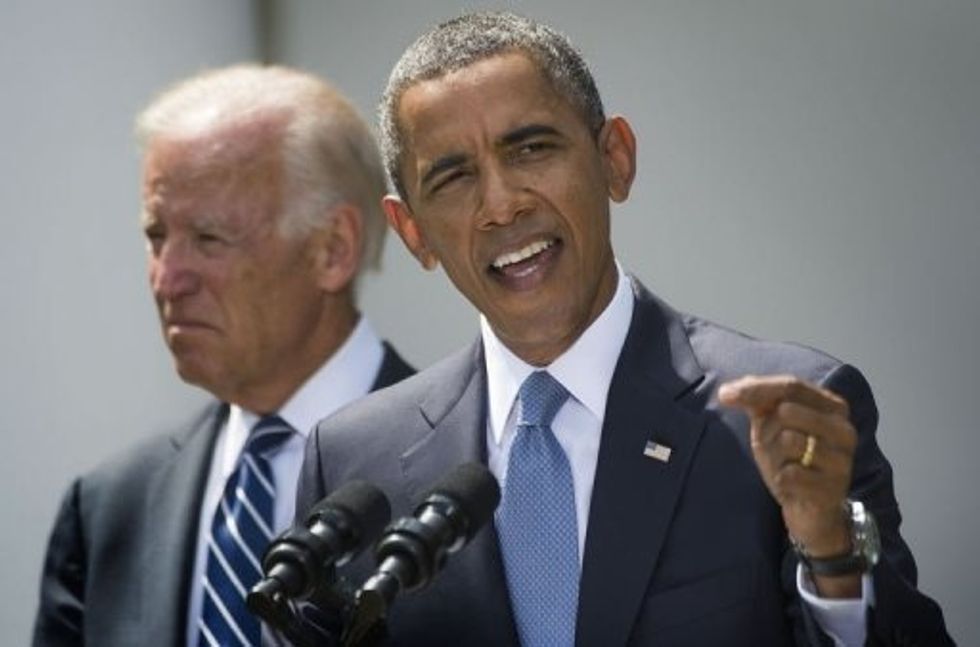 WASHINGTON, DC (AFP) – U.S. President Barack Obama was set on Monday to step up his high-stakes lobbying campaign to win over skeptical lawmakers to back military action against Syria.
The strategy, outlined by a senior White House official, came as Secretary of State John Kerry said Washington had proof the Damascus regime used sarin gas in a deadly attack on August 21.
But Russia said it was totally unconvinced by the evidence presented by the United States and its allies of an alleged chemical attack outside Damascus that the West says was perpetrated by the regime.
"What we were shown before and most recently by our American partners as well the British and the French absolutely does not convince us," Russian Foreign Minister Sergei Lavrov said, adding there were "many doubts" about images of the alleged attack posted on the Internet.
Arab League foreign ministers urged the United Nations and international community to take "deterrent" action, and blamed the regime for the alleged chemical weapons assault.
And a defiant President Bashar al-Assad insisted that Syria would confront any military action.
With all eyes on Washington, Obama — as well as Vice President Joe Biden and White House Chief of Staff Denis McDonough — made individual calls to members of Congress Sunday, according to the official. More are planned for Monday, a federal holiday.
That came on top of a classified briefing held on Capitol Hill late Sunday. More meetings, at the White House, are planned for select members of Congress over the coming two days.
On the heels of Obama's surprise announcement, the White House formally asked Congress on Saturday for authorization to conduct strikes in a draft resolution framing a narrow set of operations.
But it remains to be seen if war-weary lawmakers will endorse Obama's push for action — or hand him a bitter defeat. Many, including influential Republican Senator John McCain, remain unsure they can support the White House resolution.
"In all calls and briefings, we will be making the same fundamental case: the failure to take action against Assad unravels the deterrent impact of the international norm against chemical weapons use, and it risks emboldening Assad and his key allies — Hezbollah and Iran — who will see that there are no consequences for such a flagrant violation of an international norm," the senior White House official said.
"Anyone who is concerned about Iran and its efforts in the region should support this action."
Pushing the administration's argument for limited military action, Kerry told U.S. television talk shows that hair and blood samples given to the U.S. from emergency workers on the scene of the attack showed signs of the powerful sarin nerve gas.
A key U.S. ally, however, suggested that limited strikes were not the way to go.
Turkish Prime Minister Recep Tayyip Erdogan, who favors major international military intervention in Syria, stressed that limited strikes would only exacerbate the situation.
"Targeted strikes would not only fail to lead us towards a solution but would make conditions even more difficult in Syria," he told a meeting in Istanbul.
He called for Assad to "immediately leave office and go to a country willing to take him."
Turkey shares a long border with Syria.
Meeting in Cairo, Arab League foreign ministers issued a statement calling upon the United Nations and international community "to assume their responsibilities in line with the UN Charter and international law by taking the necessary deterrent measures."
Syria's opposition National Coalition had earlier pleaded with the ministers to back a U.S.-led strike, while Saudi Foreign Minister Saud al-Faisal said failure to do so would bolster Assad's forces to "pursue its crimes."
But Assad, whose regime has faced an uprising since March 2011 that a watchdog says has cost 110,000 lives, came out swinging.
"Syria… is capable of facing up to any external aggression just as it faces up to internal aggression every day, in the form of terrorist groups and those that support them," SANA news agency quoted him as saying.
Assad's comments were his first since Obama's announcement.
On the streets of Damascus, residents were scornful of the president's decision to back down from immediate action.
"He who talks a lot doesn't act," said Souad, mocking the U.S. leader as a "coward" for delaying the decision.
"Obama is a coward. He didn't strike because he knows that our President Bashar (al-Assad) is all-powerful," said the employee of national electricity firm Ferdaws, in the northeast of the capital.
Obama said the U.S. military is poised to react at any time.
The U.S. Navy has deployed an amphibious transport ship to the Mediterranean, where five destroyers are already in place for possible missile strikes on Syria, according to a defense official.
A report on Monday said that Russia had sent a reconnaissance vessel to the Mediterranean. Moscow has kept a rotating presence of several warships in the region over the last months.
Oil prices fell in Asian trade after Obama's announcement.
New York's main contract, West Texas Intermediate for delivery in October, eased $1.46 to $106.19 a barrel in afternoon trade, while Brent North Sea crude for October fell $1.01 to $113.00.
AFP Photo/Jim Watson