Obama May Ban Surveillance Of Foreign Allied Leaders
@AFP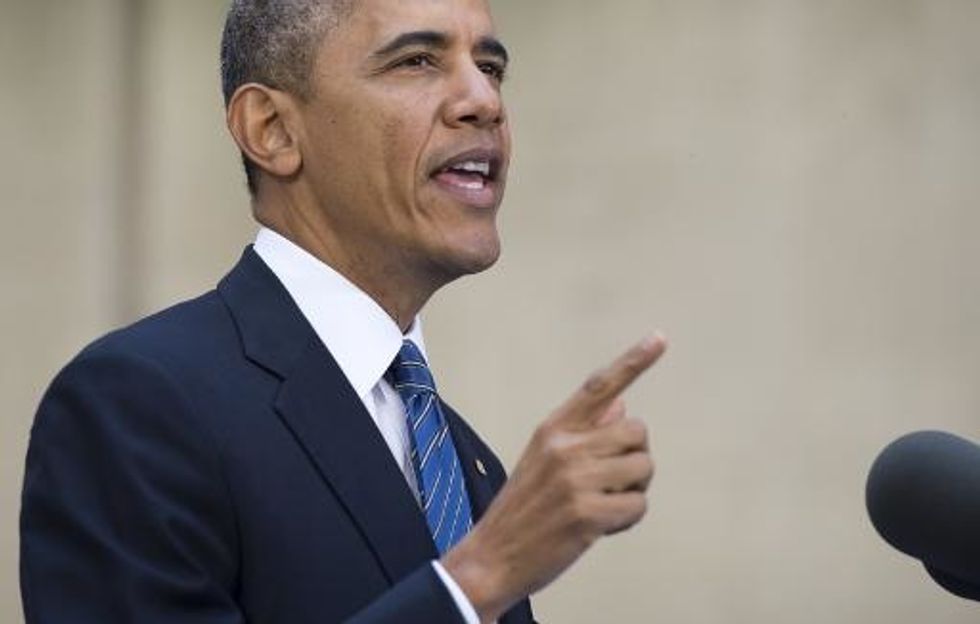 Washington (AFP) – President Barack Obama is considering whether to ban U.S. spy agencies from eavesdropping on allied leaders, a senior official said Tuesday, following outrage in Europe over National Security Agency snooping.
The official, speaking on condition of anonymity to discuss intelligence matters, said the step was under consideration, but that no policy decisions had yet been finalized, as Obama awaits results of several already announced reviews into U.S. surveillance practices.
The Obama administration was under increasing political heat at home and abroad, as revelations based on leaks from fugitive intelligence analyst Edward Snowden threatened to sour ties with allies and complicate its foreign policy goals.
The senior official, however, pushed back on a claim by powerful Senate select intelligence committee chairman Dianne Feinstein that "collection on our allies will not continue."
The official said that statement was not accurate, though Feinstein's remarks were unspecific enough to leave considerable doubt as to the true intentions of the administration regarding snooping on foreign leaders.
The officials said that while some changes had been made to U.S. intelligence gathering in the wake of claims that U.S. spies tapped German Chancellor Angela Merkel's phone, there had yet been no across-the-board changes, including a decision to halt intelligence sweeps aimed at all foreign allies.
One adjustment Obama does appear to have made is to halt surveillance on Merkel's cellphone.
Reports have said he did not know about the decade-long surveillance of the German chancellor, whom he considers a friend, and stopped it when he found out.
White House officials said Washington will not and is not tapping Merkel's phone — leaving the clear implication that it had done so in the past.
Feinstein, a Democrat, had made waves on Monday with a strong denunciation of U.S. spying on foreign leaders — and complained her committee, which is supposed to provide oversight of U.S. intelligence agencies, was not informed of the program.
"Unless the United States is engaged in hostilities against a country or there is an emergency need for this type of surveillance, I do not believe the United States should be collecting phone calls or emails of friendly presidents and prime ministers," she said.
The United States took a new battering in Europe Tuesday when Spain's public prosecutor opened a preliminary investigation into its reported mass eavesdropping on millions of telephone calls to determine if a crime was committed.
The move came a day after the U.S. ambassador to Madrid was summoned to the Foreign Ministry to hear a demand for explanations.

Spain became involved after the El Mundo daily published a classified document purportedly showing that U.S. intelligence services tracked 60.5 million Spanish telephone calls in one month.
The NSA recorded the origin and destination of the calls and their duration but not the content, said El Mundo, which printed a classified graph showing 30 days of call tracing up to January 8 this year.
The newspaper said such systematic trawling of huge volumes of digital information — or metadata — would include intercepting personal details through Internet web browsers, emails and social networks such as Facebook and Twitter.
Washington stands accused of similar mass sweeps of online and telephonic data across the globe as part of its anti-terrorism surveillance.
Officials have denied, however, that U.S. spies are actively "listening" in to millions of phone calls, saying the records are logged for further use if necessary for a counter-terrorism program and are subjected to complicated mathematical investigations designed to reveal communications between radical groups.
With transatlantic tensions on the boil, members of a European delegation met Monday with House Intelligence Committee chairman Mike Rogers, who sought to soothe injured European feelings and said the two sides "made some progress" in the talks.
A British member of the European Parliament, Claude Moraes, said it was vital to begin a healing process but also to reassure Europe that surveillance abuses do not persist.
"Trust has to be rebuilt. We need to figure out why this kind of mass surveillance activity is happening," Moraes said.
Elmar Brok, chairman of the parliament's Committee on Foreign Affairs, was more critical of the US overstepping its bounds.
"It is not acceptable, for example, this espionage on Chancellor Merkel and others since more than 10 years," he said.
Brok told AFP he believed the eavesdropping on the German administration is a breach of German law.
The Guardian said last week the NSA had tapped the phones of some 35 world leaders. Merkel last week branded the snooping as unacceptable between friends.
Feinstein said it would be a "big problem" if Obama had not been made aware that Merkel's calls were being collected, saying "the president should be required to approve any collection of this sort."
The European delegation was to meet Tuesday and Wednesday with more US officials including from the State Department and Office of the Director of National Intelligence.
Rogers said U.S. lawmakers would soon travel to Brussels for follow-up meetings with European officials.
AFP Photo/Saul Loeb