Obama Meets Spy Bosses On NSA Reforms
@AFP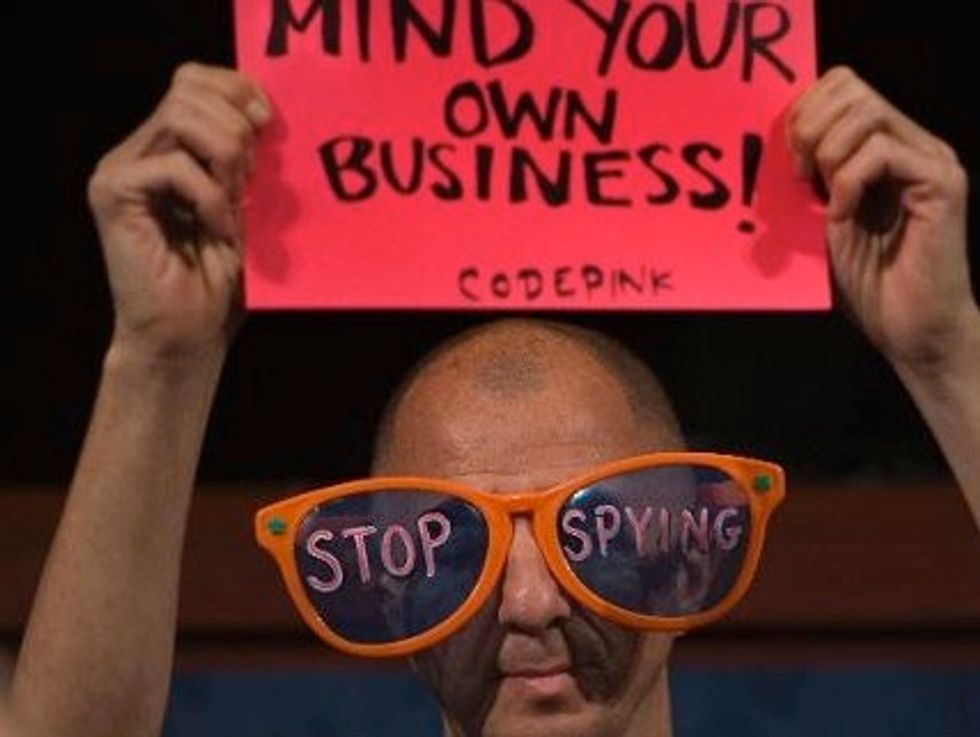 ashington (AFP) – U.S. President Barack Obama met top spy chiefs as he finalized a decision on how to rein in National Security Agency spying sweeps following revelations by Edward Snowden.
Obama met the heads of the NSA, CIA, FBI and the director of national intelligence as part of a string of meetings with advocates on both sides of the debate on balancing privacy and national security.
"This was an important chance for the president to hear directly from his team as he begins to make final decisions about how we move forward with key intelligence collection programs," said National Security Council spokeswoman Caitlin Hayden.
The meeting included CIA chief John Brennan, Director of National Intelligence James Clapper, NSA head General Keith Alexander and Federal Bureau of Investigation Director James Comey.
Obama was joined in the talks by Vice President Joe Biden and Attorney General Eric Holder.
The president also held a meeting with members of the Privacy and Civil Liberties Oversight Board, a watchdog body set up by Congress after the September 11, 2001 attacks.
Obama promised that a report the board is preparing will be factored into the administration's deliberations on how to move forward, the White House said.
On Thursday, Obama plans to meet top lawmakers with responsibilities overseeing the intelligence community — including some critics of NSA mass phone data capture programs — to discuss how to reform the intelligence community.
Aides say that Obama spent considerable time during his recent vacation in Hawaii mulling new constraints on U.S. security agencies in the wake of revelations of mass snooping by fugitive intelligence agency contractor Snowden.
The president will deliver his conclusions in a speech within weeks, and definitely before his annual State of the Union Address, which is scheduled for January 28.

A review panel tasked by Obama with looking at reforms of the intelligence community came up with 46 recommendations in a report issued in December, among them scaling back NSA activities to restore public trust.
The report included calls to end the agency's power to collect and store Americans' phone records. The group also called for curbs on the NSA's ability to ask technology firms to insert back doors to software that allow it to access encrypted communications.
The panel also said the NSA should do more to inform the public and lawmakers about the extent of its surveillance.
Obama has hinted that he may be in favor of continuing the mass collection of phone data — but that the billions of items should be held by communications firms or a third party and not the NSA.
Obama has also invited German Chancellor Angela Merkel to Washington, hoping to mend fences after a row provoked by revelations of U.S. eavesdropping on her cellphone.
Obama called Merkel to wish her a speedy recovery after her recent skiing injury and invited her to visit at a "mutually agreeable time in the coming months," the White House said in a statement.
Merkel last year reacted furiously to claims the National Security Agency had been listening in on her mobile, telling Obama in October that this would be a "breach of trust" between two allies.
Media reports of American snooping based on documents leaked by fugitive intelligence contractor Edward Snowden have damaged U.S. relations with key allies and were a political and personal embarrassment for Obama.
The White House said U.S. spies were not currently monitoring Merkel's phone and would not do so in the future, but would not comment on past surveillance activity.
The invitation to Merkel comes as the White House tries to draw a line under the Snowden issue, with Obama poised to give a speech to Americans this month detailing how the NSA's massive phone and data collection activities will be reformed.
Merkel's office confirmed in a statement that she would accept Obama's invitation to visit the United States, but like the White House, did not offer a date.
Washington's relations with other allies and governments have also been hampered by the NSA reports, including with leaders of Brazil and Mexico, and there has been widespread disquiet in Europe over the scope of NSA data mining and phone data sweeps.
AFP Photo/Jim Watson