Obama Opts For Optics To Show Reality Of Climate Change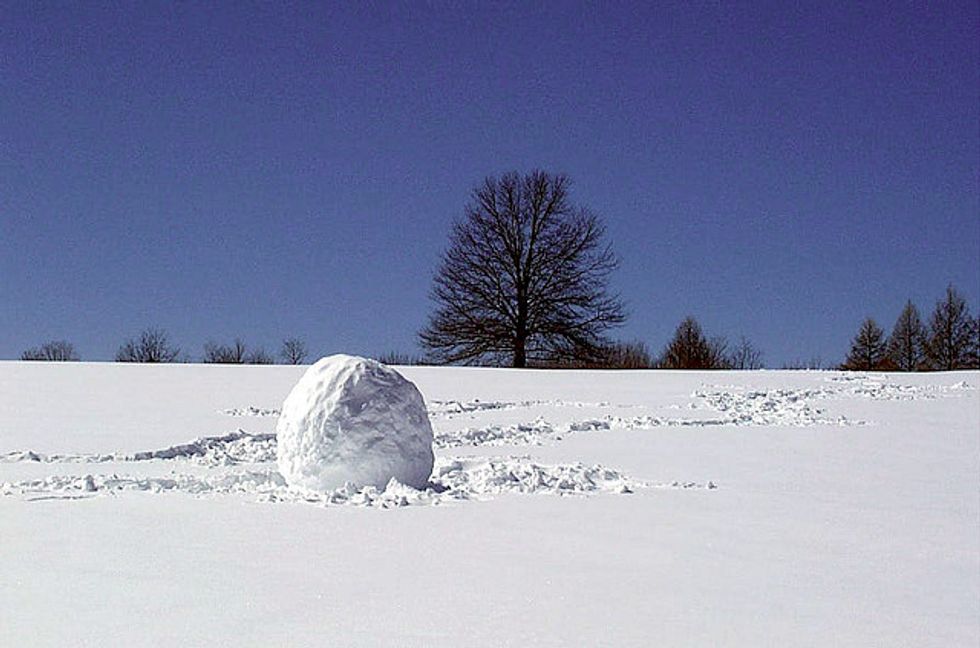 By Maria L. La Ganga and Michael A. Memoli, Los Angeles Times (TNS)
SEWARD, Alaska — As President Barack Obama makes his biggest sustained public push yet on fighting climate change, he and top aides seem to be realizing that they need their own theatrics.
Six months ago, a leading Republican skeptic brought a snowball onto the Senate floor. On Tuesday, Obama saw that snowball, and raised the senator a melting glacier.
"How's this?" Obama called out to reporters after arriving at the Exit Glacier, a helicopter ride south of Anchorage over the Chugach Mountains. "Beats being in the office."
After delivering a stern warning about the impact of climate change the night before, Obama ditched the convention hall lecture for a hike on a shimmering summer afternoon.
The sun glinting off his aviator glasses, Obama pointed out signs that punctuate the gravel path toward the ice sheet, each with a different year marking where the glacier was in its shrinking path to its current state.
"This is as good of a signpost of what we're dealing with when it comes to climate change as just about anything," Obama said. "What it indicates, because of the changing patterns of winter and less snow and longer, hotter summers, is how rapidly the glacier is receding. It sends a message."
The public is growing to accept that climate change is real and affecting their day-to-day lives, White House officials argue. The challenge has been to "get our politics to catch up to where the American public" is, senior adviser Brian Deese told reporters ahead of Obama's trip to this state.
Obama is looking to build momentum not for a vote in Congress, but on behalf of a sweeping, binding agreement to reduce emissions to be reached at a major U.N. climate summit in Paris late this year. And as the glacier tour shows, his tactics are markedly different from previous political battles.
Obama's visit to Alaska at times might be confused for a three-day reality show. On Monday, the president snapped his first Instagram, a shot of Denali, the continent's tallest peak that he just renamed from Mount McKinley. The White House video team is chronicling the trip and posting updates to Facebook. During his glacier hike, Obama even was to receive "a crash course in survival techniques" from Bear Grylls, for a special episode of the survivalist's NBC reality show.
Reflecting recently on what he's learned over his years in the Oval Office, Obama told comedian Marc Maron on his podcast that it was "not enough just to be right or get the policy right."
"It's also important to be able to communicate it in a way that's digestible easily enough for the public that you can move the needle of public opinion," he said. "You can talk all you want, but you're not going to change the other side's mind, and you just have to go ahead and see if you can move forward because they are resistant to, in some cases, rational, fact-based arguments."
There, he cited the snowball stunt as an example of what he was up against. On a day in February when a couple of inches of snow fell outside the Capitol, Sen. James Inhofe of Oklahoma, the Republican chairman of the Senate Environment Committee and a notorious global warming skeptic, lobbed the snowball across the chamber — proof, along with a recent cold snap, that climate change was a myth. "Here, Mr. President: Catch this," he said.
Eyes rolled at the White House.
In his speech Monday, the president shamed climate change deniers and "any so-called leader who does not take this issue seriously or treats it like a joke."
"The time to plead ignorance is surely past. Those who want to ignore the science, they are increasingly alone. They're on their own shrinking island."
It was invaluable for the president to try to raise the profile of the issue as Congress is set to return next week from its summer recess, said Democratic Sen. Sheldon Whitehouse of Rhode Island, who this spring delivered his 100th floor speech to urge Congress to act on climate change. He noted Republicans are likely to take a procedural step to try to prevent the administration's new emissions rules from taking effect.
"It puts a pretty clear light on this issue in a way that forces (Republicans) to double down on denial," Whitehouse said.
The president's multimedia approach is especially savvy, Whitehouse said, citing polling that shows that many younger voters in both parties support taking action to address climate change.
According to Deborah Kurtz, the physical science program manager for Kenai Fjords National Forest where Obama hiked Tuesday, the Exit Glacier, which flows from the Harding Icefield has retreated 800 feet since 2008, 187 in 2014 alone.
"Climate is the primary driver of ice loss," she said, adding that Harding Icefield is 10 percent smaller than it was in 1950. She called what has been seen in recent years an "unprecedented rate of warming."
One of the most photographed men in the world again wielded an iPhone on Tuesday to snap some pictures himself.
"It is spectacular," Obama said at Exit. "We want to make sure that our grandkids can see this."
The finale of Obama's visit comes Wednesday when he becomes the first sitting president to travel north of the Arctic Circle to the village of Kotzebue, an area seeing some of the most pronounced coastal erosion. He'll also hear from salmon fishermen from the Dillingham area, to hear how climate change is affecting their industry.
___
(La Ganga reported from Seward and Memoli from Washington.)
Photo: Snowballs like this are getting smaller in the Arctic. redjar via Flickr