Obama Promises Money For Drought Relief; Now The Hard Part Begins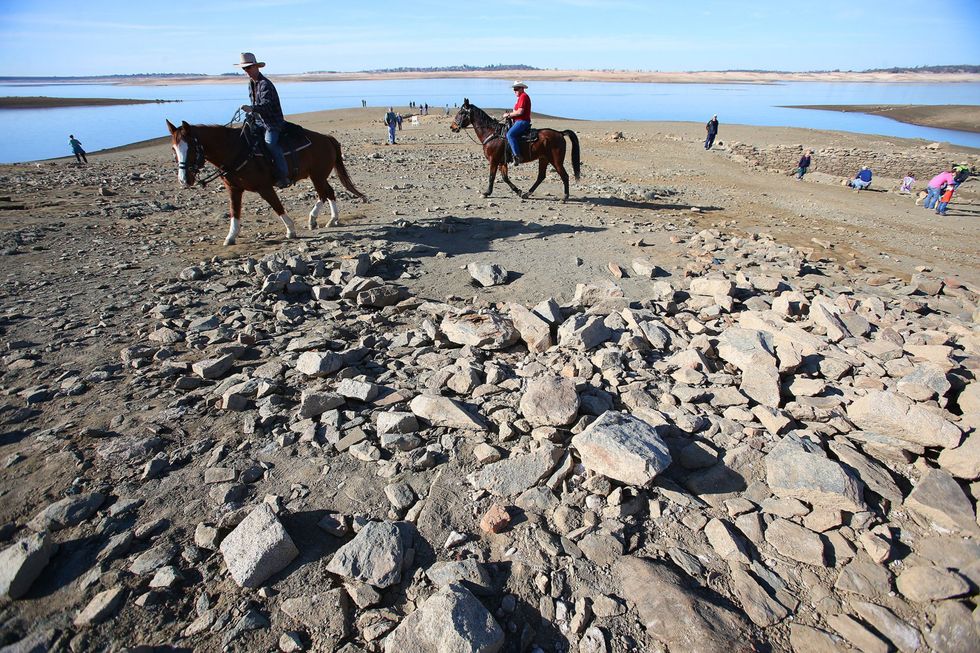 WASHINGTON — The easiest part of the Obama administration's response to the California drought is now over.
The White House has provided money, commitments and a presidential visit. But the money is limited, the president is moving on, and the commitments will soon be tested on Capitol Hill and deep within the federal bureaucracies.
"How serious are they?" Rep. Devin Nunes (R-CA) asked in an interview Friday. "I don't think the White House has really been engaged with this so far."
Abiding by Politics 101, President Barack Obama brought to the San Joaquin Valley on Friday what pros call "deliverables." He announced new aid, including conservation grants, livestock producer assistance, and funds for water-short rural communities. He pledged flexibility in federal water management decisions to maximize deliveries to farmers. He put his prestige on the line, a definite signal to administration underlings.
The coming weeks and months will test the administration's staying power on multiple California drought fronts. These include:
-Legislation. The Republican-controlled House of Representatives passed a California water bill that authorizes new dams, lengthens irrigation contracts and repeals a San Joaquin River restoration program and replaces it with something less ambitious. California's Democratic senators, Dianne Feinstein and Barbara Boxer, have authored a competing bill. It's unclear what role the administration will play in guiding a compromise.
-Regulation. Obama's demand that Interior Department water managers use flexibility in operating the vast Central Valley Project leaves unanswered what this means for water deliveries. Environmental activists fear the president's commitment will pressure agency scientists and regulators to shortchange species and habitat protection. Farmers fear the promised flexibility will turn to mush.
-Administration. The new Agriculture Department aid includes an estimated $100 million for livestock producers, with the money provided from a newly signed farm bill. Under the last farm bill, officials took more than a year to get livestock aid into the hands of needy ranchers. Officials insist they will now cut that time by 80 percent, an efficiency goal that will test agency managers.
Getting large bureaucracies to move nimbly could prove the first test.
"Historically, this has taken months and months and months to do," Agriculture Secretary Tom Vilsack acknowledged, citing past livestock aid programs.
This time, Vilsack pledged the signup for livestock producer assistance will start in April. Speed, though, could also render the agency vulnerable. A prior drought-related livestock aid program in the Midwest was "left open to waste (and) misuse," the Agriculture Department's Office of Inspector General reported in 2005.
Simply understanding California's complicated water scene will be another challenge. In a conference call with reporters Thursday, both Vilsack and White House science adviser John Holdren said they were unfamiliar with California's Bay Delta Conservation Plan. The proposed $25 billion program has long been at the center of debate over the state's water future.
One federal official intimately familiar with the controversial proposal, Bureau of Reclamation Commissioner Michael Connor, is still awaiting Senate confirmation as deputy interior secretary.
Trained as both an engineer and as an attorney, Connor had an uneventful hearing last September. But these days, Senate politics entangle even seemingly straightforward confirmations.
Once confirmed, Connor could be crucial in handling California water, a responsibility often handled by past deputy secretaries. Connor, and not Interior Secretary Sally Jewell, accompanied Obama on the San Joaquin Valley visit Friday.
Lower-level Interior Department officials could feel the presidential heat. In a press briefing, the White House said officials will "adjust and speed changes to key water projects, and give water contractors flexibility to meet their obligations, while maintaining important environmental safeguards." Farmers like the sound of this, but its real-world consequences remain opaque and potentially controversial.
"You have people in the valley who do not have entitlements to water who are screaming they want more water. They are screaming that federal scientists should be muzzled," said environmentalist Patricia Schifferle, owner of Pacific Advocates. "The question is, once these scientists are muzzled, how does that solve the drought problem?"
Whichever way they go, some of the key agency decisions will be highly technical and often nuanced, making them meaningful primarily to a select audience. Officials, for instance, must decide pumping levels down to the cubic-feet-per-second for the Sacramento-San Joaquin Delta, with the respective health of the threatened delta smelt and water-starved Valley farms hanging in the balance.
Other than opposing the California water bill authored by GOP lawmakers, the administration has not yet played an obvious role in crafting legislation. Sometimes it stays deferential. In describing the long-delayed farm bill, the Politico newspaper characterized the president, and by extension, his team, as "remarkably detached, almost a bit player."
On Friday, White House spokesman Jay Carney insisted the administration is "actively engaged" in the water legislation effort.
"We look forward to continuing to work with the bill's sponsors and other members of Congress as the process moves forward," he said.
At the same time, forgoing a bipartisan opportunity, Obama surrounded himself strictly with congressional Democrats on Friday. The Democrats-only staging, which included selecting a farm to visit that was located in the district of Rep. Jim Costa (D-CA), did little to ease diplomatic relations with House GOP leaders.
"It remains to be seen if our Senate colleagues are willing to cross the aisle and acknowledge that a their-way-or-the-highway position is not feasible," House Majority Whip Kevin McCarthy of Bakersfield said in a statement.
Photo: Aric Crabb/Bay Area News Group/MCT